RIPIOTURISMO INTERVIEW: Nayara Hangaroa in Easter Island
A perfect place to stay during your visit to the remote island
We met Florencia Pozzi to talk about this wonderful place in Easter Island

Easter Island is a remote island located in the Pacific Ocean, at around 3600 km from the Chilean coast. But it´s one of the most exciting side trips you can take during your trip to the country. Today, we met Florencia Pozzi, from MyReps to talk about this hotel
- HELLO FLORENCIA, HOW ARE YOU? THANKS FOR YOUR TIME
- Hello Ramiro, thank you for your interview to talk about Hangaroa. It´s a wonderful place to stay in the island!
- ABSOLUTELY, I SEE HANGA ROA IS A UNIQUE HOTEL IN THE EASTER ISLAND. WHAT´S YOUR PHILOSOPHY
- Visiting Nayara Hangaroa is much more than an ordinary travel experience. Easter Island is a unique destination that inspires and provides us all an opportunity to enrich our lives. We simply believe the more we discover the more we want to continue learning. We can see cultures that show us their ancient traditions. We can live experiences that are good for our souls, body and mind. We always seek innovation to deliver the best possible service.
With every stay, our hope is that does not end once you leave the hotels. Yet you return home with a renewed curiosity of life and passion for living every day.
Our philosophy is to deliver unique experiences based on authenticity, simplicity, respect for the environment and local culture.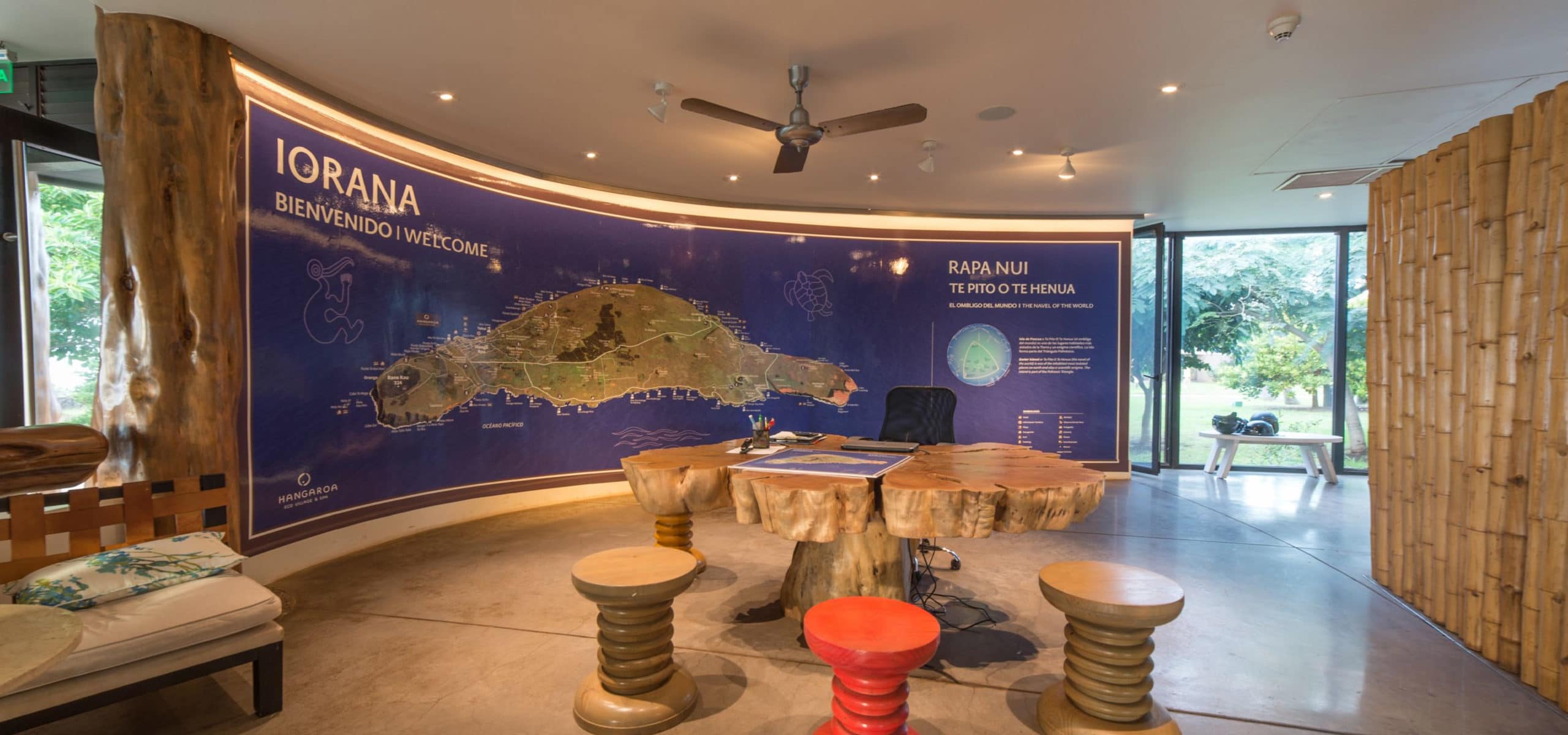 - OK GREAT. AND WHERE IS THE HOTEL LOCATED IN THE ISLAND?
- Well, Easter Island is located 2,300 miles from mainland Chile. On the island, our hotel has a prime location in the village of Hangaroa, overlooking the most spectacular sunsets and only 5 minutes from the airport. To get to Easter Island, it's necessary to fly from Santiago, Chile. The flights are managed by LATAM. It is also possible to fly from Tahiti, but there are less flight frequencies per week
- I SEE YOU MENTION "FLEXIBLE LUXURY" WHAT DOES THIS EXACTLY MEAN?
It is a Flexible Luxury because our guests can choose how to live it. With our different programs, our guest chooses how to live your experience. We offer Bed and Breakfast, Half Board, Full Experience, or Private Full Experience. The other advantage is that our perfect location allows our guests to visit the town, they can be in contact with the islanders and experience their culture close.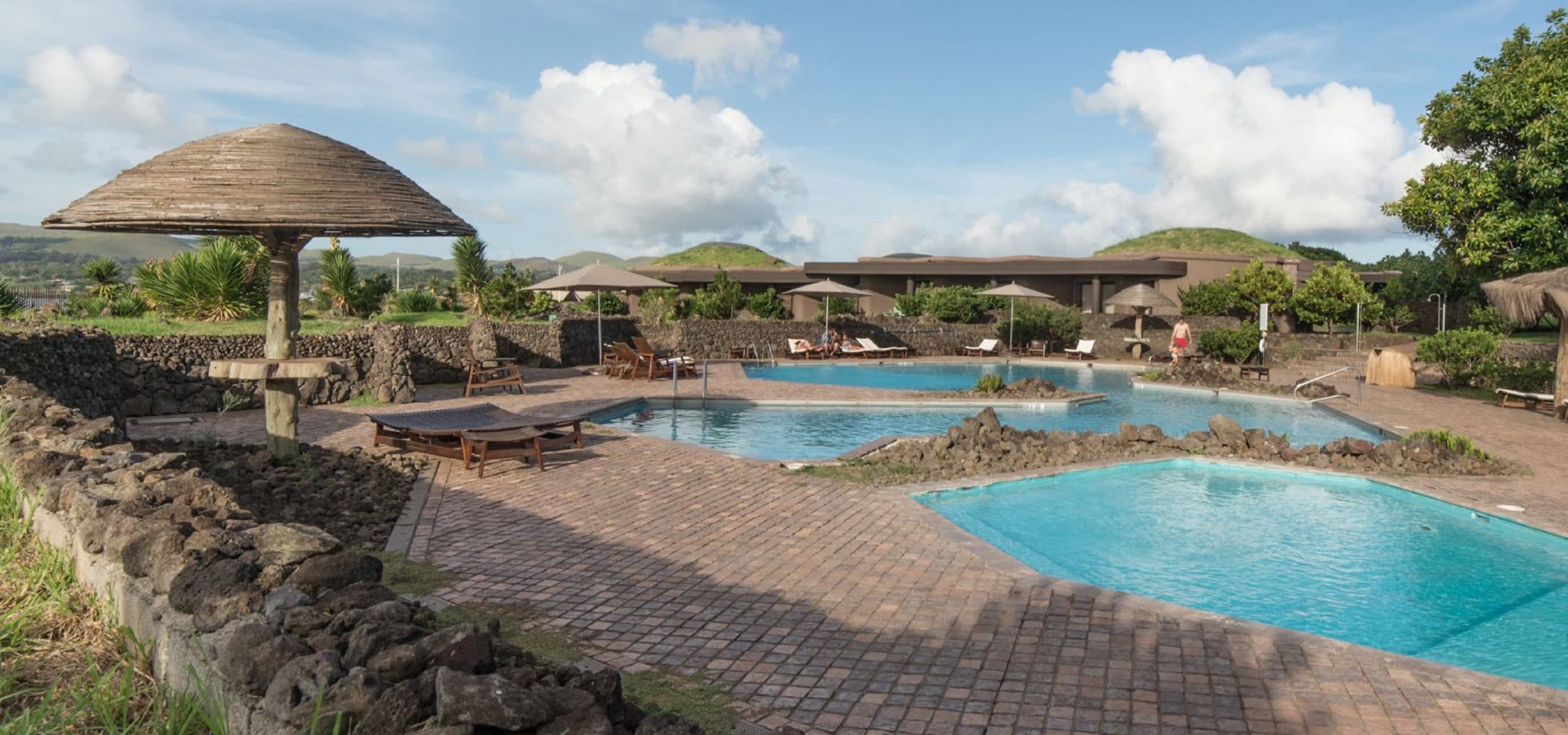 - LET´S TALK ABOUT THE ROOMS. WHAT CATEGORIES ARE AVAILABLE?
- Inspired by the local culture and natural resources of Easter Island, our rooms allow guests to feel the magical energy of the island. They invite you to rest, relax and feel at home. The ambiance, highlighted by items made by local artisans, prioritizes natural light and features the use of natural materials such as cypress logs used to line the ceilings, clay formed into large soaking tubs and volcanic stone framing the bed and bathroom; all intended to further connect your stay to the spirit of Rapa Nui. There are two categories: The Kainga Rooms feature a sofa bed and desk as part of the construction, a handmade clay tub, shower, telephone, internet connection, safe, minibar, plus a private terrace overlooking the sea. The Maunga Room are suites. These double-height rooms feature a guest bathroom, a spacious living room, sofa bed and desk made on construction, shower, telephone, internet connection, safe, minibar, plus a private terrace overlooking the sea.
- GASTRONOMY IS IMPORTANT FOR OUR CLIENTS. WHAT YOU CAN SAY ABOUT IT?
- Relish in the aromas, flavors, and colors of Easter Island in our multiple restaurants – Poerava, Kaloa, and our pool bar Vaikoa. Enjoy signature recipes using locally caught fish and seafood seasoned with the local spices of Polynesia. Poevara Restaurant is the main restaurant of the hotel with a capacity of 110 people inside and 60 people on the outdoor terrace, offers spectacular ocean views and a design that allows guests to enjoy a culinary show brought to life by our chef each day. An a la carte menu is served for breakfast and lunch. Kaloa Restaurant is a sophisticated and minimalist lounge atmosphere with large banquette seating, comfortable pillows, and endless sunset views. The two-level restaurant and lounge are a central gathering place on the island for both hotel guests and local visitors looking to indulge in the freshest local seafood caught that day and other International favorites all complimented by a creative cocktail menu sure to enhance any evening. Finally, Vaikoa Bar is the main bar of the hotel situated by the pool offers a curated selection of cold dishes and a refreshing cocktail menu.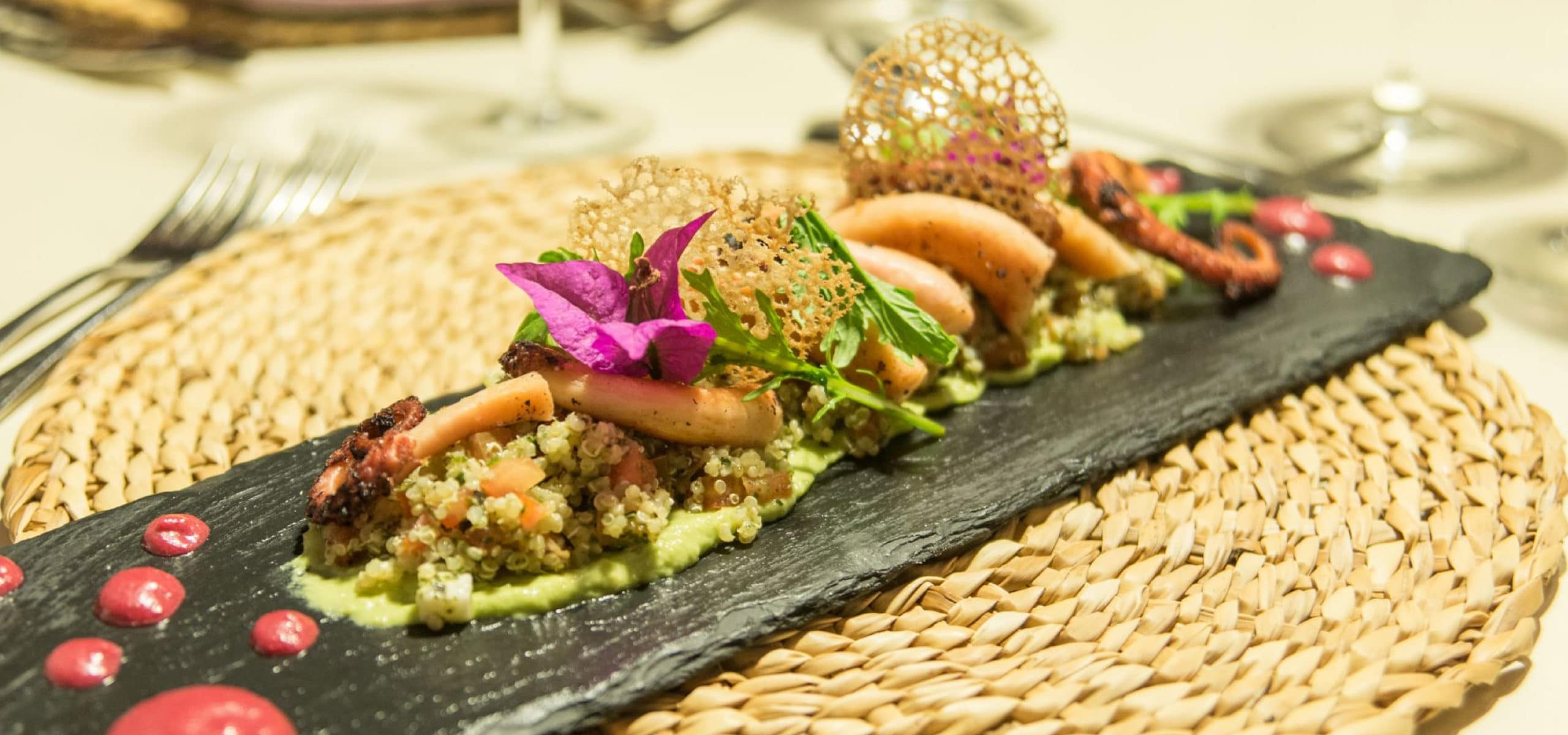 - LET´S TALK ABOUT WELLNESS. DO YOU OFFER SPA SERVICES?

- Yes! Nayara Hangaroa is the biggest hotel and the only one with a spa on the island. Surrounded by white sand overlooking the Pacific Ocean, fresh tropical scents, and a menu of modern wellness treatments utilizing natural ingredients found on the island, our SPA helps to renew mind and body, while drawing a connection to the island closer. If you book the Full Board program, half-day excursion can be replaced for 1 massage session at Spa Manavai.
- I SEE YOU HAVE SPECIAL PROGRAMS. CAN YOU EXPLAIN WHAT THE OPTIONS ARE?
- If you are one of those travelers who enjoy flexibility during their stay, we have the perfect option for you. A program in which you decide how to live this new adventure. You have the option of discovering experiences at your own pace, allowing you to choose when to discover the corners of the Island with an expert guide and when to take advantage of your stay to relax and unwind. Simply, you choose.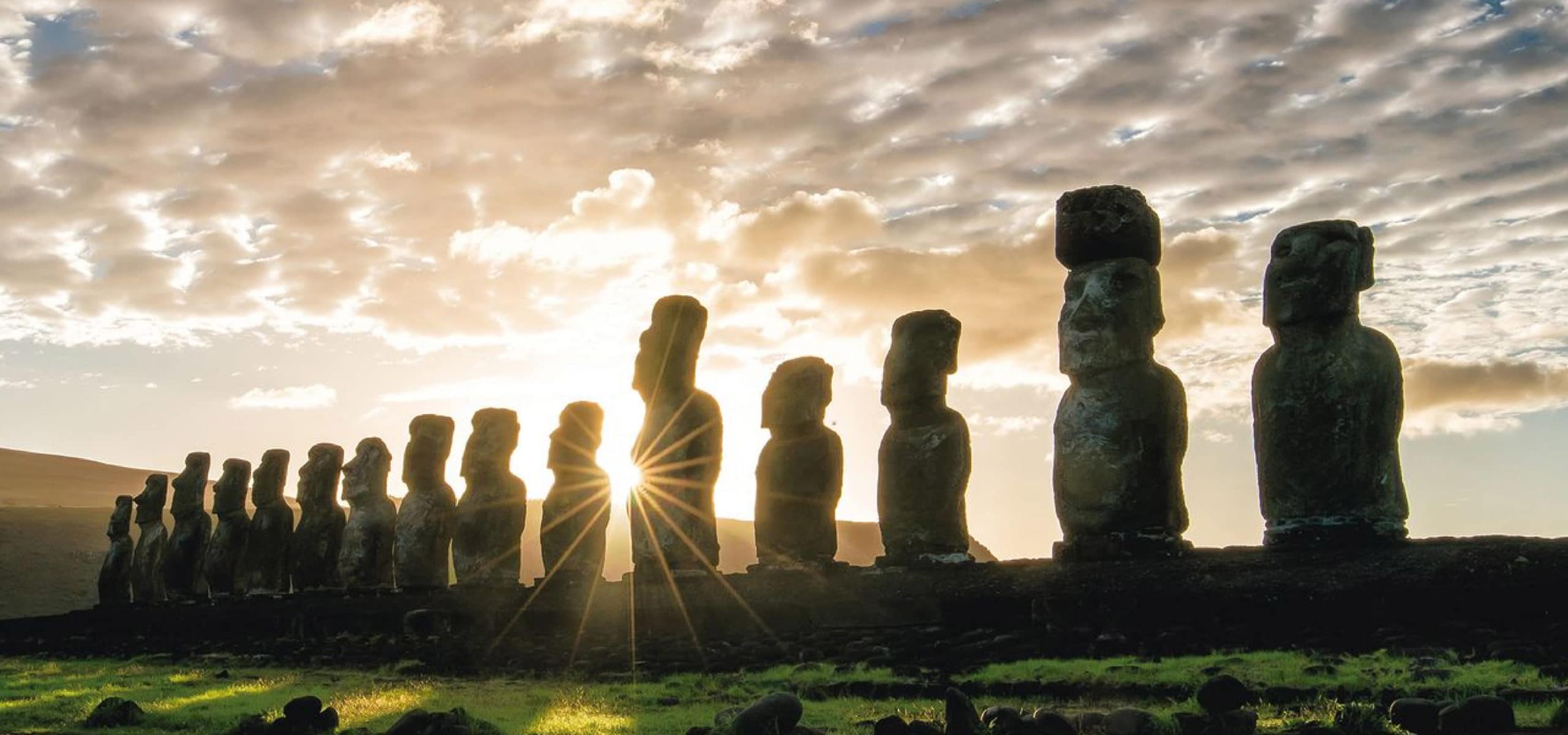 - WHAT´S THE BEST SEASON TO VISIT THE ISLAND?
Easter Island is perfect to visit year-round. The weather is tropical and ideal to do all the activities, including beach activities like Anakena Beach.
- FINALLY, IN YOUR OPINION WHAT´S THE SUGGESTED MINIMUM STAY TO ENJOY THE ISLAND AND THE HOTEL?
The suggested minimum stay is four days. The hotel does not have a minimum stay; however, we recommend to stay at least four days to enjoy the hotel and the destination.
- WELL, YOU WERE VERY INFORMATIVE FLORENCIA. THANK YOU!
- You´re welcome Ramiro, thanks for your time. We´re ready to receive your clients in the Nayara Hangaroa
For more information and bookings, please email us at info@ripioturismo.com
Thank you!