It´s time to visit Argentina, one of the most amazing destinations in South America, with a wide variety of landscapes, climates, attractions, culture... with snow, colorful mountains, amazing vast regions, unique waterfalls, and an exciting capital city.
10 days visiting Argentina: tours and main destinations
Argentina is a large country, and sometimes visitors can´t take a 2-week or 3-week tour to enjoy everything the vast extensions offer. So, a good option is to take the first visit with one of the 9-night programs we can offer. Buenos Aires is a must-see, the capital city is a very nice place that offers many cultural attractions. Of course the Tango, but also many local markets, museums, theatres, and more. So, Buenos Aires is the first stop and then, you can extend your visit to two amazing destinations, like El Calafate or Iguazu Falls.  Or  may be Mendoza, Salta, or Puerto Madryn. Ushuaia is also a great destination. But, what can I see in Argentina during 10 days, or in a 9-night itinerary. Well, the big three destinations are Buenos Aires, Iguazu Falls, and El Calafatete. Why? Well, these are the most requested destinations for international tourism. So, a good idea is to take a tour to visit Buenos Aires, El Calafate and Iguazu Falls in 10 amazing days in Argentina.
10 days in Argentina: Buenos Aires, El Calafate and Iguazu Falls
Of course Buenos Aires, the exciting capital city is a must-see when you visit Argentina. Why? Well, for many reasons, but one of them is the incredible cultural richness. It´s the "most European" city in Latin America, with a wonderful cultural offer, with museums, theatres, unique gastronomy, amazing music...  A good itinerary to enjoy Buenos Aires should include Caminito and La Boca, and if you´re a football lover, for sure the Boca Juniors Stadium, where Maradona and Juan Roman Riquelme played. Also San Telmo and the famous market; Plaza de Mayo and the surrounding buildings: the Casa Rosada, the Cathedral, the Cabildo... Of course the Obelisk and the 9 de Julio Avenue, one of the widest avenues in the world. Puerto Madero and a wonderful number of restaurants, to taste the famous Argentinian meat, taste the Malbec wine, but also enjoy international dishes. The renovated dockside area is one of the favorite gastronomy areas in the city. For sure, La Recoleta and the famous cemetery, where you will find the Eva Peron Tomb, and of course Palermo if you´re looking for a beer, and explore the Buenos Aires´nightlife. So, we´re talking about three nights in Buenos Aires at least. It´s a minimum because from Buenos Aires you can explore some interesting attractions like an estancia near the town, to enjoy the Pampas, and enjoy horseback riding and learn more about the gauchos.  Or visit San Isidro and the Tigre Delta, a natural environment located only 30 km from the capital city. But three nights in Buenos Aires is enough? Maybe not, but we´re talking about 10-day tours, so let´s keep in three the number of nights for your visit to Buenos Aires. If you really want to explore the city, you have to spend more time here, of course, it´s just a suggested program. The city is very attractive and you can explore other areas too with more time.
And after Buenos Aires, it is time to board a flight to reach Patagonia. Maybe the most famous destination in Argentina. Patagonia is a must, and one of the most fantastic places you can visit during your trip to Argentina. And this time, you will fly to El Calafate. Once here, in the small village located in Santa Cruz Province, you will be able to explore the Perito Moreno Glacier and many other glaciers in Los Glaciares National Park. A good itinerary should include at least three nights to make two full-day visits. One of these visits is the Moreno Glacier for sure, which can be visited traditionally, it´s a bus ride to the park to access the trails that are available in the area, and enjoy an outstanding show of nature. The place is unique. You will be in front of a huge mass of ice, with enormous blocks of ice falling into the lake with a thunderous crash... Believe me, it´s a breathtaking experience. But you can do a more adventurous visit to the Moreno Glacier and include the minitrekking, to hike over the ice of the glacier that´s simply... amazing. For the second day, we suggest taking boat navigation and navigate the water of the Argentino Lake  (Lago Argentino), in Los Glaciares National Park. There are great boat navigations available, from traditional ones, to more exclusive with disembarkation in Estancia Cristina (see Boat Navigation to Estancia Cristina with horseback riding), or why not enjoy a gastronomic experience. Check our Glaciers Gourmet Experience Cruise and see details. So, no doubt, El Calafate and the Perito Moreno region is a highlight in Patagonia. You can spend more time here and extend your visit to  El Chalten and Fitz Roy area, but we´re talking about 10-day itineraries, so would be an idea for your next trip maybe.
Iguazu Falls is another must-see. So, board a new flight and reach this amazing area, your next destination. Recently declared as one of the new 7-wonders of nature, and Unesco World Heritage, Iguazu Falls is a unique place. The parks (both, as the falls, can be visited from Argentinian and Brazilian Side), are an incredible natural place. The Argentinian side offers up to 8 km of trails to explore the falls in three different circuits which are really amazing: Upper, Lower, and Trail to the Devil´s Throat with the ecological train of the jungle. The Brazilian side is basically a bus ride, with an amazing 1500 mts trail and an elevator that offers a great panoramic view of the falls. An amazing place to be visited. Again three nights is ok, maybe you can reduce to two if necessary, but it´s great to have some time to relax in any of the hotel pools. The hotels in Iguazu usually include pools, so it´s a good idea.
So, what do you think? For me, it´s maybe the best option to visit Argentina in 10 days. If you have a reduced time and want to see the best of the best in Argentina... it´s my suggested tour. Check our 151 tour called Buenos Aires, Glaciers and Iguazu Falls Click on the image below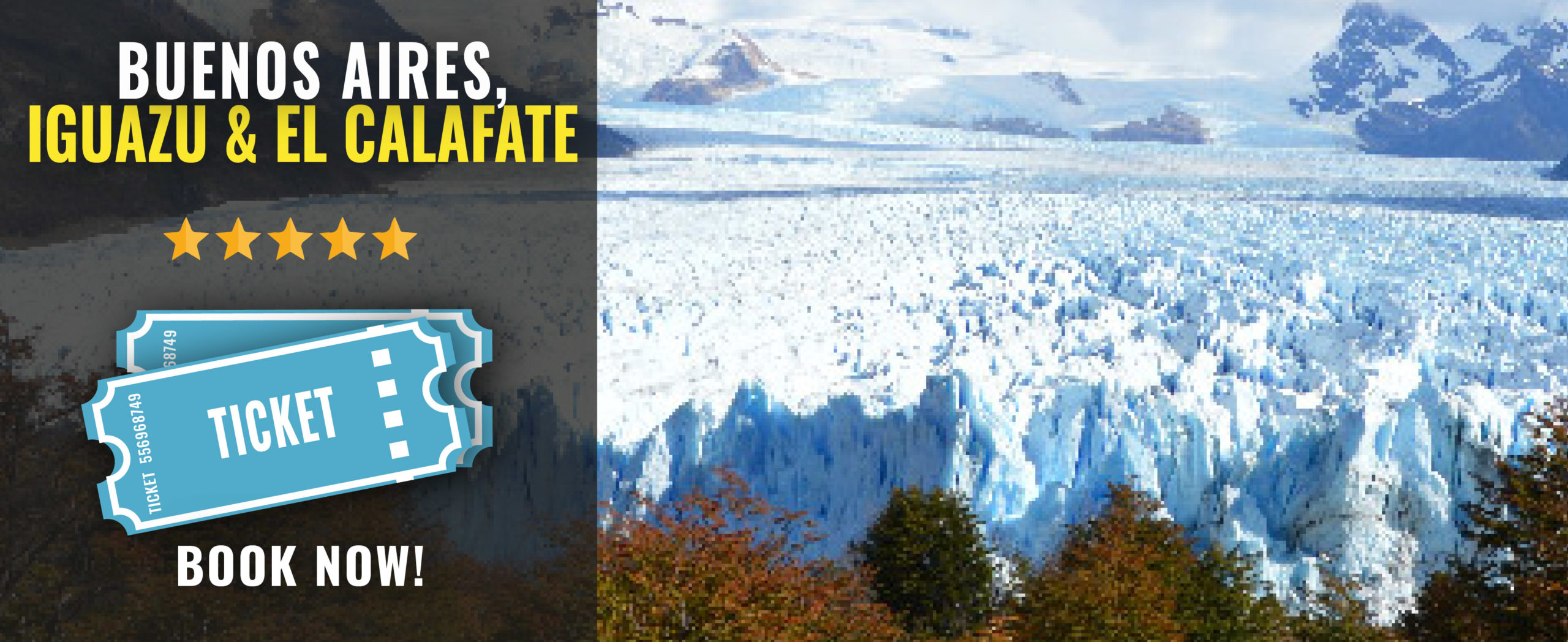 Of course, it´s not the only option. We have many. Let me suggest three more 9-night itineraries:
10 days in Argentina: Buenos Aires, Ushuaia and El Calafate
Now, what if you want to focalize in Patagonia? Iguazu Falls is amazing, but may be will be part of another trip. A great idea for example is to organize a trip to visit Rio de Janeiro, Iguazu Falls and Buenos Aires. But, let me go back to Patagonia, I will talk about this option in other article. If what you want is to focalize in Patagonia, and it´s also a great idea, what I suggest is to include Ushuaia instead Iguazu Falls and enjoy a 9-night tour (or 10-day itinerary) to visit Buenos Aires, Ushuaia and El Calafate. It´s basically the same program but including Ushuaia instead Iguazu Falls. And what´s is Ushuaia? what I can see there? Why Ushuaia should be included in my tour program?  Well, Ushuaia is the southernmost city in the world. And that reason is enough I think to organize a visit to this particular city. It´s a unique Argentinian city located on the other side of the Andes. Yes, because the Andes chains goes from north to south in South America, and divides Argentina and Chile, but in Tierra del Fuego Island, the Andes chain goes from west to east... Amazing it´s it? Ushuaia is a great natural place in southern Patagonia and from there you can visit the Tierra del Fuego National Park, ride aboard the Train of the End of the World, visit the Beagle Channel in any of the boat navigations available and walk among penguins in Martillo Island Penguin Reserve (check our Walk with Penguins on Martillo Island activity). Yes you can see penguins!! Or visit the heart of Tierra del Fuego Island in Fagnano and Escondido Lakes, enjoy amazing hiking to Esmeralda Lagoon and Carvajal Mount, and much more. From Ushuaia, any cruises depart to Cape Horn, southern fjords, and Antarctica. But Ushuaia is also history in Patagonia, with museums, and national parks to be visited. So, as you can see, it´s also a must-see in Argentina. Don´t forget to taste the King Crab called "Centolla" before leave Ushuaia. It´s also a must-do. So, for sure, Ushuaia and the End of the World, is one of the highlights in Patagonia, and a great idea is to book our 152 tour called Buenos Aires, Glaciers and The End of the World. 
Click on the image below and check the itinerary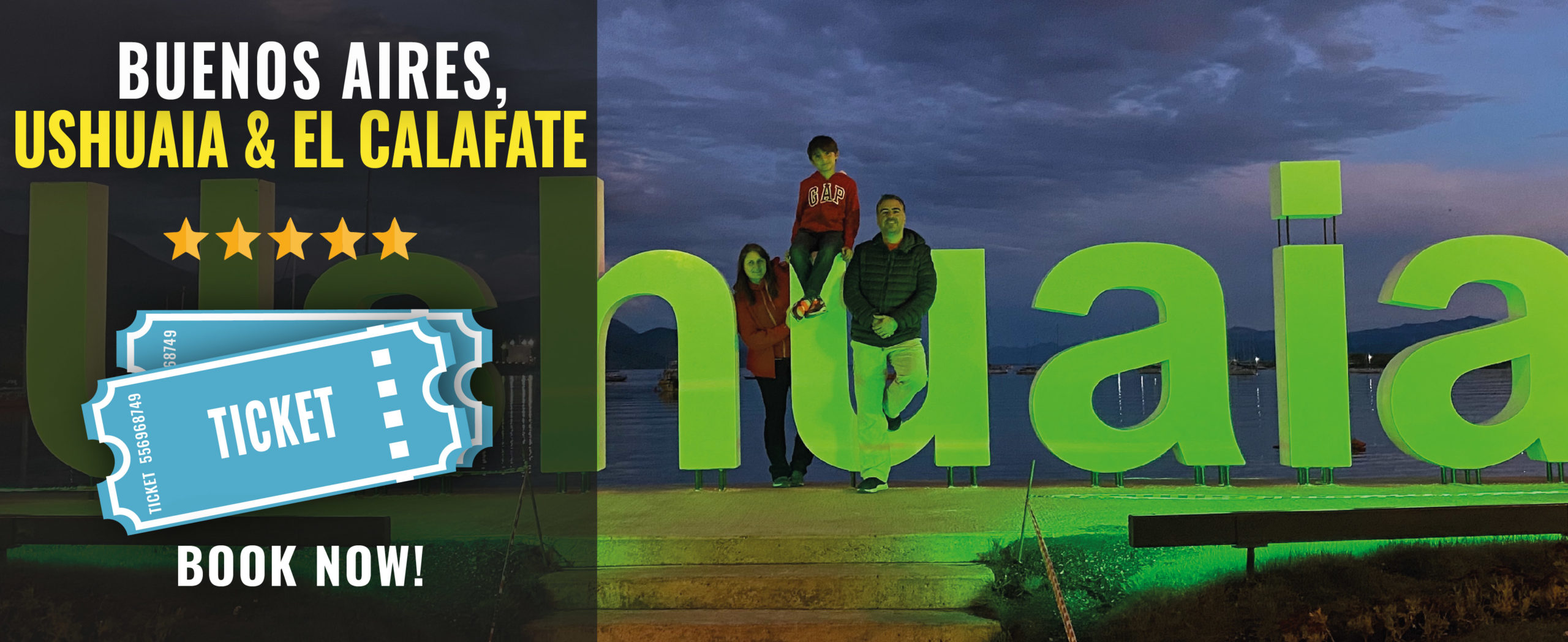 But, what if you want to travel to Argentina in the March-October period, a time when Patagonia is not the best destination due to weather. It´s winter season and Patagonia is cold (of course you can enjoy the snow!). Well, a good idea is to include another amazing destination in the Argentinian northwest, by the way, it´s not just one destination. It´s a group of places you can discover in the area. And the gate is Salta.  Salta, called "la Linda" (the beauty), is a wonderful city from where you can visit the best of the northwest. We´re talking about places like Humahuaca Canyon, a Unesco World Heritage, with Purmamarca and the 7-color hill an icon of the area, the Hornocal or the 14-color hill, Cachi, the Salta Flats or Salinas Grandes, the incredible Train to the Clouds, Cafayate, and more. It´s also a nice place to cross to Chile and continue visiting the famous Atacama desert. Another place is Jujuy, where you can arrive and make visits from there, but for sure, Salta is the main city, chosen by the international tourists to visit the area due to the infrastructure, hotel variety and flight frequencies.
Once in Salta, Jujuy, the Argentinian Northwest, once here... let me suggest to taste some typical dishes, like the Locro, the Empanadas, or the Llama Meat. Gastronomy is excellent and also really cheap compared with other places in Patagonia or Buenos Aires for example.
So, if we include Salta, a perfect itinerary can include Buenos Aires, Salta, and Iguazu Falls for example. A 9-night itinerary (or 10-day tour if you prefer) to visit the north of Argentina. How to arrive? There are direct flights from Buenos Aires to Salta and then from there to Iguazu Falls. Click on the image below, and check the day by day itinerary:
10 days in Argentina: Buenos Aires, Mendoza and Iguazu Falls
But, maybe you´re a wine lover. And what you want is to enjoy the wineries and vineyards that Mendoza offers. So, after Buenos Aires, just board a flight to Mendoza! What to see there? Mendoza is the wine country, where Malbec is the vedette. Once here, you can enjoy many wineries and vineyards in the area of Luján de Cuyo, Maipu, and Valle de Uco. There are a lot of activities available, some of them really amazing, like Bike & Tasting in Zuccardi Winery, to bike among Vineyards...  or how to Be a Winemaker for a Day activity, where you can prepare your own wine!
Landscapes are also amazing, and Aconcagua Mount the highest mountain in America, and other high mountains in the area, are the attractions. You can discover Uspallata, Puente del Inca, Potrerillos, and Las Cuevas at the border with Chile. The route continues to Santiago de Chile, for people interested in crossing to Chile.
And of course, Mendoza offers many adventure activities: rafting, mountain biking, horseback riding, trekking, rappel... It´s a wonderful place to enjoy the river and the unique landscape of the Andes. So, if we include Mendoza instead of Salta and the northwest, we have another great 10-day your to visit Argentina. It´s our 157  tour called Buenos Aires, Mendoza and Iguazu Falls is a great option to enjoy Argentina on a 9-night itinerary. Check on the image below and see the day by day itinerary:
10 days in Argentina: Buenos Aires, Bariloche and El Calafate
Back in Patagonia, you can be interested in visiting the Lakes District in Argentina. A place full of beautiful landscapes, so Bariloche could be your option here. Maybe the most beautiful city in Patagonia, a place full of lakes, forests, and national parks. Once in Bariloche, can visit many places from here, including crossing to Chile by the Andes, via the Lakes Crossing. An amazing excursion to cross from Bariloche to Puerto Varas or vice-versa. But before continue to Chile (or not), a good idea is to visit some interesting places such as the Nahuel Huapi National Park, Los Arrayanes National Park, Victoria Island, Tronador Mount, Villa La Angostura, San Martin de los Andes and the 7-lakes circuit, or enjoy some adventure activities like Rafting in the Manso River, or Horseback Riding in the area of the Manso River, or Kayak activities, or any of the hiking activities available in this amazing area. So, again if you want to focalize in Patagonia, a good idea is to combine Buenos Aires, with Bariloche and El Calafate. Check our 153 tour called  Buenos Aires, Bariloche and El Calafate in another wonderful 9-night itinerary.
So, you have many interesting attractions available to visit Argentina in 10 days. You have to choose and combine Buenos Aires and two more destinations to start visiting Argentina. At least, a first visit. I´m sure you will return to complete the visit to this fascinating country in South America.
More 10-day tours to visit Argentina
Take a look at three more options to visit Argentina in 10 days:
# 1012 - Southern Patagonia Tour

# 1011 - Trekking in Patagonia
Suggested tours to visit Argentina
I suggested some great options to visit Argentina in 10 days, but we have more. Around 150 tours to visit Argentina and South America. In just 10 days, or more (or less). Take a look at our complete list by clicking on the image below. It´s our list of Tours to visit Argentina
For more information, just email us at info@ripioturismo.com
If you want to know how to combine different destinations, our sales team will be waiting for your request. They are ready to help you!
Thank you