I´ve done the Kaweskar Route two years ago, after enjoying the unique and beautiful landscapes that Torres del Paine offers in southern Chile. It was an amazing experience, maybe one of the most incredible experiences in Patagonia, and I traveled a lot. Because aboard the Skorpios III, you will watch amazing landscapes, full of glaciers, fjords, and forests. And ice, ice, and ice.
The cruise starts in Puerto Natales, and after 3 nights of navigation in the Chilean south, you will learn more about nature, but the culture of the ancient Kaweskars, who habited the area in the past.
There are many disembarkations in zodiacs, to visit the Amalia Glacier, El Brujo Glacier, Bernal Glacier, and Alsina Glacier in Calvo Fjord.
HOW TO ARRIVE?
As I informed, the Skorpios starts from the Skorpios Terminal in Puerto Natales, a town located 2,500 km south of Santiago, which can be reached by air from Punta Arenas or from Puerto Natales or Torres del Paine You also can cross from El Calafate in Argentina, after visiting Perito Moreno Glacier.
DEPARTURES
This 3-night cruise sails for the Southern Ice Fields every Tuesday and Friday (see sailing Schedule) to return every Monday and Friday between the months of October and April, covering 380 miles, which cover most of the glaciers in the area, namely Amalia, El Brujo, Bernal and Herman, and those located in the area of Fiordo Calvo. The cruise includes the visit of around 15 glaciers, some of which we will contemplate and admire directly, walking up to their front and moraines, and sailing through multi-colored ice-floes on smaller expedition vessels like the Capitán Konstantino; from where we will have the chance to observe de varied Patagonian flora and fauna in all its natural glory.
THE VESSEL
For people interested in the ship, here we have some interesting information:
MV Skorpios III was built in 1995 at the Skorpios shipyard, Chile, according to SOLAS and IMO rules, and ABS (American Bureau of Shipping) classification, class N° 951.93.18 A1 ice. Her cabins and hotel infrastructure were remodeled in 2012. It is 70 meters long, has a 10-meter beam and a 3.30-meter draft, displacing 1,600 tons. She has an international load line certificate, and registration N° 2869 issued by the Directorate General of Maritime Territory of Chile.
With a capacity of up to 90 passengers berthed in 45 double cabins and distributed in 5 decks; cabins offer twin, queen or king-sized beds. All cabins have private toilet facilities, plasma TV and background music, and a safety box. The ship has two comfortable bar lounges and an ample panoramic dining room
The cruise offers five different decks with different rates. The lower deck is the Athens, which cabins are internal, without windows. If you´re looking for something better, you can choose Acropolis or Parthenon Decks, with windows.
Upper decks are Olympo and Athos, where better cabins are located, like Junior Suites and Suite Masters. The ship also offers a wide dining room and the Zeus Lounge, located in Acropolis and Parthenon Deck.
The Skorpios Cruise can be combined with many attractions in Argentina and Chile. A great tour can be arranged from Buenos Aires to Ushuaia, then fly to El Calafate to visit Perito Moreno Glacier, cross to Chile and visit Torres del Paine National Park and enjoy the Skorpios III Kaweskar Route, to finally fly to Santiago. The tour is called Incredible Patagonia with Australis Cruise. If you´re interested, just email us at info@ripioturismo.com and we will inform you about that incredible program.
THE FAMILY
There is something more. The touch of distinction is given by the Kochifas family. The family gives the special touch that makes the cruise fascinating, with a personalized attention, and with love for the destination they attend to each passenger during the cruise.
No doubt, the Skorpios III is a must-see if you´re looking for a great experience in Patagonia. For more information, rates, departures and bookings, please click on the image below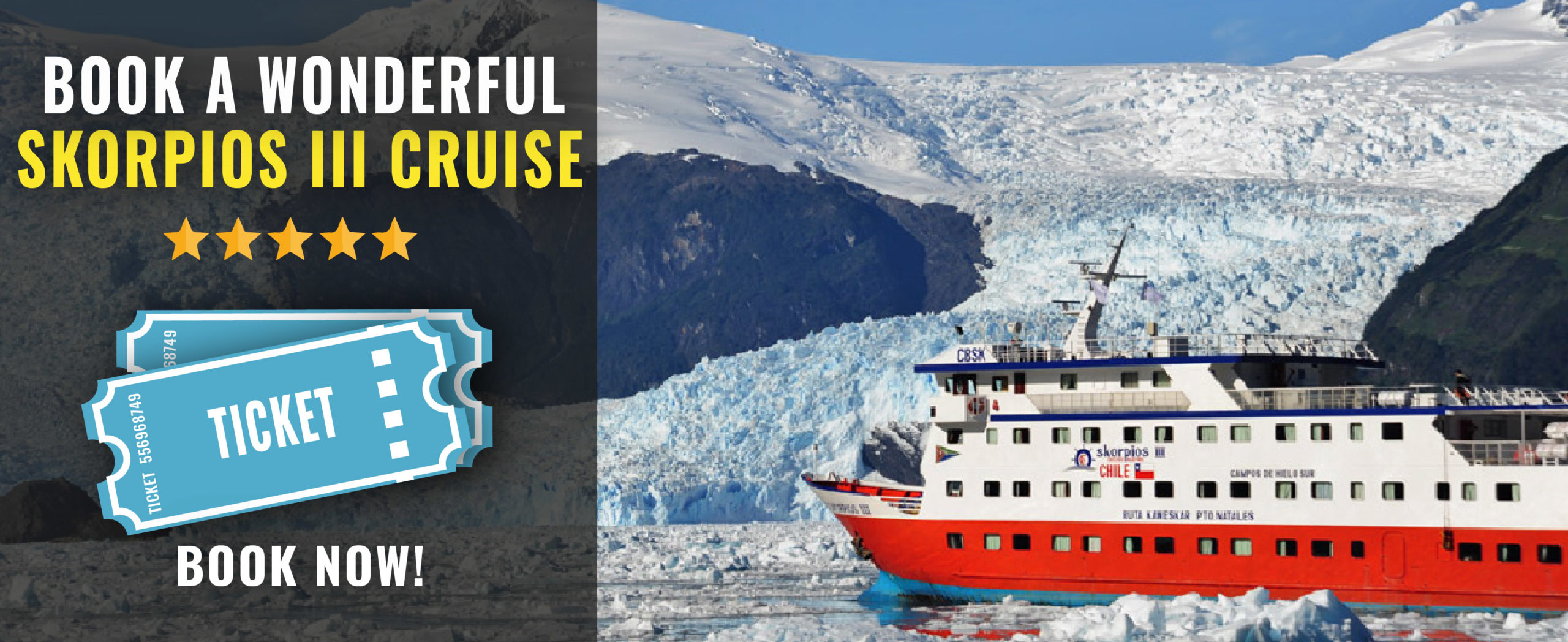 For more information, just contact us info@ripioturismo.com