RipioTurismo Interviews
BAHIA BUSTAMANTE:  We talked with Rosario Barclay, about this incredible place in Patagonia

Bahia Bustamante is a wonderful place in Patagonia. Maybe undiscovered yet by the international public, but it`s a jewel. Described by The New York Times as ´Argentina's Private (and Secret) answer to The Galapagos´, Bahia Bustamante is a seaside Lodge surrounded by 360° of pure nature, located in Patagonia, in an area recognized by its relevant biological biodiversity. Only in a few places in the world, it is possible to find such a number and diversity of seabirds and marine mammals, which is why it has been included in ´Patagonia Austral´ National Park & ´Blue Patagonia´ UNESCO Biosphere Reserve. It is also an IBAs (Important Bird and Biodiversity Areas).
We invited to Rosario Barclay today, to talk about this incredible place in Patagonia.
- Hello Rosario, thanks for your time. We know that Bahia Bustamente is a beautiful natural place, like an undiscovered jewel... What can expect a visitor that decide to go to Bahia Bustamente? Which are the highlights in the area.
- Hello Ramiro, thanks for your interest in Bahia Bustamente, I really appreciate we can talk about this place. Bahia Bustamante is a small, family-run project, a private wildlife sanctuary & Eco Lodge set in remote Patagonia by the sea, in Atlantic Patagonia. Called "Argentina's Secret (and Private) answer to The Galapagos" by The New York Times, this remote & exclusive property offers the unique opportunity to experience authentic Patagonia, surrounded by an amazing diversity of marine and land wildlife (penguins, sea lions, seabirds, guanacos, rheas and more) – the coast is a National Park and we are also part of "Blue Patagonia" UNESCO Biosphere Reserve. Only a few places in the world house such an amount and diversity of seabirds and marine mammals.
Founded in the 1950s as a seaweed camp, more than 400 seaweed workers and their families lived here, there was a church, a school, a police department and everything this small "town" and their inhabitants needed. Staying in Bahia Bustamante also means taking a journey to the past, to discover the amazing life of the pioneers of this truly remote place in Patagonia back then.
Bahia Bustamante is THE place for nature lovers, for travelers looking for "off the grid" places or detox destinations. Activities include navigating to see the marine wildlife, a 4x4 wheel drive to a petrified forest, an introduction to the unique history of the Ranch, born as a seaweed town, and to this industry nowadays, panoramic trekkings along rocky peninsulas and capes by the sea, learning about sustainable wool production and participating in the sheep shearing and mountain bike. Relaxing and enjoying the most exclusive sandy beaches and crystal-clear water is also possible. Everything within our property, accessible only to our guests.

-I see, amazing. And how many nights do you feel is necessary to enjoy this place?
-We recommend a minimum stay of 3 nights, in order to enjoy the most important activities and some time at leisure too. It`s a nice place to rest too.
- Ok, and what`s the best season to enjoy Bahia Bustamante? I think most people who arrive to the Peninsula Valdes area would be interested in extending the visit to include Bahia Bustamente in their visit.
-Yes. correct. We are open from October until the end of April. Every moment of the season has its own attraction, allowing our guests to enjoy different experiences. It is easy to remember our opening and closing dates, since we open with the arrival of penguins and other migrating marine birds, and close when these start leaving. Of course, there is also wildlife that inhabits the area all year long, like the steamer ducks (the colony here is very important) or the sea lions (around 800 individuals stay all year long and then, from November on, after mating and birthing season, the colony reaches up to 4.000 individuals) and the Steppe wildlife: guanacos, rheas, hares, foxes and many bird species.
Guests will be able to appreciate the richness of wildlife all season long. The birthing season for seabirds starts in November / December, from here on, a greater number of birds and species can be seen. Penguins arrive at the end of September and migrate in late April.
If during the visit guests would also like to see whales in Peninsula Valdés (we cannot assure whale watching in Bahia Bustamante), the time of the year is from September to mid-December. October is one of the most active months of the year for whales. The least windy period of the year is March. During this month it is possible to see Orca whales during navigation. The most important rural activities are the heart of our daily schedule. They start in August with the shearing of 20.000 sheep, which lasts 5 weeks; then, the last days of November the breading takes place and in January the weaning; both take around 45 days of work. Other rural activities and the ones related to the seaweed industry take place all the time, giving life to the corrals and the estancia. From November until end of March guests can also enjoy the beach and warmer weather.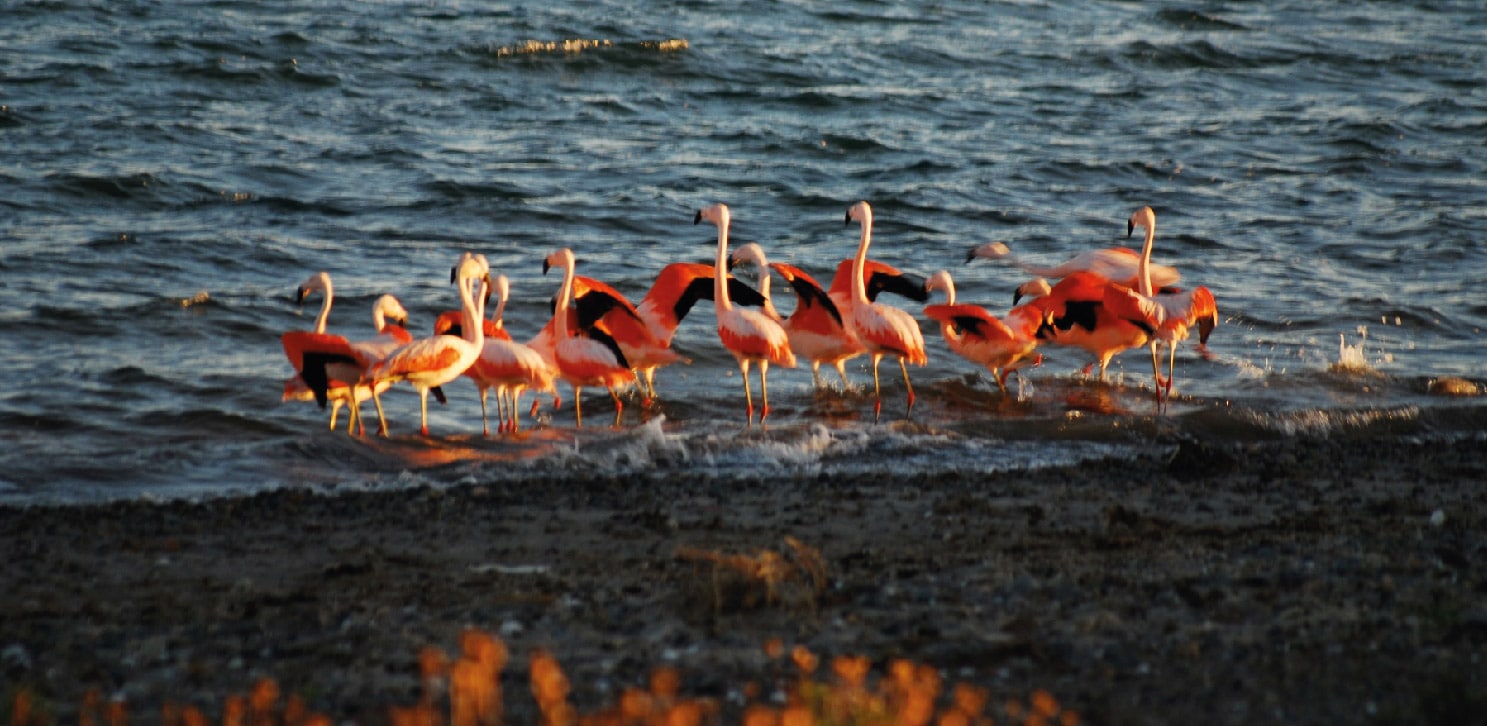 -Ok, definitely it`s a nice option to combine with Peninsula Valdes. And how is the accommodation? What services are included?
-Well, we have options. We have six sea cabins by the sea, each Cabin has two double bedrooms, a living room and one fully equipped bathroom, an ocean front view terrace and a Minibar. The stay includes full board (except beverages) & activities inside the property - coordinated the night before. Bicycles available. Maximum capacity: 4 adults
We have four superior sea cabins, which are spacious & cozy. The living room features a large window with a beautiful view of the sea. Kitchen area with cook top, coffee maker, exclusive small winery & Bluetooth speaker. Very nice...
Then, two standard sea cabins sharing a wall, these are simpler than the Superior Sea Cabins. The living room features a small window overlooking the sea. They can be connected from the inside in case of a group of more than four people wanting to stay together.
Finally, five steppe cabins. This option does not include activities or meals. Located just behind the Sea Cabins, these are much simpler. Steppe Cabins have one double room, a dining room, a small living room with a single bed, a bathroom, and a kitchen with a cooktop & basic tableware. Maximum capacity: three people.
-Well, it`s very complete information. And what about services?
-Oh, I forget to talk about the main lodge which is located where the town has its old grocery store. Today it holds the common areas of the lodge, preserving a typical Patagonia atmosphere. 
About services? We have The Restaurant where we serve local food in a menu based on seaweed, lamb meat, fish & other marine products, fruits & vegetables from our organic garden. A Bar & Living Room, perfect to relax with a view to the sea through immense window. In the library you will find books, bird guides and more. We have a well provided bar.
The Memorial Room: An introduction to the beginning of the town in the 60s & the life of more than 400 seaweed workers. And the Club,  a game room with Pool, ping-pong & board games.
-And how can clients arrive in Bahia Bustamante? As usually, people go first to Puerto Madryn and Peninsula Vales. How long is the ride from there?
-Yes, but many people also arrive to  Comodoro Rivadavia. It`s an important city with flights all year. We`re located 180 km (it`s 110 miles), from Comodoro Rivadavia. Around 2 - 2:30 hs by car... From Trelew Airport, we`re located 250 km (155 miles), by car in 3 to 3:30 hours. And finally, from Puerto Madryn which is located 300 km from here, you can arrive in 4 hours.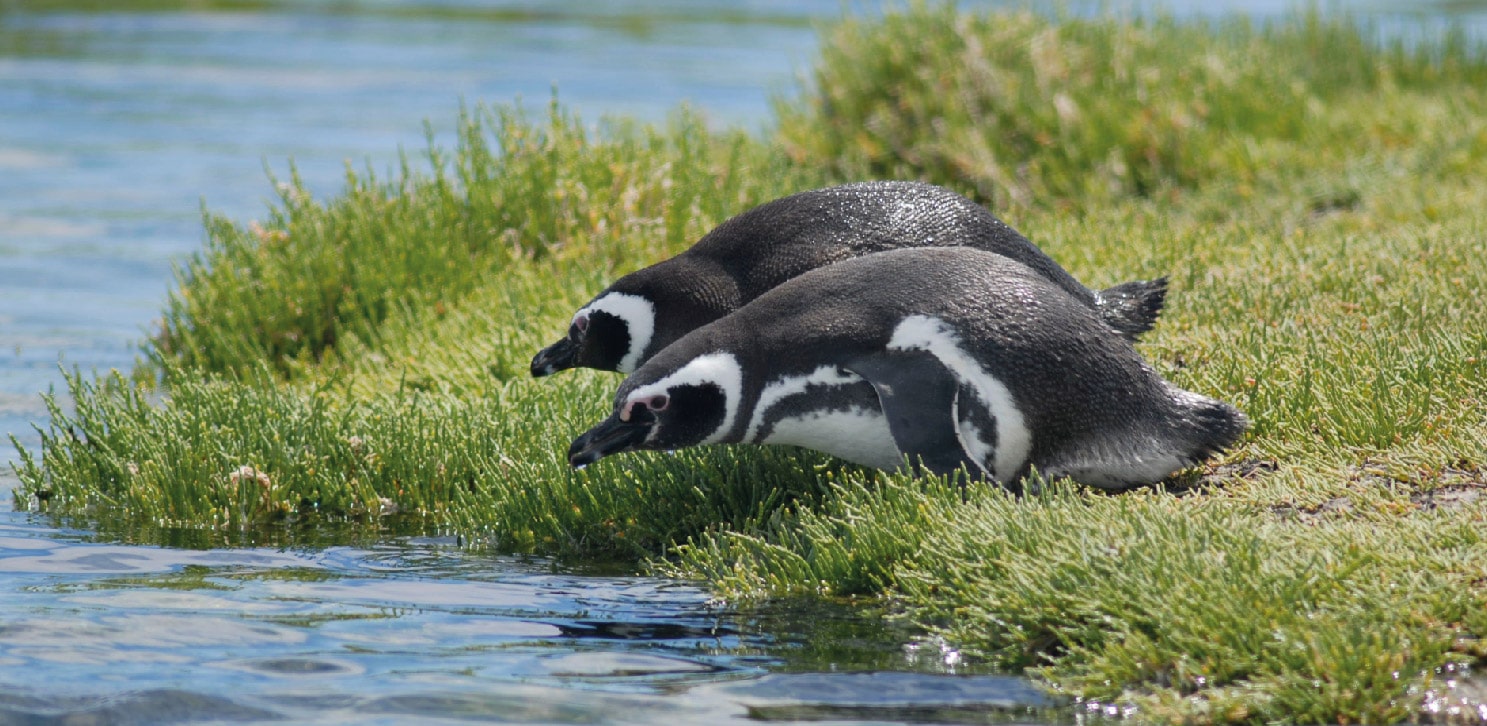 -Ok, so if people want to come here, and not visit Peninsula Valdes, the best way is to arrive at Comodoro Rivadavia...
-Correct, it`s the best way. You also can arrive to Comodoro, visit Bahia Bustamante and then go to Puerto Madryn and leave the area from Trelew... or viceversa. We can provide a private transfer service at an additional cost. Other options are renting a car or taking a regular bus service and combine it with a private transfer. Today, 90% of our guests rent a car and drive. It is the best option, the way is very easy, and although you won't need it while in Bahia Bustamante, it is much cheaper than private transfers.
- Which activities can be enjoyed in Bahia Bustamente
-Well, many... It`s ideal for nature lovers. This place offers different activities such as bird and sea lion watching, a visit to the Petrified Forest, the seaweed industry, and to a typical Patagonian ranch, panoramic trekking, and a mountain bike. You can also just relax and enjoy the most exclusive sandy beaches and crystal-clear water, surrounded by huge red rocks, in an atmosphere of incredibly different textures and colors.
With its huge number of geographic accidents, sounds, and quietness, Bahía Bustamante is a paradise for you to discover. Horseback riding and kayak are also possible (with an extra cost).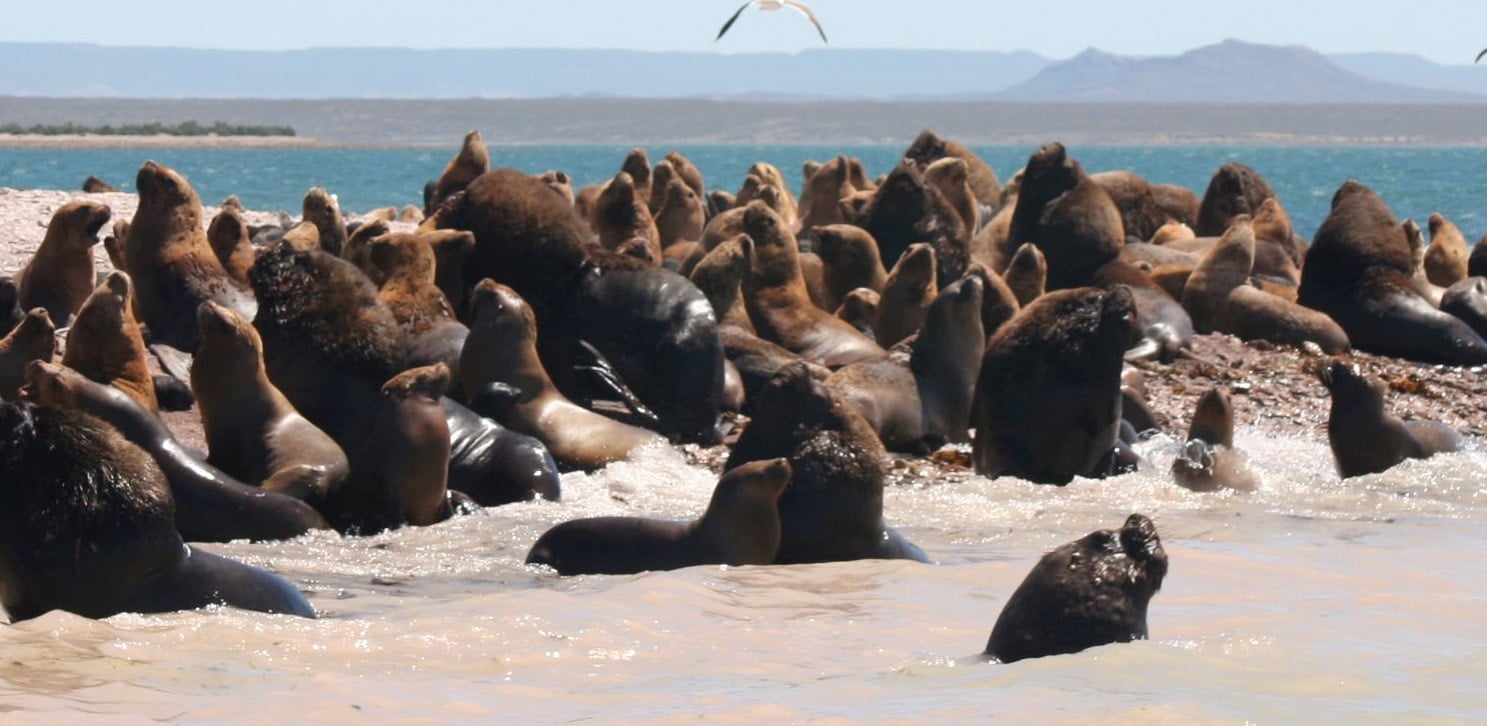 -Great Rosario Let`s talk about options available. What we can do there?
-Sure, the Navigation is very nice. It takes around 3 to 4 hours approx. Sailing along Malaspina Cove visiting Sea Lion and Seabird colonies. Navigation along this quiet cove towards the Vernacci Islands, which are home to Sea Lions (4000 animals during breeding season), Magellan Penguins (100.000 – Season: October to March), and colorful Marine Bird colonies.
Navigation is done during high tide hours and with the right weather conditions.
The visit to the Peninsula is also great. It takes 4 hours approximately. A Peninsula with sandy beaches, crystal clear water, and reddish rocks. Perfect for biking, trekking or touring in our 4×4 trucks, not only to wonderful beaches but also to sites of great archeological and geological importance. A number of natural swimming pools are formed in between the rocks, and these are great fun for swimming with a view to the open ocean. The peninsula is a world of wonders to enjoy.
Petrified Forest is another option. Takes around 4-5 hours.  It`s a 4×4 ride combined with moderate trekking to the Petrified Forest, located 18 miles away from the Lodge within the limits of our land. The Petrified Forest is a journey to the past. Exactly some 60 million years ago expressed in petrified trees and pieces of wood. Fascinating!! During the visit, we will be able to observe all kinds of Steppe wildlife too (lesser rheas, guanacos, maras, and more).
You can visit Aristizabal Cape, in a 4×4 drive to reach this amazing Cape, an important rocky point of imposing landscape, open ocean views & isolated beaches. On our journey, we will come across diverse wildlife such as lesser rheas, maras, grey foxes, armadillos, and more. Once we reach the Aristizabal Lighthouse, we do a short trek to watch Sea Lions, which usually rest in different spots around the Cape.
The Rock Canyon is beautiful trekking through the canyon, following the path of a dry river until we reach the ocean. We walk alongside immense walls 15 mts tall, formed by Jurassic rocks from the Mesozoic era. Some amazing tide pools are great fun for swimming and photo opportunities. We also visit a native archeological site. The canyon is protected from windy conditions, which makes it ideal for bird watching...
-Oh, it`s nice. And what about penguins? Can we see penguins in Bahia Bustamante?
-Yes! Absolutely! Penguin Island, which takes 3 hours approximately is amazing too. Only 15 minutes away from the Lodge this island is home to a colony of Magellan Penguins.
During low tide hours, we reach the island on foot, having the amazing experience of watching penguins, chicks and nests all around us. Along the road to the island, we will also be able to observe all kinds of Steppe wildlife.
-History of Bahia Bustamante is also interesting. Have you designed any activity for people interested on this?
-Yes, we have a historic tour and introduction to the seaweed industry.  The activity takes 1 to 2 hours. We walk around the Lodge to learn about its history, its founder, inhabitants, the buildings, everything! We will also visit the barnes were the seaweed is processed & learn about the different species found in Bahia Bustamante, its uses and more...
A rahcn day and introduction to sustainable wook production is also an interesting activity that takes four hours approximately. We produce sustainable wool here.  At the ranch, you will understand the production process of wool and meat, and according to the season, you may participate of a day's work, visiting the corrals and learning about the different activities carried out: shearing, weaning, classification or marking of the sheep.
And of course, we have some self-guided trekkings, biking, and horseback ridings are available. We can arrange extra navigations in the zodiac for people interested at extra cost. 
-It`s a very complete menu of activities Rosario. And what about gastronomy? It`s important for our international clients. What can Bahia Bustamante offer to them?
For lunches and dinners, we have a fixed menu with appetizers, main courses, and desserts. Beverages are not included. Please keep in mind that Bahia Bustamante Lodge is situated in a remote location, which sometimes results in stock limitations. We serve fish, different types of pasta, lamb, marine seafood, and other traditional Argentina dishes, depending on the availability of these products.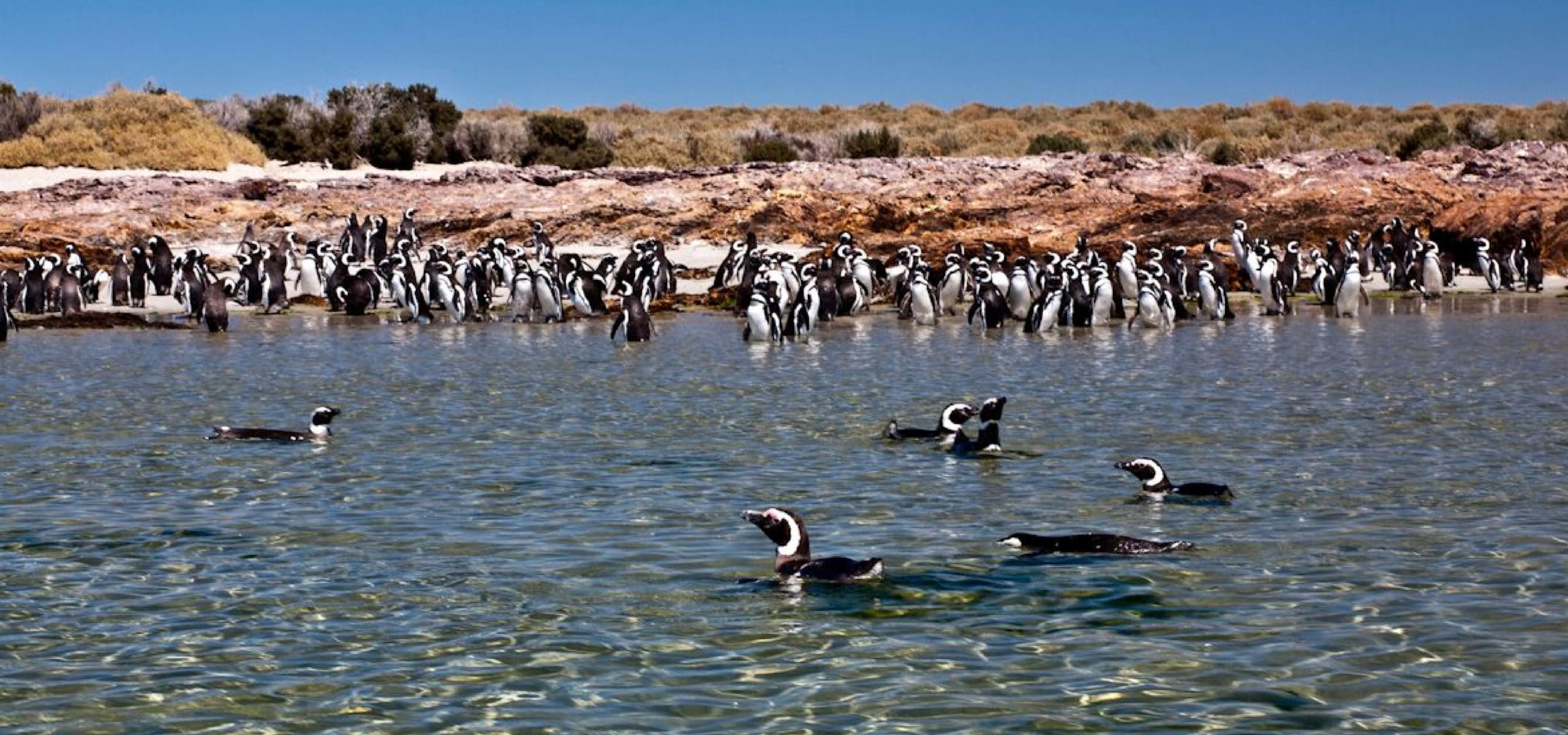 -Ok, sound nice, with local touch... I like that. What about sustainability? Is Bahia Bustamante a sustainable project? What can you say about it?
Bahia Bustamante is a small, family-run project, a private wildlife sanctuary & Eco Lodge set in remote Patagonia by the sea. Our main goal is to protect this piece of paradise & share this incredible nature with guests from all over the world, aiming to promote environmental conservation & raise awareness on the protection of this fragile ecosystem. The true love and respect for our land and nature itself is perceived and shared by our guests from the very first moment they arrive.
What do we do with that? Well, we have solar panels that provide the Lodge with electricity all day. Aiming to reduce the impact of our activity in this paradise, last may we installed solar panels and today we ONLY use this type of energy. We do some biology and other scientific research. We protect the local flora & fauna and collaborate with biologists and other scientists by offering our property as a base for their work. From the very first steps in the hospitality industry, we were conscious of the environmental value of this area and asked for expert's help. Today, our conservation actions mainly rely on the biologists and scientists (National Research Council of Argentina, Universidad Nacional de la Patagonia Austral, Wildlife Conservation Society, Fundación Patagonia Natural, etc) which we constantly receive at the Lodge. We offer them free accommodation and logistic support, in order to promote marine wildlife research.
Our food and gourmet projects also reflect our deep love for this land. Our wine project by the sea, our organic and biodynamic garden, sea salt and Salicornia harvesting, honey production, our olive oil project, and much more.
We use spring water with natural spring gravity. We provide reusable bottles at the Restaurant if guests need them for their daily activity. We remind our guests that water here is a scarce resource and request they use it responsibly. We use grey waters for watering the Lodge's surroundings.
We have Separation of waste – Reduce – Reuse – Recycle. Plastic, paperboard, and aluminum are taken to the city, to be sold and recycled. Our amenities are organic. In order to avoid unnecessary use of plastic, we use wall-mounted dispensers which we refill.
At the ranch, we apply Holistic Management of livestock to restore Patagonian grasslands and use solar energy to generate electricity on the fields. We have wind and solar mills to provide the sheep with water.
We guarantee the balance between nature & guests by limiting our maximum capacity to 20-25 guests per day.
-Oh well, that`s excellent. Thanks for that. It`s very important that modern tourism can protect natural environments like that, for future generations. Thank you
-Yes, it`s very important for us
-Ok Rosario, I appreciate your time. Thanks for that amazing information about Bahia Bustamante. I hope to return soon, I think my son would love this place. Thank you

-Thank you Ramiro, we`re here to help you.
No doubt, Bahia Bustamante is a wonderful place to be visited in Patagonia. Let me suggest extending your visit to Peninsula Vales, and take at least 3 nights there. If you`re interested, just email me to info@ripioturismo.com and I will arrange a suitable program for you.
Take a look to a video about Bahia Bustamante
Thank you,
Photos: Bahia Bustamante Lodge