Patagonia offers a vast menu of activities, and one of my favorite options is cruises in Patagonia. There are some options, and one of the best is the Skorpios III, to enjoy the Kaweskar Route to Southern Fjords and Glaciers in Patagonia. The 3-night cruise leaves from Puerto Natales and return to the same pier. We met Paz Carolina Nuñez, Product Manager in Skorpios Cruises, to chat about this wonderful expedition in Patagonia.

- Hello Paz, how`re you. Thanks for receiving me today. We have many travelers interested in cruises in Patagonia. We know it`s an expedition cruise. Which services are included?
- Hi Ramiro, thanks for your visit. Yes, it`s an expedition cruise to enjoy the best of southern fjords and glaciers in Patagonia. The cruise includes your cabin of course, full board with breakfast, lunch, tea, and dinner included, open bar including liquors and beverages in general. The bar is open from 11 am to 11.30 pm. We also include excursions in zodiacs, and lectures. It`s an all-inclusive package, and it`s really amazing. You just have to relax, and be ready for the exploration... Tips aboard the cruise are not included, it`s an important point to be informed to clients. 

- Ok, and what`s the best season to enjoy the Skorpios III Cruise?
- Well, I`m not sure if we have a "best season". There is a season yes because we have departures from October to April... but I`m not sure if some departures are better than others. Of course, weather could be better in December, January and February, more daylight, and temperatures not too low, but in general, the shoulder season and low season departures are quiet and interesting too. You can check our departures on our website. 
- Well, I agree. I enjoyed the Skorpios III few years ago during April and the weather was fantastic. We enjoyed rain, hail, snow and sun in the same afternoon. It was fantastic!
- Certainly Ramiro, it`s very common. The weather in Patagonia is changing all the time. It`s amazing...
- We know you work with travellers from around the world, but mainly from which countries they come?
- Well, people from around the world came to South America to enjoy the southern fjords and glaciers in Patagonia aboard the Skorpios III. We have many travellers from United States and Canadà, Germany, England, Spain, Italy, France, Australia, Brazil... 
- Ok, and what about clothing? There is a list of suggested clothing to bring aboard?
- Yes, it`s a good question Ramiro. Because it`s important to be comfortable aboard the cruise, to enjoy everything without problems.
Passengers must wear adequate clothing, low-heeled shoes or trekking footwear is recommendable, as are quickly drying trousers and some waterproof gear. Polars, caps and special jackets are really useful for the cold and wind. A small backpack is useful during our excursions. Sunglasses and sunscreen because UV rays are also present in Patagonia.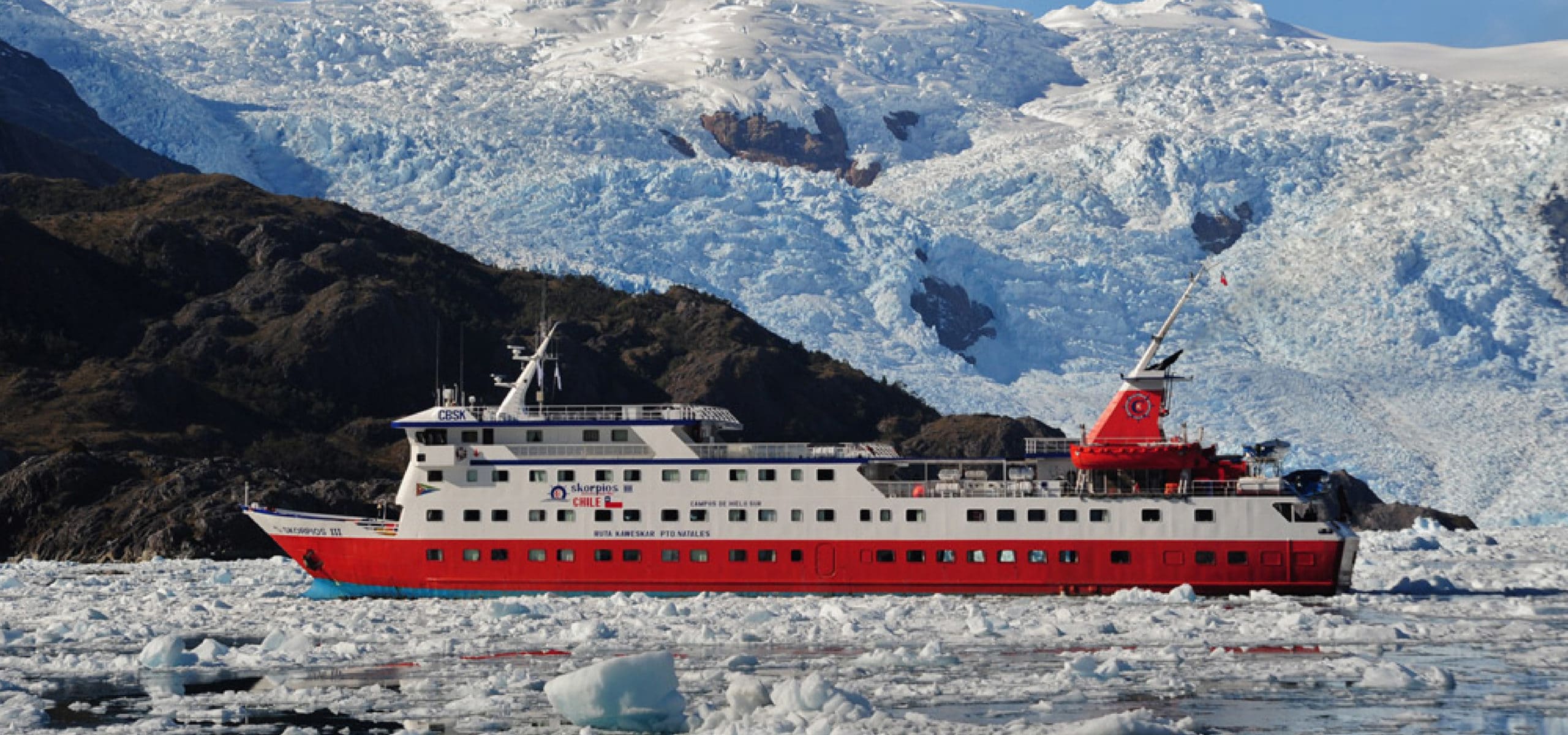 - Perfect. I agree it`s very important. And how many disembarkations are included during the Skorpios III? 
- We have a total of six. We  disembark at Amalia Glacier and El Brujo Glacier on day 2. We continue to Alsina Glacier the next day. Activities are the core of the cruise because people can disembark in zodiacs and walk different areas in the coast of the fjords... It`s very amazing because these are isolated places. 
- Absolutely. And which are the highlights of the Kaweskar Route?
- Well, glaciers and fjords of the southern icefield. We have many places, but in general, the whole route is the highlight
- Ok, one of the common questions from our clients is, what`s the clothing code for the Captain`s Dinner...?
- Yes, I know. Let me say semiformal clothing is ok. We are an expedition cruise, so nothing so formal

- We know that the previous night can be booked. What`s the advantage of staying the previous night in the cruise?
- Well, it`s an additional service that includes lodging. You will be in your cabin in advance. And dinner, breakfast, and lunch will be served too. Furthermore, you can take an excursion to Torres del Paine National Park and Mnilodon Cave, with entrance tickets at no extra charge. It`s interesting because Torres del Paine National Park is a must-see in the area. So for an extra, you can enjoy these additionals. 
- Gastronomy is very important for our clients. What can you say about meals aboard?
- Well, people aboard Skorpios Cruises are faithful interpreters of the Kochifas family tradition, so we can guarantee the best Patagonian cuisine, with an exclusive selection of meats, vegetables, and seafood like king crabs, lobsters of Juan Fernández island, scallops, mussels, and cholga mussels, all of which are cooked following the culinary tradition of the Skorpios cuisine. You will also have the chance to enjoy the best regional meats such as Magellan lamb and beef, accompanied by an ample variety of fine red wines and the best national and imported liquors, which have been specially chosen for the cruise, together with a free bar.

- Talk me about the vessel. Which are the differences between decks and categories?
- Well, we have different categories of course. Going from lower to upper decks, we have the Athens Deck, with seven cabins available. These cabins are the cheaper ones, with no window and access to the inner passageway. Cabins on the second deck, the Acropolis, include windows and access to the inner passageway. We have ten cabins on the Acropolis Deck and these are the cheaper cabins with window.
The third deck is the Parhenon, with window and inner passageway access. We have twelve cabins available. Next, the fourth deck is the Olympo, with a total of twelve cabins. Some of the cabins include king-size beds, like the 401 and 402.  Again, the window and access to the inner passageway are included.
Finally, the fifth deck is the Athos Deck, with window and direct access to deck. There are three cabins in the Athos, with Queen Size beds.
- Great. Thanks for your time Paz. I appreciate your help. I`m sure our clients will enjoy this wonderful cruise as I`ve done few years ago. 
- Thanks Ramiro. We`re here to help you. Have a nice day.
Skorpios III is an amazing expedition in Patagonia. If you have time and can expend a bit more money, this cruise could be a highlight in your trip. Landscapes are unique. It`s an unforgettable experience for me. Take a look at some important information about Skorpios III below:
SKORPIOS III: Day by day itinerary
DAY 1:
16.00 hrs. Passenger reception. 17.15 hrs. Safety speech about the vessel, the place will be determined that day. Departure from Puerto Natales between 17.30 hrs. and 18.00 hrs. Sailing through Angostura Kirke, Morla, Vicuña, Unión, Collingwood, and Sarmiento channels.
DAY 2:
08.00 hrs. Arrival at Amalia Glacier. The vessel approaches the Glacier. Panoramic view from the ship. 09.30 hrs. Disembarkation on a nearby beach, soft hiking through the beach, flora, and rocks, arriving to a viewpoint where we can appreciate this beautiful glacier. 11.30 hrs. Sailing for El Brujo Glacier. 14.00 hrs. Arrival at El Brujo Glacier. Weather and ice permitting, passengers can disembark and contemplate this glacier from a nearby rock.
15.30 hrs. Get sailing to amazing Calvo Fjord. 17.10 hrs. Arrival at Calvo Fjord and excursion on the "Capitán Constantino" icebreaker, appropriate to navigate between the ice. Visit to the Fernando, Capitán Constantino, and Alipio glaciers, among others. 20.00 hrs. Sail towards Montañas Fjord.

DAY 3:
09.00 hrs. Visit to Montañas Fjord, from where you can see four glaciers, that slide down the Sarmiento Mountains to the sea, two of them are on our route. 09.30 hrs. Visit Alsina Glacier, excursion on our boats, to explore this small bay and its glacier, enjoying its beauty and enormous mountains surrounding. 10.30 hrs. Return to Skorpios III. Continue sailing through Montañas Fjord toward Bernal Glacier. 11.15 hrs. Disembarkation on Bernal Glacier. Initiate a soft walking in a small native forest, and then crossing through a stream, which crosses a glacier water lagoon. Continue soft hiking over front and side moraines. Arrival at Glacier. Here, passengers can feel and touch the ice and appreciate the iceberg melting. 12.45 hrs. Passengers return to the ship, which is in the natural water supplying phase. This water, provided from a cascade, is used onboard for all ship services. 14.00 hrs. Skorpios III continues sailing through Montañas Fjord, we will be able to see Herman and Zamudio glaciers from the ship.17.45 hrs. Arrival at White angostura. Disembarkation. Then, on the excursion boats, sailing among islands and rocks, enjoying the native fauna and flora. 19.30 hrs. Returning to the ship and preparing for Captain's dinner.21.00 hrs. Farewell Party. Captain's Dinner and dance. Navigation through Almirante Montt gulf.
DAY 4:
Arrival to Puerto Natales between 02.00 hrs. and 07.00 hrs. depending on wind conditions, to reach Skorpios Terminal. 08.00 hrs. and 09.30 hrs. Passengers leave the ship, those who have hired the service, transfer to the Punta Arenas airport by coach (consult fees).
MORE INFORMATION ABOUT SKORPIOS III CRUISE
Click on the image below and check departures, rates and more!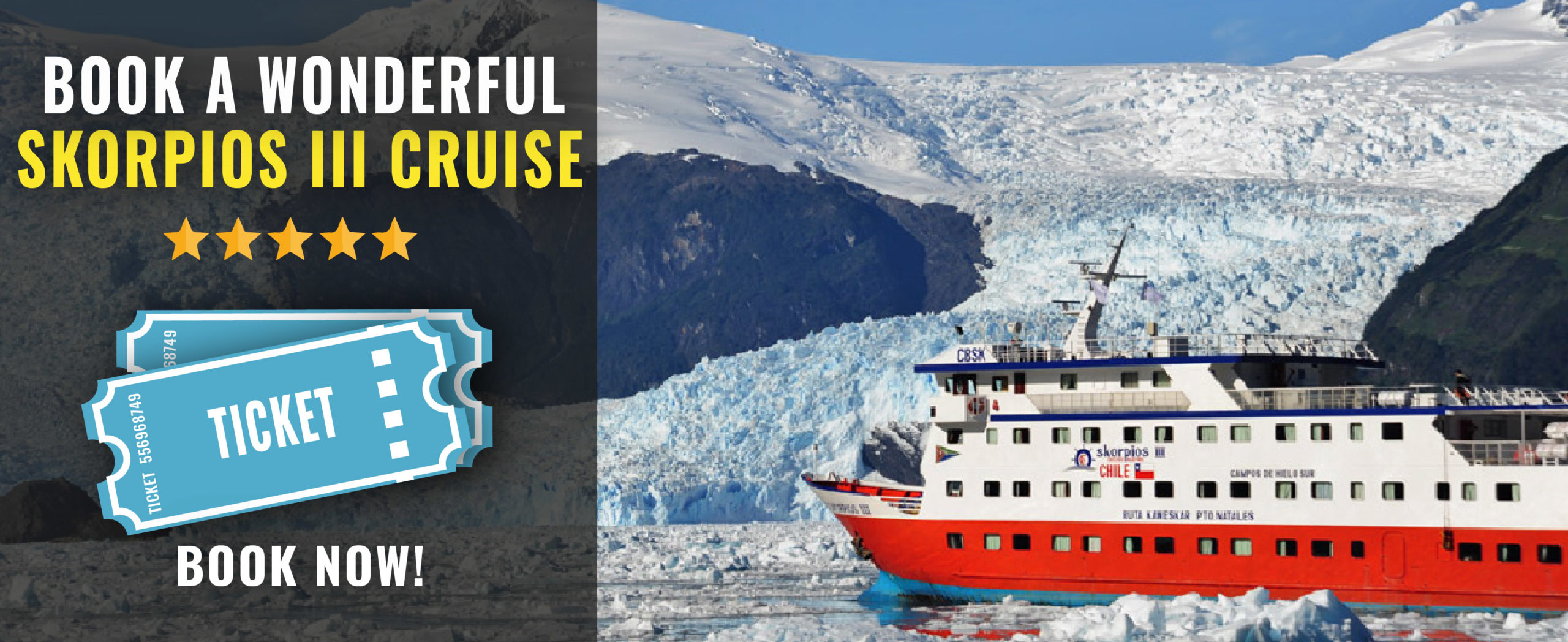 For more information about Skorpios III, you can contact me: info@ripioturismo.com
Thank you,