RipioTurismo Interview: We met Daiana Salcini to talk about this wonderful  Estancia de Charme in Salta
Just off the Andean Mountains a few minutes from Salta, you will discover the luxury House of Jasmines hotel, member of Relais & Chateaux, allow yourself to be carried away by the warm, romantic atmosphere of the Northwest of Argentina.  The place is amazing. Salta and the Nortwhest is a great place to visit in Argentina, with many lansdcapes and cultural attractions. Once in House of Jasmines, you will see at the end of a path lined with eucalyptus trees, this century-old Estancia. The place welcomes travelers for an unforgettable stay. A symbol of the art of hospitality that is so important to the Fenestraz family, the rooms and suites of the House of Jasmines hotel of Salta provide you with absolute comfort, evoking softness and refinement.
Today, we meet Daiana Salcini, Maîtresse de Maison in House of Jasmines, to talk about this incredible place in the Argentinian Northwest

- Hello Daiana, thanks for receiving me in House of Jasmines
- You`re welcome Ramiro. Thanks for your interest in our estancia
- I`m surprised from the beginning. It`s a wonderful place. Which are the highlights of house of jasmines?
- Well, our estancia has a lot of aspects to highlight, being unique in salta. Some of them are the human warmth of the house of jasmines team that provides the best during the stays of our guests. Also, the natural environment and the views that surround the estancia. And the gastronomy of our restaurant "la table", that well fussates the regional flavors with the gourmet.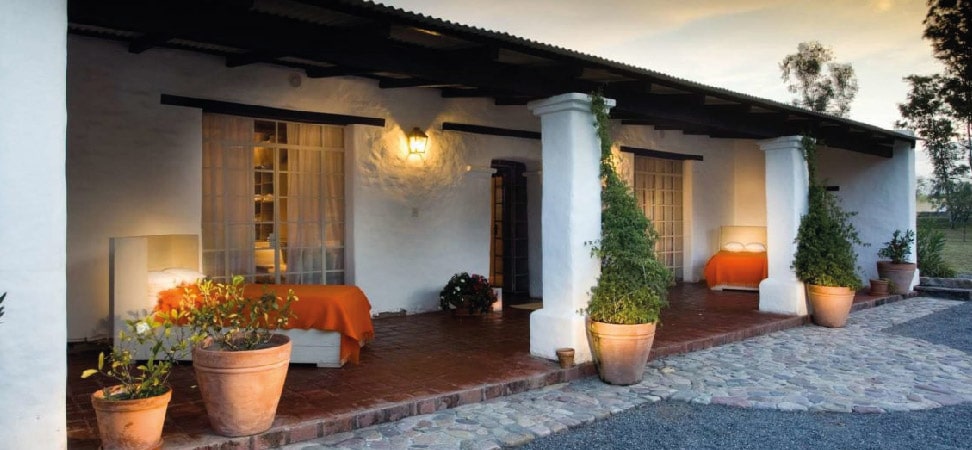 - We know it`s a place with history. What can you say about that?
- Once you get inside the estancia, you know that it has a lot of history. From the tree in the main entrance, eucaliptus of one hundred years, until arriving in the main house, typical country house more than 120 years old. Was a family house, then a famous actor fell in love with the house and the landscape and turn into a boutique hotel.
- Gastronomy is important for our clients, what you can say about that?
- We have a kitchen dedicated to transmitting the best of our regional food mixed with a high-quality concept. In our Restaurant La Table our chef proposes a cuisine exclusively made up of the traditional dishes and specialties of Northern Argentina such as tamales – little steamed masa wraps – enhanced by products cultivated in the vegetable garden and orchard of the estate. The not-to-be-missed asado – the traditional Argentinian barbecue – is prepared according to time-honored custom using the delicious meats produced by the Don André Estancia, another family property on the Argentinian territory. To best accompany your lunch or dinner at the La Table restaurant, the wine list features the best crus of Argentina, and in particular, those of the Salta Province, compromising a great number of the bottles kept in the restaurant cellar. Each morning, La Table of House of Jasmines welcomes you to breakfast with a buffet of products, most of which are home-made, beginning with the delicious, well-known dulce de leche
- Oh well, I really enjoy typical northern Argentinian meals... And which experiences are included with the accommodation?
- As an experience we can highlight the welcome drink, a glass of wine, we invite guests to taste our local wine  Torrontes from Cafayate, then the use of the bicycles, relaxing spa area with sauna and hamman, swimming pool outdoor with a nice view...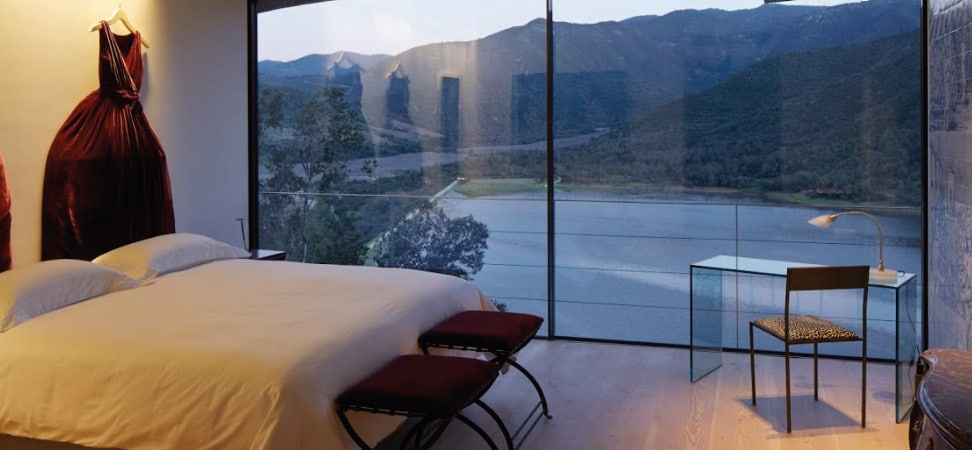 - I see, it`s a place to enjoy and relax. And what about the rooms? 
- Our estancia has 14 rooms, 7 are located inside the main house and 7 rooms at 80 mts from the main building. We have suites situated in a charming house just meters from the main residence, our three typical northern Argentinean rural chic style suites are decorated with refinement and elegance. The soft beige and ivory colors contrast with the force of the brown earth tones. With an area of about 40 m², your suite has an independent entrance, featuring a separate living room and opens onto a private terrace with a view of the andes. Upon request and for perfect rest, your suite can be prepared with a double king-size bed or two twin beds. The very bright large bath comes with a bathtub, a separate shower, and two sinks. The suites have 40 m2, private terrace with view to the Andes, bathroom with a bath and separate shower, separate living room area, satellite tv with international channels, free wi-fi, air conditioning, and heating, safe, the possibility to add a baby crib, possibility to add two more beds to accommodate up to 2 adults and 2 children, possibility to connect a suite with the standard room with terrace
- Ok, very nice
- Yes, we also can offer our Junior Suites, our typical northern Argentinean rural chic style 33 m² junior suites are decorated with refinement and elegance. The soft beige and ivory colors contrast with the force of the brown earth tones. Upon request, your junior suite can be prepared with a double king size bed or two twin beds. For total relaxation, move from your living room area to your private terrace. You will not tire of its unique view of the Andes.
Very bright, the large bath comes with a shower. These rooms include the same amenities, with 33 m2
Our Superior rooms are our typical northern Argentinean rural chic style superior rooms are decorated with refinement and elegance. The soft beige and ivory colors contrast with the force of the brown earth tones. These rooms open onto large terraces without vis-à-vis and overlooking the estancia's garden and especially the majestic Andes cordillera. These are 20 m2 rooms
We also have a standard room with 18 m2 with a terrace or just a standard room without a terrace, but with 20 m2. As you can see, we have many options to offer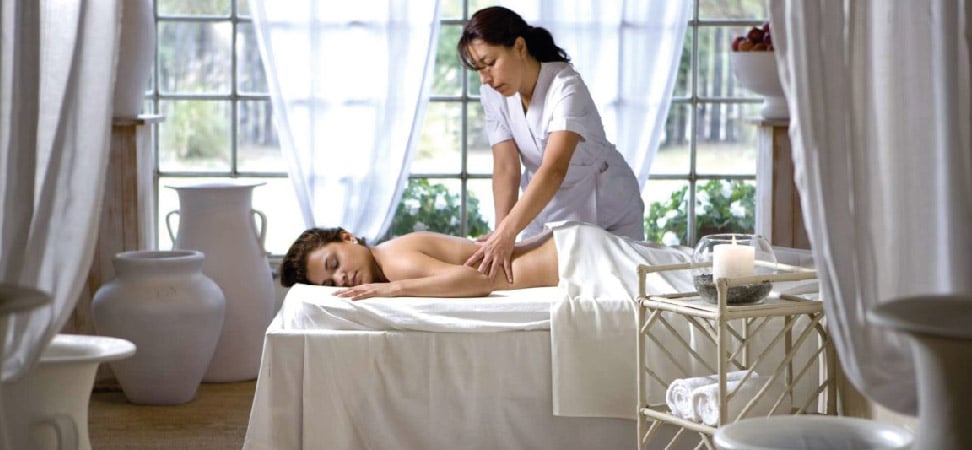 - I see Daiana. And what about Spa? Do you offer spa services?
- Of course. Our spa has 300 mt2, hammam, sauna, and 3 rooms for massages and treatments. At the House of Jasmines Estancia, we ensure that you stay in the best possible shape, providing you with all the comfort of our relaxation center to avoid benign little pains from becoming truly bothersome following your stay in Salta and Argentina.  To do so, our team of professional practitioners administers the treatments that you need, offering a variety of types of massage: relaxing, unwinding, draining, hot stones, Thai, and reflexology.
- Great. And how many nights do you feel is necessary to stay for a good experience?
- Well, we recommend minimum two nights to enjoy the estancia and the activities, but if you`re looking for time to relax after a long trip, for example, would be good to stay more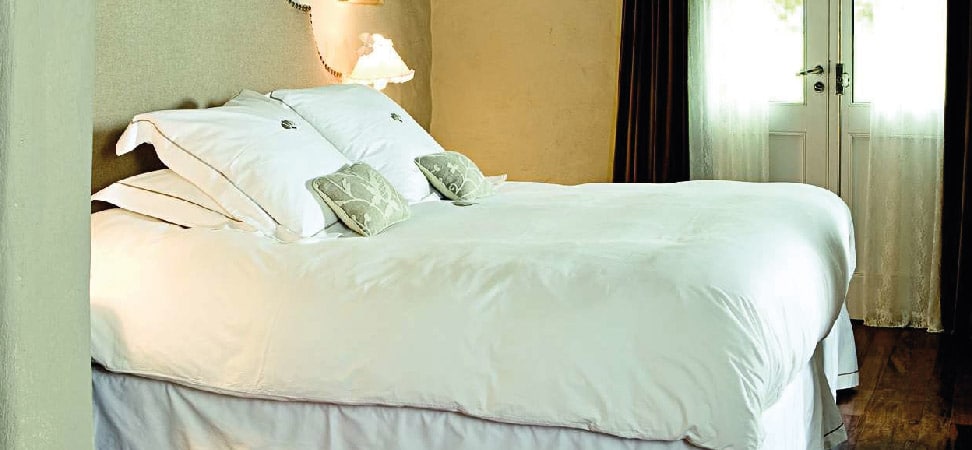 - I agree Daiana. Thanks for your time. I really loved House of Jasmines
- Thank you Ramiro, you`re welcome to return to our Estancia de Charme
No doubt it`s a great place to stay when you organize your trip to the Argentinian Northwest. Excellent gastronomy, relax and some time to think about the beauties of Argentina. For more information, just email me at info@ripioturismo.com
Thank you,