RipioTurismo Inverviews: Arakur Resort & Spa
We met Josè Candeago to talk about Arakur, one of the best options to stay during your visit to Ushuaia

Ushuaia... the southernmost city in the world, a place called the "End of the World", is located in Tierra del Fuego. From there, you can enjoy many attractions, during summer, autumn, winter, and spring. Yes, from Ushuaia you can visit the Tierra del Fuego National Park and take a ride in the famous Train of the End of the World, to know more about the history of the city, about its beginnings. There are many options available, to navigate the Beagle Channel. Yes, from basic navigations to enjoy the bird's island, sea lions islands, and Les Eclareirs lighthouse, to larger options to visit Harberton Ranch or disembark in the Martillo Island Penguin Rookery and walk among penguins, the papua... Well, there are more activities to choose from of course. Take a look at our website www.beaglechannelnavigation.com and check the options available.
So, if you`re planning to visit Ushuaia, and I hardly suggest doing that when you visit Patagonia, one of the best places to stay (I think it`s the best!), is Arakur. Today, we met Josè Candeago, Sales Director at Arakur Resort & Spa to talk about this wonderful place in Ushuaia.
- HELLO JOSÈ, THANKS FOR RECEIVING US IN ARAKUR RESORT & SPA. 
- You`re welcome Ramiro, it`s a pleasure for me to chat about our hotel. 
- WE KNOW ARAKUR IS THE BEST HOTEL IN USHUAIA. BUT, WHAT CAN EXPECT A PERSON WHO WANTS TO STAY IN YOUR HOTEL?
- Well, we`re a member of The Leading Hotels of the World... It`s important you know. You`re visiting one of the best hotels in Argentina. We`re located in the city of Ushuaia, Tierra del Fuego one of Argentina's most magnificent landscapes and the jumping-off point for travelers heading to explore the great white continent of Antarctica.
We have a design based on the standards of sustainable architecture. Arakur stretches along with a spectacular natural balcony at800 feet (250 meters) above sea level and is surrounded by imposing panoramic views. As you can see, the magnificent Lobby welcomes guests with its large windows and the warmth of its wood-burning fireplaces.
- OH, I THINK IT`S A PERFECT PLACE TO STAY FOR HOURS...
- No doubt, Ramiro The over 100 rooms, and suites are decorated with custom-designed furniture in solid wood and handcrafted leather and equipped with the latest technology in comfort. The Hotel has a fitness center and a pool area of 2,153 sq. ft. (200 m2) of water mirrors, with a 55 ft. long lap swimming pool, an indoor-outdoor infinity pool with underwater music and two hydro-jet sectors, a children's pool and two hot tubs on the outdoor deck with a capacity of up to ten people each, and panoramic views of the sea and the city.
- WHAT´S THE MINIMUM STAY YOU FEEL IT´S NECESSARY TO VISIT USHUAIA AND THE TIERRA DEL FUEGO ISLAND?
- 3 nights is the basic stay. You know, to visit the National Park, take a Beagle Channel Navigation and may visit Fagnano and Escondido Lakes in the heart of Tierra del Fuego Island. 

- WE KNOW YOU RECEIVE PEOPLE FROM AROUND THE WORLD, BUT DO THEY CAME MOSTLY FROM USA AND CANADA? EUROPE? ASIA?
- Our guests, come from all over the world. However, between October and March is the peak season for North American, European, and Asian guests attracted by Ushuaia's Incredible landscapes (Glaciers, lakes, mountains, rivers, Tierra del Fuego National Park) adventure, and active tourism.
Ushuaia it's also the last stop Adventure before the Antarctic (the southern polar continent), and it provides a nice buffer between the world that we know, and that which is to be discovered on the other side of the stretch of water separating the two fingers of land.
- USHUAIA CHANGES ALL THE TIME. WHAT´S THE BEST SEASON TO VISIT THIS INCREDIBLE PLACE IN PATAGONIA IN YOUR OPINION?
- Ushuaia is one of the most coveted destinations in Argentina. The 'city at the end of the world' has much to offer visitors, from stunning natural landscapes to once-in-a-lifetime experiences  
An unmissable part of the Ushuaia experience, navigating the Beagle Channel is a must-do for anyone taking the trip to Tierra del Fuego. This channel crossing affords visitors some of the best views back towards the city of Ushuaia, as well as remarkable vistas of the Patagonian landscape. From the boat, you can also see the Isla de los Lobos and the Isla de Pájaros, where you can observe sea lions and birds respectively. The boat will also drop you off at various points where you can get better views of both Argentina and Chile.
Ushuaia has also its very own Magellanic penguin colony that you can visit by taking a day tour to Martillo Island, where the penguins come to hang out between September and April. The incredible creatures are friendly and curious and don't mind getting close to humans, so you can walk among them as you've only imagined in your wildest dreams.  
If you head to Ushuaia in winter, it's the perfect opportunity to get out and about on a set of skis or snowshoes. Ushuaia has its very own dinky ski resort (Cerro Castor) which is located only 30 minutes away from Arakur. The Resort offer ski packages (including transfers IN-OUT from the airport, welcome dinner, ski passes, and ski rental, and a daily shuttle connecting the hotel with the ski center). There is also excellent cross-country skiing to be had in the woods around the town.
- ARAKUR IS NOT A CENTRALLY LOCATED HOTEL, IT´S LOCATED IN A PRIVILEGED LOCATION. WHAT CAN YOU SAY ABOUT THAT?
- Well, certainly, we`re located in a privileged setting... Look around!  Arakur Ushuaia is situated within Cerro Alarkén Natural Reserve, a few minutes from the city center of Ushuaia and its main points of interest. 
Set on a natural balcony at 800 feet above sea level, on a magnificent outcrop high above the city, inside the Reserva Natural Cerro Alarkén (100 hectares of native forests and diverse species of fauna and flora) offers the perfect balance between calmness and adventure.
Located close to the main points of interest just 10 minutes from the city and the port of Ushuaia, and 20 minutes from the international airport.

- IS ARAKUR AN ECOLOGIC HOTEL? WHAT CAN YOU SAY ABOUT THAT?
- Absolutely Ramiro, nice question. Arakur Ushuaia has been recognized for the implementation of the 'Guidelines on Environmental Management Program by the Ministry of Tourism of Argentina.  Recognized worldwide for its service, Arakur is an example in terms of sustainable hotel development. Its facilities have been designed to have a low environmental impact and to respect the environment. We have some implementations and managements of sustainable practices
In order to avoid the clearing of forests in 'Cerro Alarkén' Natural Reserve, the building was inserted on the natural stone base of the place—which was carved for that purpose. The rubble produced was reused in the construction of the building. Additionally, this setting allows guests to be in direct contact with nature right at the foot of the building.
The building was integrated with the landscape of the Reserve by means of a treated copper roof and the stone base extracted from the same property. The treatment of the green roof cover (aged copper) blends into the landscape and acts as a thermal insulator.
the hotel features optimal thermal insulation conditions in its exterior walls and openings due to the extreme temperatures of this latitude. Exterior walls with up to 5" thick high-density glass wool insulation. Windows with double-paned glasses mounted in the woodworking order to avoid heat loss and condensation. Airtight state-of-the-art aluminum openings to prevent filtrations. Window opening detection system for controlling possible heat loss in rooms. Thermostats in every room.
Air conditioning provided by a geothermal cooling system (the coolant is cooled by means of pipes buried in the ground to take the advantage of the subsoil temperature of Ushuaia (7° C/44.6° F) instead of using traditional electric compressors) and by a free cooling system (using cold outside air).
LED lighting. Domotics with air conditioning and lighting control. Natural lighting in guest areas and production areas in order to avoid the use of energy.
Other energy consumption optimization practices:
Induction cookers (a cooking method with the highest energy transfer efficiency; it does not burn gases, so it does not require air renewal for the ventilation of combustion gases). Elevator batteries with fuzzy logic central control to optimize routes
The use of sanitary and flush toilet water has been addressed by means of automated devices and taps that optimize consumption and prevent water waste.
The pool equipment uses filtration and purification systems with a pool water ionizer treatment that minimizes the use of chlorine, allowing water to be reused while maintaining its conditions of purity and desired temperature. The hotel has a wastewater treatment plant.
The landscaping was designed with native species that do not require irrigation.
Natural, local, recycled, and recyclable materials have mostly been used in the construction and decor of the hotel, such as local stone cladding, certified lenga wood for room floors and doors in operational areas, and salvaged wood such as oak, lenga, and Palo Santo. The carpets are made of 100% natural (undyed) wool fibers, as are the decorative and acoustic felt panels of the lobby. The use of untanned leather and hair-on-hides can also be mentioned
The building has a sensor system installed in rooms and public areas which provide environmental data, such as room temperature, humidity, and concentration of carbon dioxide in the air. The use of batteries has been minimized in order to avoid any polluting effects when discarding them.
- OH WELL, IT WAS A VERY COMPLETE INFORMATION JOSÈ. THANK YOU. GASTRONOMY IS IMPORTANT FOR OUR CUSTOMERS, WHAT CAN YOU EXPECT IF YOU STAY IN ARAKUR?
- Well, in Arakur Ushuaia we celebrate the beauty of its setting with haute cuisine in its restaurant La Cravia, where guests can taste dishes of national and international cuisine with buffet service and the famed Argentine open-flame grill or choose from an à la carte menu. Arakur's Lobby Bar offers a sophisticated wine list to taste accompanied by a selection of cheeses and cold cuts. 

- GREAT, I WILL GO LATER FOR ONE OF THESE CHEESES... DO YOU OFFER ACTIVITIES IN THE NATURAL RESERVE?
- Cerro Alarkén Nature Reserve is an area dedicated to the preservation of Nature. An area covering more than 100 hectares (247 acres) devoted to the preservation of native forests of lengas, ñires, and coihues, and of various species of flora and fauna typical of the region.It extends over more than 1 km of coastline along Arroyo Grande and offers a natural scenic overlook with a 360° view of the whole area. Arakur Ushuaia is located inside the Natural Reserve and close to Mount Alarkén's summit.
The natural viewpoint at the top of Mount Alarkén offers an extraordinary scenic overlook of the Ushuaia Bay, the Martial mountain ridges, Mount Vincinguerra and its Glacier, the Andorra, and Río Chico Valleys, mounts Cortés, Olivia and Cinco Hermanos, and the Beagle Channel.
Located very close to the summit of Alarkén hill, on a natural balcony of 250 m. asl (820 ft. asl),
Arakur Ushuaia it extends. In a privileged environment, Arakur Ushuaia is the starting point of the walking trails that run through the Nature Reserve Cerro Alarkén where the visitors can practice different sports and make guided trekking tours graded according to different levels of effort.
We have some outdoor activities too. Designed for those people who live in nature in an intense way, Arakur Ushuaia offers various programs of outdoor activities. Guided hikes with different difficulty levels and sporting activities within the Cerro Nature Reserve Alarkén and the surrounding mountains. We have wildlife watching, photo tours, and guided walking tours of different difficulties 
The Alarken circuit. This trail can be done by all visitors for its low difficulty. It offers a 360 degrees view of Ushuaia city, the Beagle Channel, mountain ranges, and surrounding valleys.
Peat Bog, Ideal for touring and training for its easy access and circuit length. The circular path surrounds a natural peat bog crossing among an old native forest modified by the legendary prisoners.
Forests and Bay`s Panoramic Viewpoint, This trail can be done by all visitors for its low difficulty. During the walking by the native forest, you are going to enjoy the modification of it over the years. These trails also offer a view of Ushuaia city, the Beagle channel, mountain ranges, and surrounding valleys.
Walks in the surrounding areas
Trekking to the Cascade is a slightly hilly trail that walks the old road used by the loggers. The trail goes down to the river amid lush vegetation of mosses, lichens and ferns through a mixed forest of beech and evergreen Magellanic. Level: medium. 
We have more, much more activities available...
- WHICH ARE THE HIGHLIGHTS OF ARAKUR IN YOUR OPINION?
- Well, the location... Arakur Ushuaia Resort & Spa is the ultimate end of the world adventure hotel set on a hill in the shadow of the majestic mountains of Southern Patagonia. The adventure, we`re set on a natural balcony at 800 feet above sea level, on a magnificent outcrop high above the city, inside the Reserva Natural Cerro Alarkén (100 hectares of native forests and diverse species of fauna and flora) offers the perfect balance between calmness and adventure. The hotel offers direct access to hiking, wildlife reserves, wildlife watching and can connect you with helicopter rides of the area. The Cerro Alakèn is also a highlight. And of course, our infrastructure and architecture is a highlight too.  We have an astonishing lobby with large windows, fireplaces, and sophisticated local décor, 117 rooms, and 10 suites with privileged views of the city and of the Beagle Channel.
We also have an impressive Spa. The Pool area with 200 m2 (2152.8 ft²) water mirror pools, a 17-meter lap swimming pool, an edge infinity in-out relax pool with underwater music and hydro jets areas. Our Sustainability, we`re designed according to the standards of sustainable architecture, and finally... the gastronomy.  At Arakur Ushuaia, the "haute cuisine" shines in a beautiful environment in La Cravia restaurant, where an Argentine and international menu can be ordered either in buffet service, a typical Argentine grill for everyone to see or à la carte.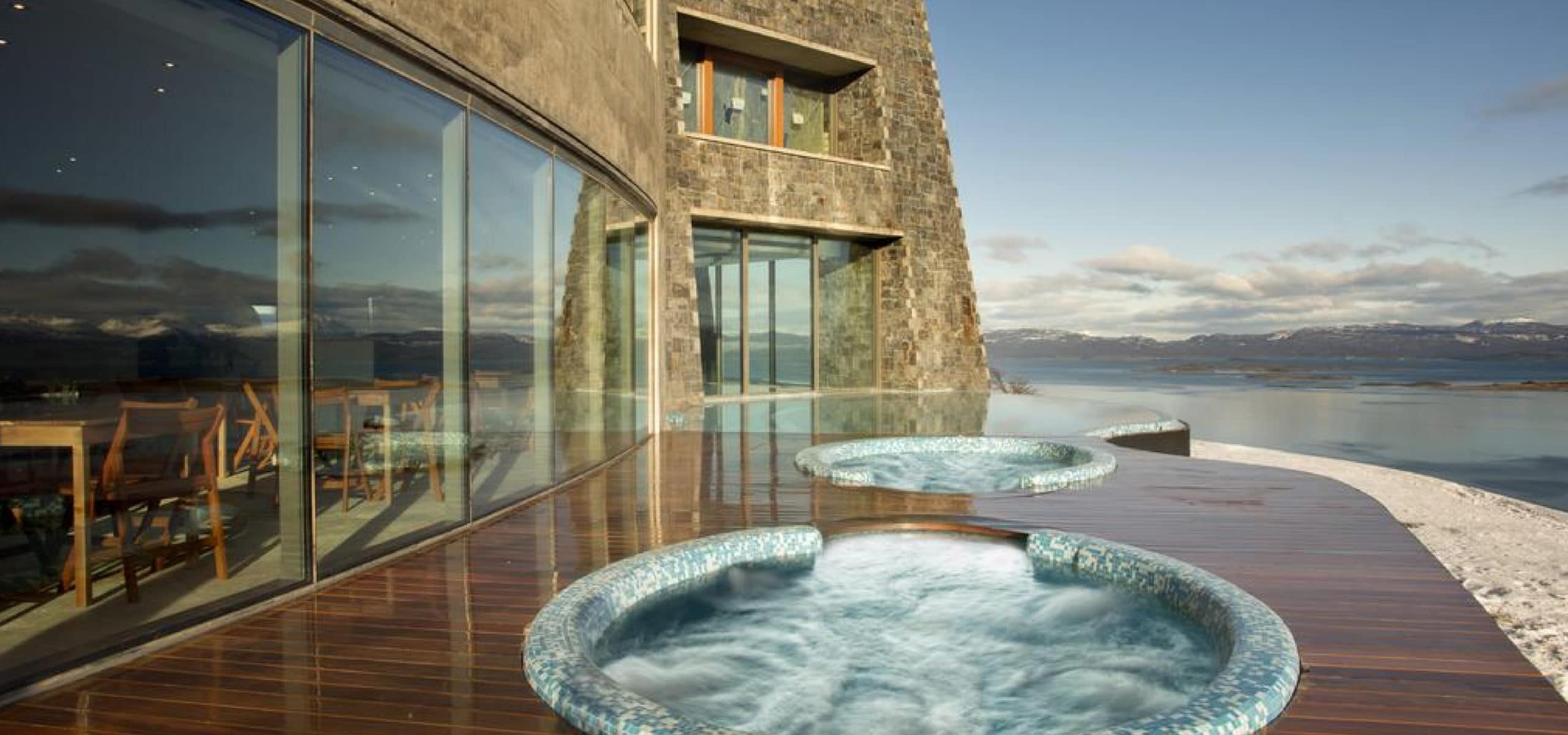 - WELL, IT WAS A VERY VERY COMPLETE INFORMATION JOSÈ. I REALLY APPRECIATE YOUR TIME. THANK YOU FOR RECEIVING ME IN ARAKUR. 
- You`re welcome Ramiro. We will be waiting for your clients here in Arakur Resort and Spa
Definitely Arakur Resort & Spa is the best place to stay in Ushuaia. The overview is absolutely amazing, spa services, and the gastronomy. For more information, just contact me: info@ripioturismo.com or visit our website in www.ripioturismo.com 
For information and activities in Ushuaia, just visit www.beaglechannelnavigation.com 
Thank you,