We meet Sylvaine Ridet from Ponant Cruise, a french company offering great cruises to Antarctica and South America
If you visited Europe, Asia, America, Oceania... If you traveled a lot around the world, you would be interested in visiting the white continent of Antarctica. Or maybe, you didn`t visit the rest of the world yet, and you`re dreaming in going to Antarctica. Well, there are many options of course in the market of travel industry. One of the best is Ponant Cruises. Today, we meet Sylvaine Ridet, to talk about options available and why Ponant is one of the best options to visit Antarctica:

- Hello Sylvaine, thanks for receiving us today. 
- Hello Ramiro... you`re welcome. 
- We know you offer cruises to Antarctica and also in Patagonia. Which are the routes that Ponant offers? Which are the itineraries available for Antarctica? 
- Ponant is offering different routes in Antarctica. Some are expedition cruises onboard of our Sisterships L'Austral, Le Lyrial, Le Boreal and Le Soleal... Emblematic Antarctica is a 11-day cruise. The start of your cruise will be marked by the crossing of the mythical Drake Passage, during which you will probably be escorted by several albatrosses and Cape petrels, the sentinels of these often-choppy waters. Your ship will then reach the White Continent, realm of the unexpected. Weather and ice conditions permitting, this extreme environment where nature reigns supreme will reveal to you its most beautiful secrets through numerous discoveries. On this uninhabited land, which wasn't explored until the 19th century, your encounters with the wildlife will no doubt be one of the highlights of your experience. The Gentoo, Adelie and chinstrap penguins, humpback whales, seals and seabirds will provide you with cherished lifelong memories.
The Great Austral Loop is also great. It`s a 16-day cruise. You will set sail from the fascinating city of Ushuaia, which the Argentinians call El fin del mundo (the end of the world). First, you will chart a course for the Falkland Islands, whose wild beauty and lush moors are sure to captivate you, before heading to South Georgia, its impressive glaciers and its black-sand beaches where large colonies of king penguins have taken up residence. You will then sail to the White Continent, the Antarctic Peninsula.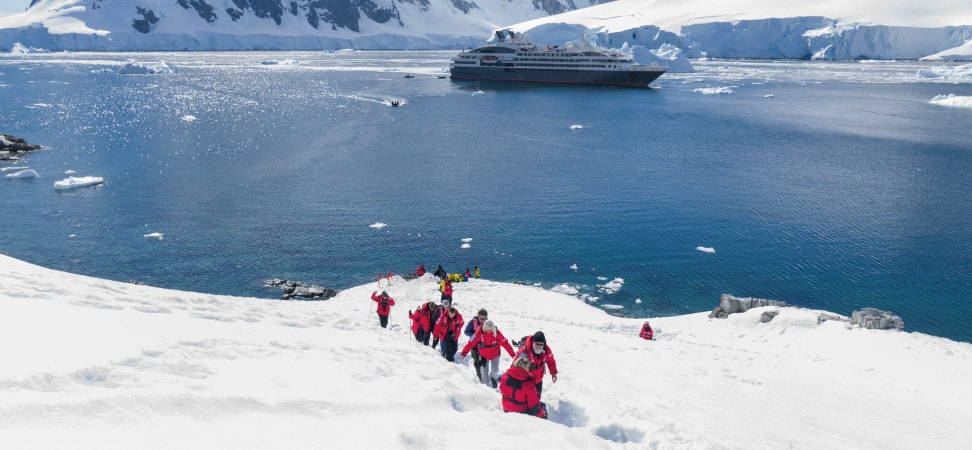 - Oh, it`s a very nice option I think
- Abosolutely. There are many other options, larger ones like the Antarctic Odyssey, a 21-day cruise. Its itinerary is similar to the Great Austral Loop but the ship will leave from Montevideo, the Uruguayan capital, path to the Falkands, South Georgia and in addition, you will then make your way to the South Orkney Islands. These mountainous islands where impressive glaciers dominate the landscape are a major nesting site for chinstrap penguins and a favorite hunting spot of leopard seals. Before crossing the mythical Drake Passage, and disembark in Ushuaia, the southernmost city in the world, you will enjoy some days in Antarctic Peninsula.
From Antarctica to Africa is also a great option, a 22-day cruise. You will begin your voyage in Ushuaia, the mythical embarkation port located at the extreme south of the Andes cordillera.  First, you will chart a course for the Falkland Islands, whose wild beauty and lush moors are sure to captivate you. Your ship will then make its way to the coast of South Georgia, in the wake of the British explorer Sir Ernest Shackleton. The glaciers and protected fauna make this place a paradise for anyone with a passion for wild lands. It is not uncommon to be greeted by a colony of several thousand king penguins; this is the only place in the world where you can enjoy such a unique privilege. Continue your trip with another highlight as you visit the world's most remote inhabited archipelago: Tristan da Cunha. Hidden in the middle of the Atlantic, it is made up of several volcanic islands, most of which are listed as UNESCO World Heritage Sites. Finally, you'll head for Cape Town, your disembarkation port, dominated by the famous silhouette of Table Mountain. Other are the exploration cruises onboard our icebreaker, Le Commandant Charcot offers also the following itineraries: The Weddell Sea &  Larsen Ice Shelf, Insurmountable, extreme and captivating: this is the best way to describe the Weddell Sea, mostly frozen by a thick and compressed ice floe. It is a challenge and a privilege to sail on it, with its promise of exceptional landscapes and original encounters. As you advance across this immense polar expanse, you will enter an infinite ice desert, a world of silence where there is nothing but calm and serenity. To the northwest of the Weddell Sea, stretching along the eastern coast of the Antarctic Peninsula, stands an imposing ice shelf known as the Larsen Ice Shelf. An extension of the ice sheet onto the sea. This white giant is equally disturbing and fascinating, if only due to its colossal dimensions and the impressive tabletop icebergs - amongst the largest ever seen - that it generates. This voyage will be an opportunity to come as close as possible to the Weddell Sea, a real refuge for wildlife.
Expedition to Charcot & Peter I Islands, a-15 day cruise is also great. Landing on Peter I Island is like landing on the moon! In fact, fewer people have visited this small volcanic island located in the Bellingshausen Sea, 450 km from the Antarctic coastlines, than have set foot on lunar soil. Discovered in February 1821, Peter I Island could only be approached for the first time in 1929, as the ice front made approach and disembarkation difficult. Its summit still remains untouched to this day. This unusual itinerary will also provide an opportunity to approach Charcot Island, thus named by Captain Charcot in memory of his father during its discovery in 1910.
Other alternative is The Emperor Penguins of Belligshausen Sea, a 19-day cruise Beyond Peter I Island and Charcot Island, this exceptional cruise will take you into the heart of the Bellingshausen Sea. Named in honour of the Russian admiral and explorer who discovered Antarctica in 1820, this sea in the Southern Ocean, covered by ice floe most of the time, is hard to reach and practically unexplored. But the reward lives up to the challenge: gigantic colonies of emperor penguins, a unique species endemic to the Antarctic and almost never observed, live here. This animal, elegant and majestic, is the promise of emotional encounters. In this season, as winter gradually gives way to the austral spring, the chicks, only a few weeks old become independent and gather in immense "creches": a magical spectacle to which you will be privileged witnesses.
- Amazing...
- Yes. Finally, we have the Ross Sea...  Sailing the Ross Sea means discovering one of the most extreme and conserved universes in the Antarctic. Partially occupied by the Ross Ice Shelf, the largest ice platform in Antarctica, this immense bay located several hundred kilometers from the South Pole, is considered as "the last ocean", the last intact marine ecosystem and the largest marine sanctuary since 2016. Here, the cold is more intense, the wind more powerful, the ice more impressive, and the scenery more spectacular… In the heart of this polar Garden of Eden, where the ice shelf turns into icebergs, you will encounter prodigious fauna, as well as surrealist landscapes, with infinite shades of blue and stunning reliefs. Antarctic petrels, Minke whales, orcas and seals are at home here, as are very large colonies of Adelie and emperor penguins.
- Why Ponant? Which are the differences with other companies that operates Antarctica?
- For more than 20 years, PONANT cruises have been offering remarkable experiences to our guests in Antártica. Sailing aboard one of our ships means enjoying rare encounters with nature in the heart of virgin territories. We are the only cruise line proposing to our guest recent ships specially designed for expedition with all the luxury commodity onboard (spa, tow gastronomic restaurants, gymnasium, boutique, 5 stars service onboard ect…). Also, respecting the very strict regulation in Antarctica, we are of the few companies allowed to make disembarkation in Antarctica Peninsula.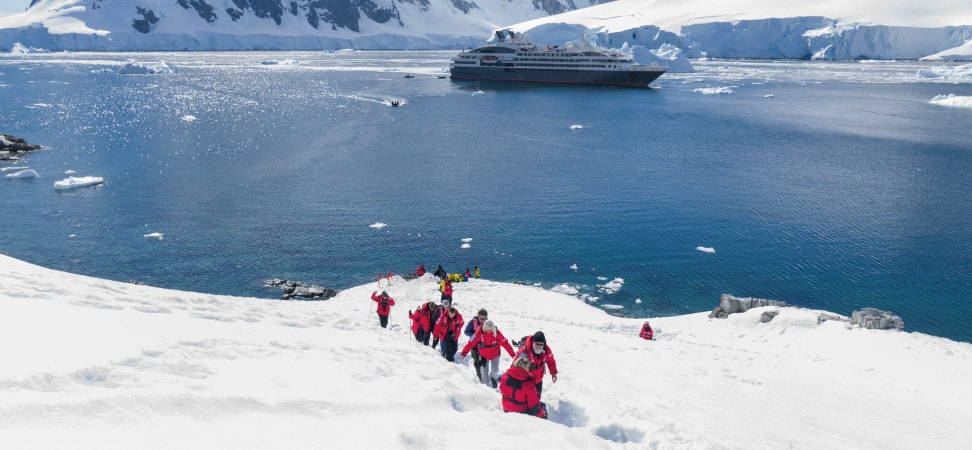 - What can you say about the vessels? 
- All our ships (12 in total) are flying the French flag, the highest standard of security in the world. They are offering intimate and friendly cruising atmosphere, luxury and refined exterior and interior décor. Our small ships let you maintain your privacy and make you feel like you are on your very own private yacht—a yacht serving the iconic ports of call and secret harbors only accessible to smaller-sized ships. Our fleet is the youngest expedition one in the world, mixing discovering and comfort. Each austral summer, 4 ships (5 in 2020) are navigating to bring our passengers to know Antarctica region. In May 2011, l'Austral joined PONANT's fleet. This superb mega-yacht with 132 staterooms is the result of the expertise of the Italian Fincantieri shipyard and French sophistication, as interpreted by designer Jean-Philippe Nuel. L'Austral remains faithful to our philosophy - to create a unique atmosphere, a subtle blend of luxury, intimacy and well-being.  A sleek silhouette softened by elegantly smooth contours and large, arched windows opening up to the sea and the light: so many features come together to give L'Austral her distinctive shape. Precious materials, discreet elegance and a perfect balance between chic and casual, combine to make you feel as if you are on your own private yacht. A design blending tradition and innovation, where a nautical mood has been subtly recreated. A welcoming atmosphere of relaxed sophistication revolves around shades of grey, taupe, white and ivory enlivened by touches of cinnamon, caramel and tan.. So many personal touches create the spirit of a "private yacht." You will encounter unique itineraries, calls inaccessible to large ships, chic and elegant yacht-like ambiance, refined and personalized service as well as gastronomic cuisine.
Like their sisterships, Le Boréal and Le Soleal embodies the subtle alliance between luxury, intimacy and wellbeing which is PONANT's signature. The elegance of her exterior and interior lines and her intimate size (only 132 staterooms and suites) make this a rare and innovative yacht on the cruise market. For the interior design, superior materials, discreet elegance and a tasteful décor reflect a nautical mood subtly revisited. Aboard, soothing neutral grey tones are enlivened by splashes of red, our signature theme linking tradition and innovation to create personal touches in the spirit of a "private yacht". Fourth ship in this superb series loyal to the PONANT spirit, Le Lyrial like her sisterships embodies the subtle alliance between luxury, intimacy and wellbeing which is PONANT's signature. The elegance of her exterior and interior lines and her intimate size (only 122 staterooms and suites) make this a rare and innovative yacht on the cruise market. For the interior design, we have been inspired by the destinations we visit and decided to create a subtle variation around a palette of blues. Ranging from the luminous delicate grey-blue of the Polar ice to splashes of the vivid turquoise blue found in Mediterranean coves, it also includes the blue light of the future pole star.
Be the first aboard Le Commandant-Charcot, the world's luxury polar exploration vessel, and enjoy a unique sailing experience in the Arctic or Antarctic! With its hybrid propulsion combining liquefied natural gas (LNG) and electric generators, Le Commandant-Charcot has been designed to minimize the environmental impact of travel to the furthest latitudes. 
The ship decoration, imagined by two internationally renowned design and architecture firms - the studio of Jean-Philippe Nuel and Wilmotte & Associés - is designed to be in harmony with the environment. The approach is contemporary with the desire to create a warm and elegant setting; stone, wood and leather recall the natural environment in which the ship is sailing.
Equipped with just 135 staterooms including 31 suites with balconies and outside views, Le Commandant-Charcot welcomes you in an intimate and refined atmosphere. Outstanding gastronomy in the two restaurants, relaxation in the indoor pool surrounded by its winter garden, relaxation in the well-being area with sauna and Snow Room... Like on a private yacht, each of our guests is unique.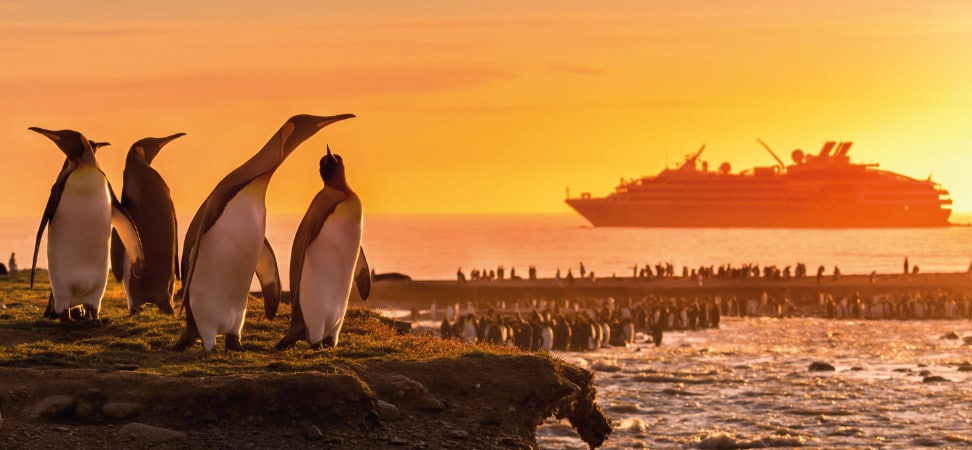 - What`s "The French Touch" aboard the Ponant Cruises?
- On our cruise ships, it is only natural that a certain French art of living permeates on board. Through our accessible crew, French design, refined cuisine, fine wines, and discreet service, PONANT guests enjoy a truly relaxed and elegant experience.  The French Touch means, above all, a French crew to welcome you and ensure your comfort and well-being throughout your cruise. In an atmosphere of elegant luxury, you will find a five-star service on board to ensure you enjoy a unique travel experience that is simultaneously authentic and refined.
- Gastronomy is very important for our clients. Is the french touch also in restaurants?
- The French Touch also means a way of living in which excellent gastronomy takes pride of place. Every day, you will discover fragrant flavors, carefully selected cheeses and wines, delicious specialty breads and pastries from Maison Lenôtre. And, as of very recently, Maison Taillevent provides its fine selection of vintage wines by the glass, Maison Veuve Clicquot champagne is served at our gala cocktails, and delicious sweets from the Ladurée bakery are on offer during afternoon teatime.
- Today, evironment protection is very important for our clients. What can you say about that?
State-of-the-art technologies aboard the ships, improved waste and waste water treatment, raising the awareness of travelers, future plans that are increasingly innovative in terms of sustainable development...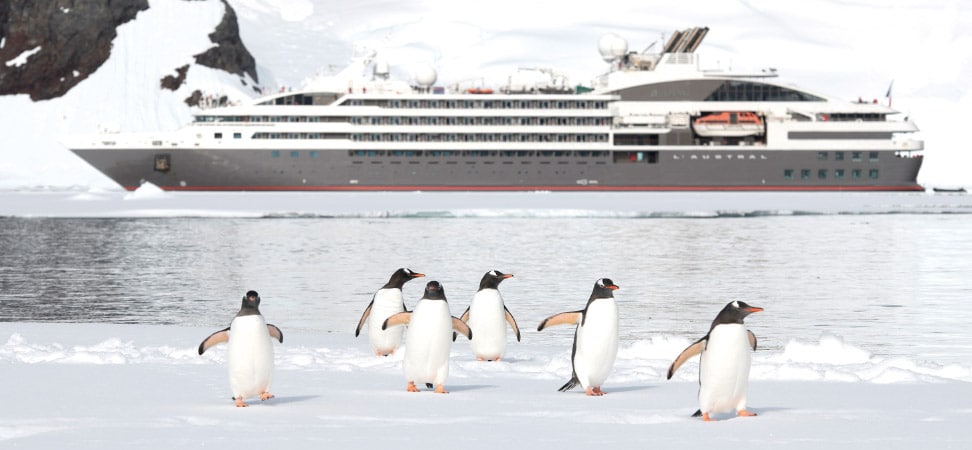 -Every day, Ponant is committed to protecting the environment?
- We go above and beyond environmental regulations in force (for example, the MARPOL convention for the prevention of pollution from ships and the Polar Code) by studying ways to help us minimize our impact on the places we visit and of our obligations both towards them and towards the people who live there. Thanks to our efforts, all PONANT ships have been awarded the international "Clean Ship" label, which certifies that we have reduced our environmental impact. As an example, during PONANT cruises, the water consumption by the passenger is 5 times less than the average consumption of water per person on land thanks to the water treatment onboard. Another example, with recycling. Onboard 100% of waste is separated and sorted. At the end of sorting 700g is the average volume of non-recyclable waste, generated by every guest during a cruise. By comparison, the same person would have produced 2.3 kg of waste on land. On expedition cruises, PONANT takes its passengers to some of the most remote and wild places on the planet. We are very conscious of our status as privileged guests at the sites we visit, and of our obligations both towards these places and the people who live there. Additionally, an environmental impact study is carried out before the conception of each new itinerary to ensure that the impact of every landing is only temporary and transitory. We make a biodiversity inventory (fauna, flora, geology) of the places where we plan to disembark. We also prepare access routes that do not impinge on the areas to be preserved. Consequently, we work together with several organizations, such as the TAAF (Terres Australes et Antarctiques Françaises, French Southern and Antarctic Lands)
Some example of action to preserve the fauna, flora, and places we are visiting: minimize waves, reduce noise pollution, reduce light pollution, respect local resources, zero impact landings process, clean beaches, raise the awareness of our guests and staff so that they become ambassadors of the places they've visited.
- How many disembarkations are programmed for a cruise to Antarctica?
- This will depend on the routes and opportunities, but we generally offer disembarkations as often as possible depending on the climate.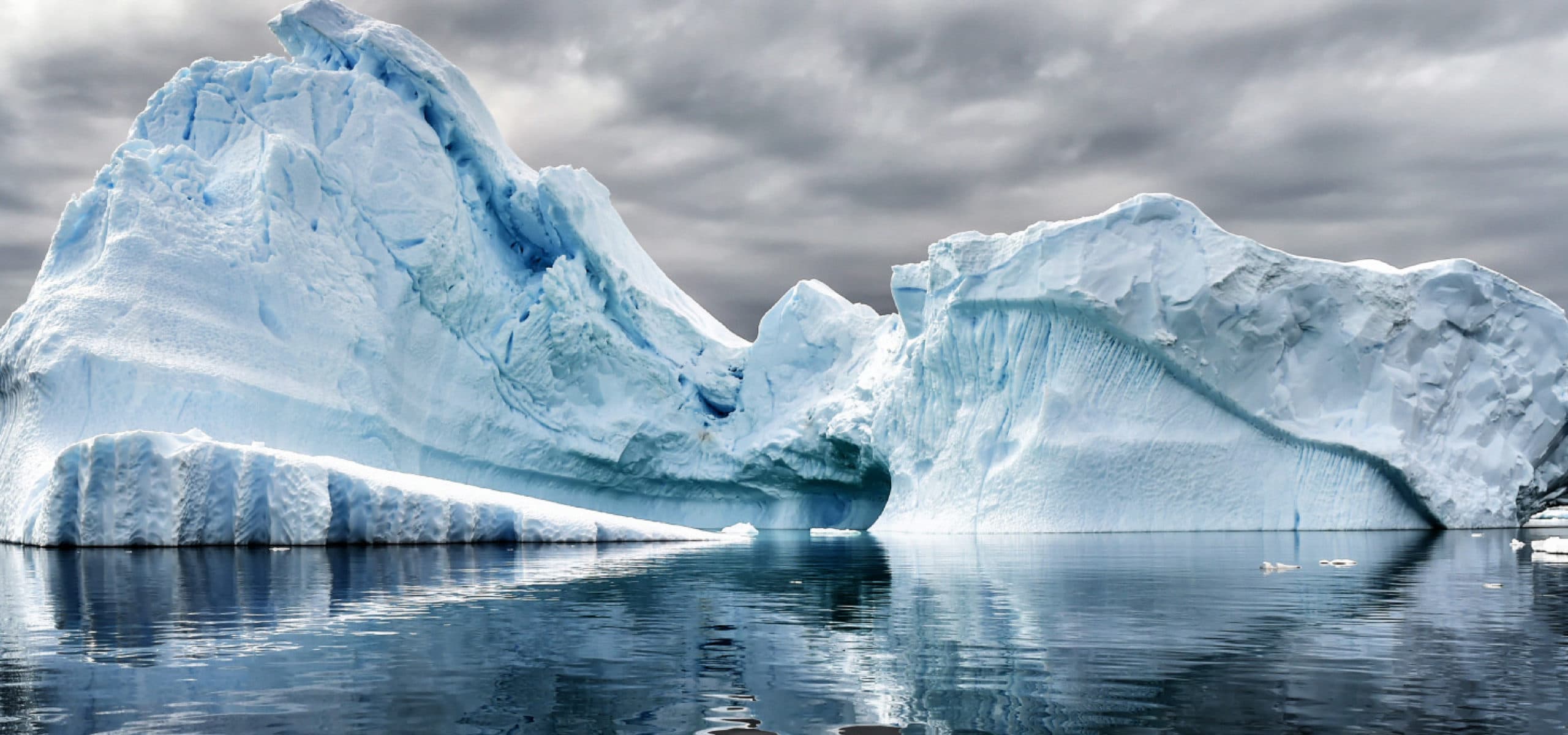 - I think the adventure in Patagonia is very interesting. Could you please let me know a bit more about this cruise?
- Well, We proposed you two different itineraries to discover Chilean Patagonia.  The first one is a 14-day expedition cruise aboard Le Boréal. PONANT is offering you the opportunity to explore the most beautiful scenery Argentina and Chile have to offer, including glaciers, fjords, and winding channels.  You will embark in Ushuaia, the world's southernmost city, and round the mythical Cape Horn. You will cross the Strait of Magellan, which separates Tierra del Fuego from South America. Then you will sail in the Chilean fjords, those torturous fjords where majestic glaciers seem to meet the ocean. From Punta Arenas, you will be able to discover the Torres del Paine National Park. Listed as a UNESCO World Heritage Site, it is one of the most beautiful places on Earth. Your ship will then reach Tortel and its charming stilt houses interconnected by a labyrinth of wooden footbridges. During the last part of your cruise in South America, you will call at Quemchi, after a sailing during which it is not unusual to encounter sea lions and porpoises. Quemchi is an authentic village located on the lush island of Chiloé. You will disembark in Valparaiso, a beautiful city that bears many traces of its colonial past and is listed as a UNESCO World Heritage Site. 
The second one is  a 13-day expedition cruise in partnership with GEO. PONANT is offering you the opportunity to explore the most beautiful scenery Argentina and Chile have to offer, including glaciers, fjords, and winding channels.  After embarking in Talcahuano, you will first discover Quemchi, an authentic village located on the lush island of Chiloé, after a sailing during which it is not unusual to encounter sea lions and porpoises.
Your next call will be the remote village of Tortel, suspended above the water, and its typical wooden footbridges which take the place of streets.  Next, you will enter the Chilean fjords and channels for exceptional moments spent sailing amidst landscapes of unrivaled beauty. You will enjoy an unforgettable experience of sailing along the Strait of Magellan and get close to stunning glaciers, including Pie XI Glacier, El Brujo, Agostini, and Garibaldi glaciers.
Finally, you will round the mythical Cape Horn, before disembarking in Ushuaia, the world's southernmost city.
- How is life on board?
- Whether you choose a Mediterranean cruise or an expedition into the pack ice of Antarctica, onboard you will always find the exceptional levels of service for which PONANT is renowned. Our excellent service, customized and attentive, will give you the privileged feeling of sailing aboard your very own yacht.
Our experienced staff is fully available to you, responding as precisely as possible to all of your desires and ensuring your voyage is tailor-made. Our ships* have many spaces designed and organized to respect each guest's privacy. In a cozy and refined atmosphere, these living areas offer moments of relaxation, comfort, and socializing. Well-being Center, Pool & Sun Deck, Lounges & Bars, Theater, Shop, Leisure Areas, PONANT Studio…
- Well, it was very complete information Sylvaine, thank you!
- You`re welcome Ramiro, we will be waiting for your clients aboard Ponant Cruises
For more information about Ponant Cruises, please email me to info@ripioturismo.com or visit our website www.ripioturismo.com 
Thank you,