Mendoza is a lovely place. At least for me, it`s one of my favorite places in Argentina. I don`t know if it`s the climate, the Andes chain, the wines... I`m not sure, maybe for all these things. And of course, when you visit Mendoza, one of the must-sees is the wine area of Lujan de Cuyo and Uco Valley. And, in Uco Valles, there is a place which is amazing: Casa de Uco. And it`s incredible from the beginning when you arrive at the hotel which is nestled on the banks of the mighty Andes chain.
Casa de Uco is located in Mendoza Province, Tunuyan. It`s a Vineyard and Wine Resort, located in the middle of 320 hectares of lush green land, in Uco Valley. Even if wine is not important for you, you should visit this wonderful place. Today, we met Dolores Pazzaglia, marketing, and sales executive in Casa de Uco, to talk about this incredible product.

- Hello Dolores, nice to meet you today. Thanks for your time. 
- Thank you Ramiro, it`s a pleasure for me to receive you in Casa de Uco.
- Well, I`m surprised. I have no Doubt, Casa De Uco Is An Amazing Place To Stay. What`S The Essence Of The Hotel?
- Well, we invite our guests to live and breathe wine culture, in an unbeatable setting at the foothills of the Andes Mountains. An impressive structure inspired by the geography of the land and its natural surroundings strives to provide the utmost level of comfort, while still blending with the mountains, vineyards, and clear blue skies.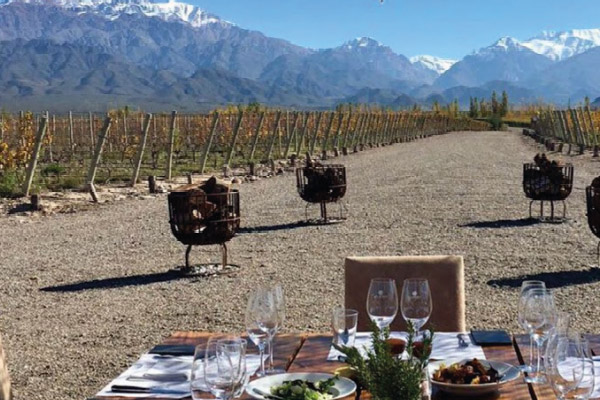 - When you arrive to Casa de Uco, you know that you`ll love the stay here. Which Services Are Available For Guests Visiting Casa De Uco?
- Absolutely Ramiro. The hotel is comprised of 7 rooms, 9 suites, and 3 villas with extraordinary views of the incredible landscape.
In the rate, the services included are a la Carte breakfast, complimentary wifi, a variety of non-alcoholic beverages, Nespresso coffee machine and snacks in the room, access to a swimming pool, and external jacuzzi, Uco Spa (sauna, steam bath, relax área) and exercise machines. Also, we have activities subject to availability such as biking, Horseback Riding through the Vineyards, Tennis Court, archery, and the Casa de Uco Winery visit and Wine tasting.
- What About Gastronomy? It's a Very Important Point For Our Clients
- Our executive chefs have created a menu that honors the land and Uco Valley, driven by the seasonal ingredients grown directly in the organic vegetable garden. To achieve this farm-to-table ideology, the kitchen team of cooks and chefs source all ingredients locally, working with neighbors, the local farmers, to create an international menu that still is 100% Uco Valley inspired. Of course, there is always a wine glass, especially under the careful eye of our talented sommelier, who has an impeccable way of curating the selection of the best wines in the region. Our gourmet universe extends to the sector de Fuego, for a true Argentine barbecue experience directly in the vineyard cooking over open flames. The bar has a cocktail list designed by celebrated bartender Renato Giovannoni, becomes a destination for guests from other hotels in the area.


- We Know It`s possible to "Become A Winemaker"... What a great idea.  Can you please explain a bit more about that activity? It`s very interesting!
-  Sure, it`s an unforgettable experience. Everyone who comes to visit Casa de Uco can discover the captivating art of making your blend with the Blending Session! This activity's main objective is to create your blend with the Winery Host as a team. We'll play around combining several wines, looking for aromas and different elements to create a personalized wine. As a final touch, you'll have the opportunity of taking a bottle of your creation home with you to enjoy with friends and family.
- Oh, I can`t wait to make my own wine... I`m sure I will be pleased. 
- Haha, I`m sure...
- And what about your Wines? 
Casa de Uco is producing single-vineyard and vineyard selection wines from our estate. Our philosophy is to produce wines that express the authenticity of its terroir. We have 6 wines and each one with a strong personality: Winemarkes Special Blend, Casa de Uco Malbec, El Salvaje Malbec, El Salvaje Blend de Blancs, and our organic labels El Salvaje Organico Pinot Noir, El Salvaje Organico Malbec.
- Nice... I Loved The Uco Spa. Which Services Are Included? 
- Our elite Uco Spa offers aromatherapy and vinotherapy treatments. They use techniques that hydrate and nourish the body with rich minerals extracted from 300 meters under the earth, and spring water packed with antioxidants that strengthen blood vessels and enhance circulation.
The spa is equipped with a cedar wood sauna, aroma steam room, wet sauna, deep soaking hydrotherapy baths, treatment rooms, interior and exterior relaxation areas, a fitness center, and a Hamman-style room. Relaxation and serenity continue outside with an infinity pool, jacuzzi, solarium, and peaceful lagoon.
- How Many Nights Do You Recommend To Stay In Casa De Uco?  I would like to stay a month here...
We always recommend three nights, so that the guest can live the experience of Casa de Uco to the fullest. Our Guest Experience team will help them design their schedule so that they can get the most out of the Uco Valley.
- I agree, three nights here would be perfect. And what`s the best Season to visit Casa De Uco? 
- Definitely from February to April when we start the harvest season, with the special program that we tailor-made that season.
Our goal is to make our guests experience the philosophy of the harvest season and being part of the work that gives life to the wine. Among the activities from the program, they are going to learn about the characteristics and care of each varietal of our vineyards, taste menus specially prepared by our Chef, visit the Bodega Casa de Uco and its production line, and also make a recreational harvest and the classic grape tread. Always with an imposing view of the Andes Mountains!

- Sustainability is important for our clients. What can you say about that?
- We are committed to the environment and the development and maintenance of local communities. Our mission is to provide one of the most authentic and enriching travel experiences in a respectful, sustainable, environmental, and culturally rich way. Preserving and protecting the natural splendor and the precious biodiversity of Valle de Uco; is why we have a lifelong commitment to honor the land, our environment, our culture, and its people. Casa de Uco has sealed an eternal commitment to the environment.
Our latest accomplishment is that we team up with Banco de Bosques, an organization that channels the contribution of small, medium, and large donors all for the same goal: to save at-risk native forests. We are committed to reducing and offsetting our CO2 emissions. Therefore, by donating 10 square meters of native forest of the missionary jungle for each reservation made at Casa de Uco, we will avoid emitting more CO2 into the atmosphere, reducing our impact and carbon footprint on the environment.
- Great  Dolores. Thanks for your time. I recommend Casa de Uco to anyone to want to visit Mendoza and the wine country
- You`re welcome Ramiro. We will be waiting for your clients!
Let me suggest including Mendoza in your visit to Argentina. 3 nights is a perfect stay. Even if you do not like wine, Casa de Uco is a place to see. I really recommend that.
For more information, just contact me info@ripioturismo.com or visit our website in www.ripioturismo.com
Thank you!
Photos: Thanks to Casa de Uco