The Perito Moreno glacier is one of the few that does not melt and it´s famous for that reason.  Nor does it grow three meters a day, as locals often say, but remains in equilibrium through cycles of accumulation and ablation. The reason is that glaciers do not respond solely to changes in temperature. This giant is maintained thanks to the heavy snowfall, the winds, the altitude, and its sheltered position in Argentine Patagonia.
The Perito Moreno descends from the Andes mountain range, at a height of 2,100 meters, to the warmer altitudes of Lake Argentino, 180 meters above sea level. It is 30 kilometers long. It is also one of the largest glaciers in Patagonia, and the most visited of all. It is famous for periodically cutting off the main southern arm of the lake, known as the Rico arm, and completely separating it from the rest. This occurs because the glacier advances through Lake Argentino until it reaches the opposite coast. The ice tongue moves on dry land; it is not floating, as occurs at the ends of glaciers that enter the sea.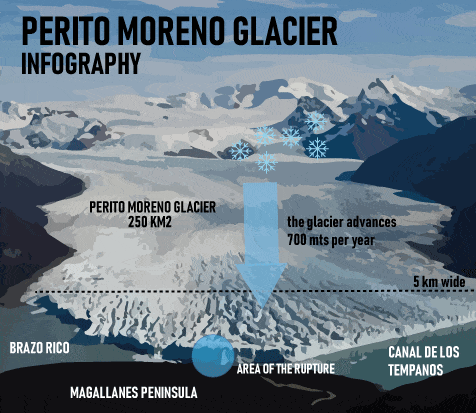 The result is a natural dam that prevents the lake water from circulating, which muddies the Rico arm. A sheet of ice continues to flow under the dike to pour mud into the lake and help lubricate the descent of the glacier tongue. Due to the dam effect, the thaw raises the water levels in the Rico arm up to 30 meters above the water level of the rest of Lake Argentino.
The pressure also causes the ice tongue to break up, a natural spectacle that is repeated every four or five years when the glacier begins to grow again towards the opposite coast. This process occurred for the first time in 1917 and razed a centuries-old forest. Since then, the cycle has been repeated more than twenty times. It last happened in 2016. The breakdown of the levee has become a major tourist attraction in the region.
See more about rupture of Perito Moreno Glacier here
See more about activities to do in Perito Moreno Glacier here
For more information, please contact us at info@ripioturismo.com 
Thank you!