WEATHER IN ARGENTINA AND CHILE
If you`re planning your trip to Argentina and Chile, an important item would be the average temperature you can expect during your visit. Of course, temperatures are not the same in Patagonia, in Buenos Aires and Santiago, or in the north area.  The following information is only informative, these are average temperatures, the maximum you can expect during the summer season, it`s December, January, and February, and also minimum temperatures during June, July, and August.
SUMMER SEASON: WARM CAPITALS, MODERATED TEMPERATURES IN PATAGONIA
Summer is maybe the best season to visit Patagonia. For that, it`s the high season for international travelers who came from around the world. Well, during the summer season you can expect temperatures around 30ºC in Buenos Aires and Santiago, and warm weather in the north area. It`s Mendoza, Iguazu, Salta and San Pedro de Atacama. In Patagonia, maximum are more moderated, and will not go over 25ºC - 28ºC in the northern area of Patagonia, and of course, are lower in southern Patagonia where temperatures can reach 18-20 degrees. Of course, the weather is changing all the time. These are average temperatures. Take a look at summer maximum temperatures during January, February, and March:
Argentina´s Summer Temperatures: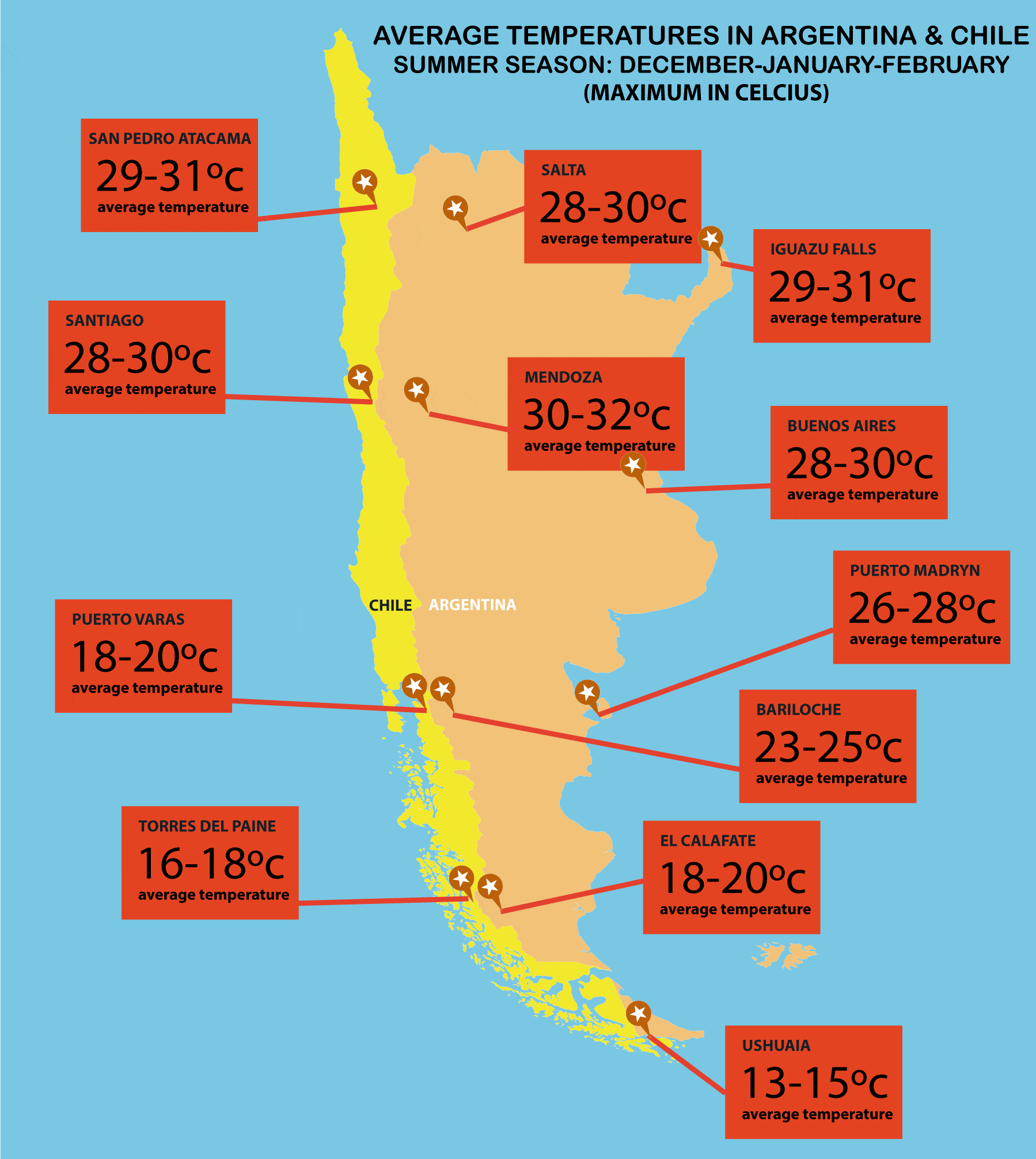 What to visit during Summer Season in Argentina and Chile?
Well, the program should be based in Patagonia. During summer, Patagonia is a wonderful place to enjoy sea life in Peninsula Valdes, all the Magic of Ushuaia and the end of the world, El Calafate with Perito Moreno Glacier and Los Glaciares National Park, the amazing famous Torres del Paine National Park, the Southern Fjords and Glaciers in Chile, Bariloche, Puerto Varas and the Lakes District. Check one of my favorite tours, to combine Argentina and Chile and the best of Patagonia. Check our Incredible Patagonia Tour
WINTER SEASON IN ARGENTINA: When is winter in Argentina?
Cold Patagonia and templated cities
During winter, things are a big difference. In Patagonia, lower temperatures will be found in southernmost cities, like Ushuaia, El Calafate, and Torres del Paine with temperatures below zero degrees. These are minimum average temperatures. But also in Bariloche where low temperatures can reach 1ºC.  But, what about Buenos Aires, Santiago, and northern cities? Definitively we have a very moderated winter, with nice temperatures like 8-10 degrees in Buenos Aires, 11-13 in Iguazu, and lower in Santiago, Mendoza, and San Pedro where the Andes influence the minimum. Take a look at the following graphic:
Winter temperatures in Argentina: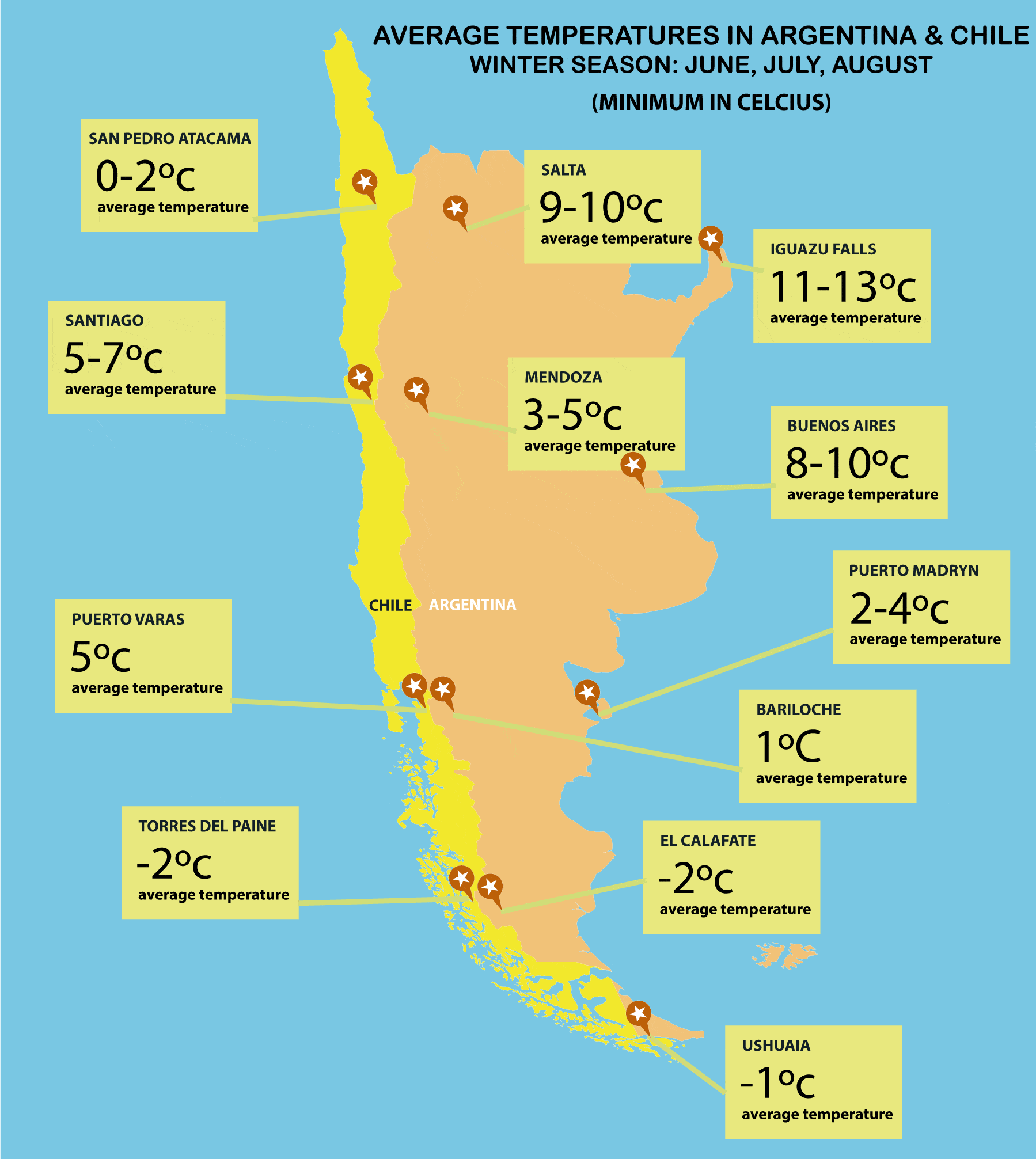 What to see during winter in Argentina and Chile?
Well, the north area of Argentina and Chile is a good place to be visited during winter. Places like Mendoza, Santiago de Chile, Iguazu Falls, Salta, San Pedro de Atacama... Take a look to our Argentina & Chile in 12 nights IV
SO, WHEN TO GO? WHAT´S THE BEST SEASON TO VISIT ARGENTINA AND CHILE?
Well, the temperature is not a problem, but of course, if your visit will be focalized in Patagonia, the best season is from  October to March. September and April are also good months with fewer people visiting the national parks. If you want to visit Iguazu Falls, Buenos Aires, Santiago, and the northern area, the winter is not a bad idea. What I can say is that temperature is not a problem when you decide to visit Argentina and Chile.
See a complete list of tours to visit Argentina and Chile
For more information, you can email me at info@ripioturismo.com 
Thank you,