Galapagos is one of the most amazing natural places in South America. It´s a unique place.  Islands emerged from the bottom of the sea in astonishing volcanic upheavals, the effects of which can still be observed today. Winds and competing ocean currents seeded life on this remote group of islands, creating the natural laboratory that compelled British naturalist Charles Darwin to develop his theories of evolution in the wake of his visit in 1835. His ideas shattered long-held basic concepts about life itself. Thanks to Ecuador's visionary creation of the Galapagos Islands National Park in 1959, the islands may well be more pristine now than when Darwin walked their shores.  From its namesake giant tortoises to dancing blue-footed boobies and albatross to marine iguanas – miniature aquatic dragons – to cavorting sea lions, the uniquely trusting wildlife of the Galapagos Islands will look you in the eye just an arm's length away – connecting you to nature like nowhere else. Galapagos tours offer visitors a first-hand account of evolution and the opportunity to observe Galapago's iconic species, all in a place where nature shares its glory with humankind.
Now, how to visit this incredible place? Well, one of the best ways is to take a cruise, and the Santa Cruz II Cruise is perfect. The Santa Cruz II Galapagos Cruise is an Expedition Vessel specifically designed to operate in isolated regions, making it the perfect fit for exploring the remote Galapagos Islands. Measuring just under 72 meters (235 feet), this ample, five-deck vessel has 50 cabins that sleep up to 90 guests and includes extensive indoor and outdoor social areas where guests can fully enjoy the unbeatable splendor of taking a tour throughout the Galapagos Islands. With some of the latest advances in sustainable sailing, the Santa Cruz II Galapagos Cruise also aims to protect the delicate and beautiful ecosystem that it explores.
EXCLUSIVE ISLAND VISITS
Discover the Enchanted Isles the same way the early explorers did, with no other boats in sight! 99% of the visitor sites we tour and explore are not shared with other Galapagos cruises.
PRIVACY & SPACE
One of the top Guest-Space Ratios of all Galapagos cruises (29.6:1), with numerous social areas and decks that allow for quiet contemplation, educational lectures, and socializing.
EXQUISITE MEALS
Locally sourced organic food, a Le Cordon Bleu-trained Gastronomy Director, and a wide variety of culinary options that accommodate all diets during your Galapagos vacations.
ITINERARIES
The cruise company offers three different options to explore Galapagos: 5 days western Galapagos, 5 days northern Galapagos, and 7 days Eastern Galapagos. You can check the Cruises section in our website to check different alternatives but will be focalized now in the 7-day Easter Galapagos Tour, that begins from Baltra Island, after which a short journey aboard the Santa Cruz II brings us to Mosquera Islet where we check out the sea lions before our sailing team heads towards San Cristobal. A stop at the Cerro Colorado Tortoise Breeding Center will open our eyes to the beauty of the Galapagos giant tortoise and to the important scientific work that continues to be done on the islands. In the afternoon, we travel to the most eastern tip of the archipelago, Punta Pitt, the only stop on this journey where we can (potentially) see red-footed boobies. From here, it's on to the central islands, starting with Santa Fe, with its beautiful tranquil bay, before continuing to the wild cliffs of South Plaza Island with its alluring cacti, land iguanas and stunning marine birds. The following day we visit the world-famous Charles Darwin Research Station on Santa Cruz Island. Then, Española Island, voted the #1 island by guides and expedition leaders, awaits with its remarkable visitor site of Punta Suarez, home to hundreds of marine iguanas, sea lions, marine birds, and even albatross (present between April and December) – making this a truly stunning site! In the afternoon, we enjoy the water at Gardner Bay. The following morning we will wake up at Eden Islet and finish the day at North Seymour, famous for its land iguanas and sea lions as well as bird colonies of blue-footed boobies, frigatebirds, and Nazca boobies. We finish at Baltra after a moving and memorable experience of the Eastern Galapagos Islands. Check the itinerary overview below:
ITINERARY OVERVIEW
DAY 1 - Visiting Baltra and Mosquera Islet
DAY 2 - San Cristobal Island
DAY 3 - Santa Fe & South Plaza Islands
DAY 4 - Santa Cruz Island
DAY 5 - Española Island
DAY 6 - Santa CRuz & North Seymour Islands
DAY 7 - Baltra Island
THE SHIP: CABINS & DECKS
The Santa Cruz II Galapagos Cruise is a spacious ship with a total of five decks. Guests won't have trouble finding their way around either, due to its intuitive layout, wide hallways, and broad stairwells. And it has it all: dining spaces, social areas, hot tubs, a gym, an entertainment room, a bar and lounge, and even a fully-stocked library.
A total of 50 cruise cabins, which are very spacious and impeccably clean (all with their own private bathroom) provide room for up to 90 guests. There are a variety of cabin options, too. These include: single, double, and family cabins. However, if guests desire a truly deluxe travel experience, the exclusive Darwin Suites are also available, which meet an exceptional standard of accommodation and are found on the Santa Cruz II Galapagos Cruise's Panorama Deck.
ACTIVITIES
All activities offered throughout our cruise itineraries adjust themselves to the personal needs and interests of our guests. We offer a range of Galapagos National Park-approved activities each and every day. These can range from hiking, biking kayaking, paddle boarding, snorkeling, panga rides, all the way to glass-bottom boat excursions – all of them free of charge!
The benefit of a multi-guided vessel, such as the Santa Cruz II Galapagos Cruise, is that guests will have the ability to choose from a variety of activities offered at each site (as opposed to just one activity). This is because the Galapagos National Park rules require guests to be accompanied by a Naturalist Guide at all times when exploring the National Park. So, more guides = more activity options.
For bookings and more information, just email us at info@ripioturismo.com or visit our Cruise section in our website. Or click in the image below to see more information about this wonderful cruise.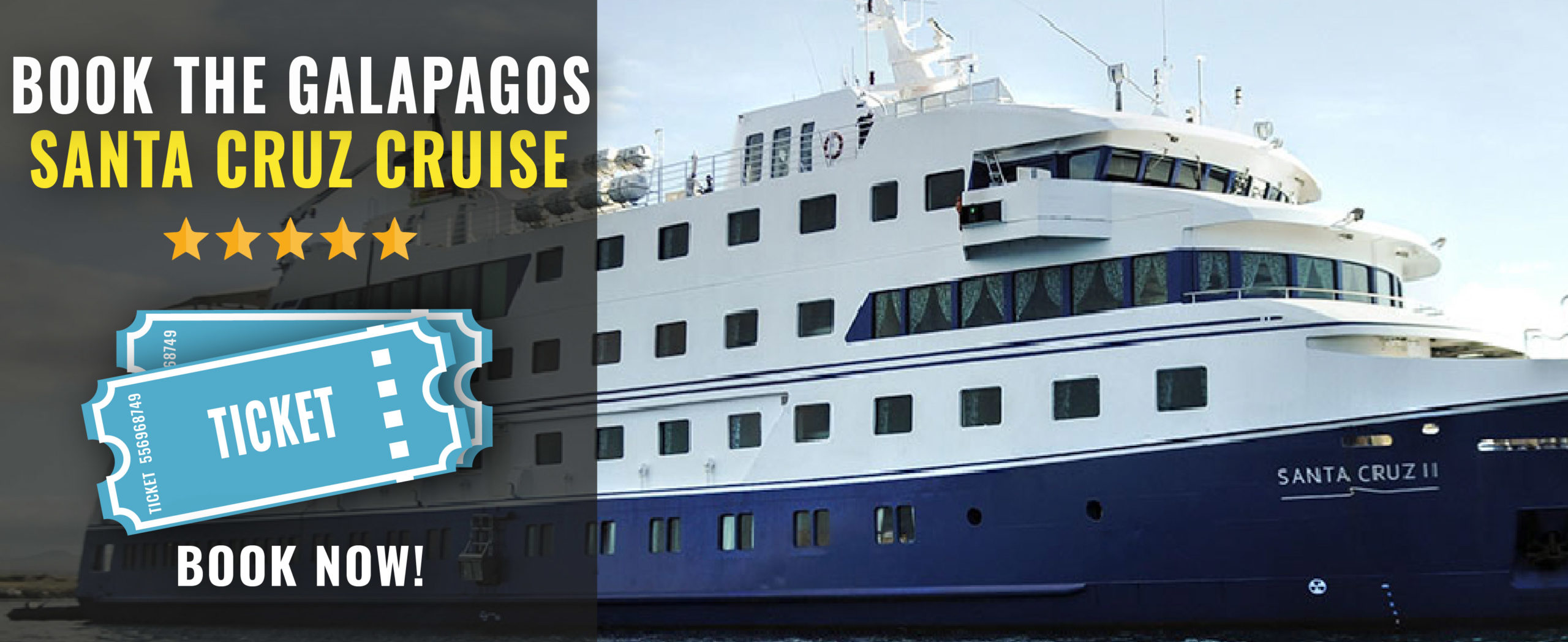 Thank you!