An excellent itinerary to visit the best of Chile is Enjoying Chile in Tierra Hotels. The program includes three amazing destinations: San Pedro de Atacama, the gate to visit the Atacama Desert, and many attractions in the area; Chiloe Island, a very particular destination in Lakes District; and finally Torres del Paine National Park in Patagonia.
HOTEL TIERRA PATAGONIA
Emerging beside craggy mountains and the glistening Lake Sarmiento in Torres del Paine National Park, Tierra Patagonia weaves itself into the landscape with subtle style, blending into the magnificence of the region. Here in this untamed part of the world, what you see at our adventure spa hotel is emerald lakes, fantastic mountain ranges and abundant wildlife.
Our rooms are an ode to nature, like the rest of hotel Tierra Patagonia. The space is elegant yet understated, made with local wood, with whitewash walls on either side to focus your attention on the views beyond. Our aim is to bring the outside in so that you enjoy the warmth of our guestrooms while feeling a connection to your surroundings. Whichever of the three-room types you choose, you'll find hints of Patagonia's culture and history throughout, including sheepskin rugs, soft, handmade throws and, printed lightly on the chairs, patterns of ancient fossils found nearby. With no televisions, you can unwind and disconnect easily, all while watching the shifting light and weather patterns dance over the lake and mountains.
Tierra Patagonia offers a full range of amazing excursions within and around Torres del Paine National Park.  Whether you prefer to explore on foot, horseback, bike, or boat, our all-encompassing portfolio of activities delves into every corner of Torres del Paine.  From hiking tours to wilderness bike rides, horseback adventures to kayaking expeditions, you're guaranteed to find the best excursions to suit your needs.
When you arrive at Tierra Patagonia our team will create a bespoke excursion plan for you. While sitting by the fireplace in front of our giant, hand-painted map, you'll find your bearings in the park and pin-point the places you'd like to see. Our expert guides will get to know your physical activity level and your personal interests so that you can explore Torres del Paine your way.
HOTEL TIERRA CHILOE
Celebrating the local island traditions and a unique geographical setting with natural ease, Tierra Chiloé Adventure and Spa Hotel seeks to immerse you in the best of this archipelago, which is awash in verdant pastures, dramatic coastline, and scenic clifftops.
Each of the 24 guest rooms at Tierra Chiloé Adventure & Spa Hotel offers a deep connection to nature. Some interconnect to make family apartments, and there are also two suites to choose from. The design and décor of the rooms are inspired by the regional heritage of Chiloé. Hand-crafted furniture and locally woven fabrics are thoughtfully incorporated into each room, a reflection of our bond with the island. The spotlight is on the surroundings, which are on display through large windows that afford views of the lands and ocean beyond.
With Tierra Chiloé's all-encompassing portfolio of excursions, you can hike, bike, kayak or sail your way through the charming landscapes of Chiloé. Adventures here with us will give you the feeling that you have always belonged.
Our Uma Spa in Chiloé – a place of blissful tranquility with locally sourced materials and all-natural ingredients – encourages you to unwind and rejuvenate far away from your everyday life. After a day of exploration around the island, why not slip into one of our two soothing, heated pools? Another option is the intricately constructed and calming sauna, guaranteed to help you to relax. Be sure to make time in your itinerary for one of the Uma Spa's specialty treatments, which include shiatsu, reflexology, and deep-tissue massages, among other options. The spa itself is warm and inviting, with local wood and heated stone floors, creating a cozy refuge from the often rainy weather outside. Whether it's by enjoying the steam room or sauna, treating yourself to an indulgent massage, or gazing out at the wildlife-rich Pullao wetland from the outdoor heated infinity pool, restoration is at the heart of Uma Spa.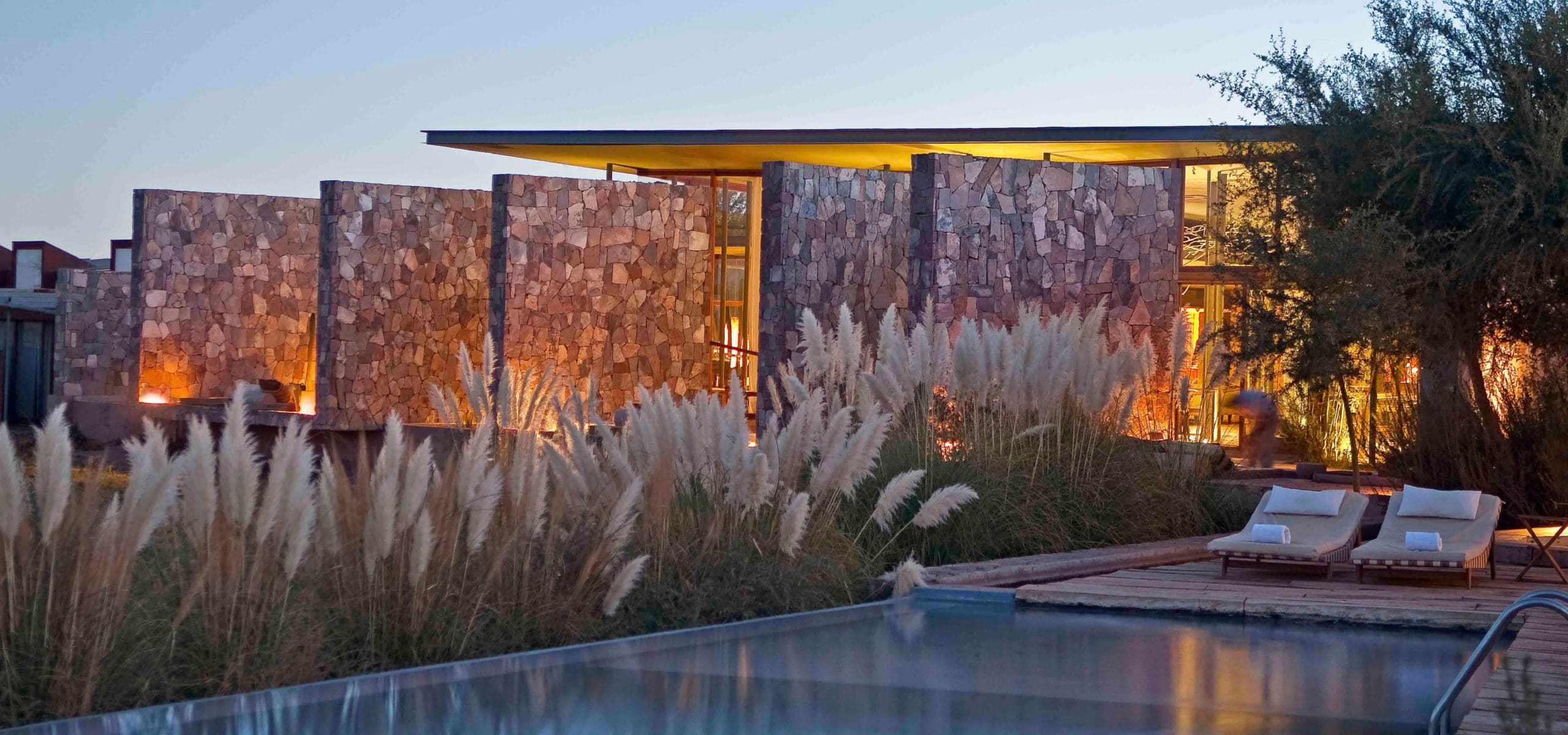 Facilities & Treatments
Any adventure into the Chiloé archipelago will be perfectly rounded off with a spa session here at the hotel, whether that's with a soothing treatment or simply bathing in our warm indoor or outdoor pools, which offer beautiful views of the inland sea.
Enter the wellness center and feel the cocoon-like ambiance wrap you in warmth and relaxation. Spend time in the seashell-like sauna and steam room, before taking a moment (or the whole afternoon) to admire the Pullao wetland views from a lounger.
Or you may prefer to enjoy a massage or body wrap, with local natural ingredients which work in harmony to restore balance and energy.
HOTEL TIERRA ATACAMA
Escape to a world of clear night skies, high-altitude lagoons, and moon-like valleys at Tierra Atacama. High in the northern desert of Chile, our boutique Atacama lodge encapsulates exquisite design, authentic experiences, and an intimate, home-away-from-home atmosphere, where a sense of both adventure travel and pure relaxation lingers in the air.
At Tierra Atacama, we have created a serene space in our guest rooms. Touches of the local culture are everywhere, from handwoven throws to cowhide rugs and llama figures carved from the volcanic rock of nearby Toconao. All rooms look out over the Andes mountain range and nearby volcanoes, with views of the desert from the moment you wake to the moment you fall asleep.
As well as honoring the heritage and landscape of the region, the rooms are full of sumptuous features. You'll find soft beds dressed in fine cotton, private terraces with sweeping views of Licancabur Volcano or the Cordillera de Sal, and alfresco bathrooms for showering under a night sky glowing with stars.
Adventures in the Atacama Desert are plentiful, and at Tierra Atacama, you will find a wonderful variety of excursions to choose from. Whether you prefer to explore on foot, horseback, bike or vehicle, we've got an all-encompassing portfolio of activities that delve into every corner of Atacama.  Here you'll find everything from world-class hiking tours to desert bike rides, horseback adventures to stargazing experiences, and much more.
When you arrive at Tierra Atacama our expert guides will personally walk you through our portfolio of excursions.  The guides will get to know your interests and physical activity level, helping to create a bespoke journey for you to explore the Atacama Desert your way.
Uma Spa at Tierra Ata
cama invites you to rejuvenate while contemplating the Licancabur Volcano, its energy emanating throughout our wellness center. Water – 'Uma' in the native Aymara language – is at the heart of our spa. This is something you'll discover when soaking in the alfresco hot tub, enjoying a spa circuit as you drift between the indoor pool and steam room, or going for a refreshing dip in the outdoor pool. Our treatments incorporate natural ingredients from the region, such as sheep's milk, honey and clay. The spa design is light and airy, with huge windows that bring you closer to the pristine environment. This space, created to mirror the essence of the desert, is waiting to restore your mind, body and soul. The yoga area is located on a shaded, outdoor platform in the middle of our gardens, so you will feel at one with the desert while you practice your poses. At Tierra Atacama, you'll find endless ways to reconnect with yourself and nature.
Spa Facilities
Our Uma Spa has an array of facilities, offering restorative experiences for our guests. Outside, you can bathe in the waters of our alfresco hot tub while admiring the Licancabur Volcano. Or, enjoy a dip in the infinity pool
Our indoor space, bedecked in natural stone walls and a bamboo canopy, is just as enticing, complete with a heated pool with water jets and bubble beds. Opt for a spa circuit, incorporating the pools as well as the steam room and relaxation space, to leave feeling entirely energized.
Therapies & Massages
Indulge with a spa therapy in our treatment rooms, where an ambiance of calm is created through soft light, gentle music, and aromatherapy oils. Choose from a list of facials, massages, body wraps, scrubs, treatments and alternative therapies, using natural ingredients such as volcanic mud, lithium-rich salt and desert herbs.
What's more, should you wish to combine a day's adventure into the Atacama Desert with a spa treatment to match, then our pairing menu is just the ticket. These combinations have been created by our health and expedition experts, to compensate the demands of each excursion with spa therapy. So, after hiking through
Moon Valley, return to our Uma Spa for a Reiki & Crystal Massage to keep your energy balance maintained; or, choose the Saddle & Soak, rounding off a long day on horseback with an immersion in our hot tub to relieve soreness and tired legs
Yoga & Meditation
Our yoga spaces allow you to connect with the Atacama Desert's energy. Yoga classes are booked in the spa area and either held inside our wellness center or on our outdoor yoga platform. There are also plenty of peaceful spots to be found if you simply feel like having a moment to be alone, meditate and take in the views.
Take a seat in our wicker hammocks, swinging gently under age-old desert trees, or if staying indoors, then our relaxation room awaits. Recline with a cup of rica rica herbal tea or chilled cucumber water in this space, where low lighting and aromatherapy scents lull you into a restful state.