One of the most visited regions in Chile, the Lake District, which can be reached by plane from Santiago de Chile, to the city of Puerto Montt, and stay there or usually in Puerto Varas, more touristic and beautiful.
From there, you can do many activities and visits to national parks, lakes, volcanoes. But today, we will focus on Chiloé, a land of myths and legends, traditions, its own identity, heritage, and unique gastronomy. You will find all that and much more in this place where friendly people and a unique cultural wealth abound.
Chiloe offers a hundred wooden churches built by the Jesuits from the 18th century. Of these, 16 were declared a World Heritage Site by UNESCO in 2000. So, it is an impressive cultural heritage, which can be discovered there.
Taste the Curanto, known as the king of Chiloé gastronomy. It is a dish that is made with different meats and seafood, using an ancient traditional method where hot stones buried in a hole are used. It sounds simple, but its flavor is spectacular, perfect for those rainy days on the island of Chiloé.
In Chiloe, you can also visit its colorful fairs and Craft markets in the main cities and towns. There are many souvenirs that you can buy as decorative items, textiles or made of wood and by hand.
You cannot leave Chiloé Island without admiring its picturesque and colorful stilt houses, wooden constructions that defy gravity by standing on thick piles that sink into the sea.
Also visit the islets of Puñihuil between September and March, to navigate and observe the colonies of Magellanic and Humboldt penguins that mix with other species of seabirds such as carancas, cormorants, lile ducks or mammals such as huillines or sea otters.
Visit the city of Ancud and visit the Regional Museum, the Plaza de Armas, the Municipal Market, and the Municipal Fair, its fortifications.
Chiloe also offers immense natural biodiversity, which you can see in the Chiloé National Park, near Cucao. Trekking enthusiasts will be able to follow the trails of Parque Tantauco to the south. Navigate the Chepu River and enter its sunken native forests and wetlands where marine fauna of various species inhabit.
Another unmissable option to do on Chiloé Island is to visit Quinchao Island, where you will visit towns such as Achao, Huyar, and Curaco de Vélez
If you want to book the full day trip to Chiloe Island, click in the image below, or contact us to our email us at info@ripioturismo.com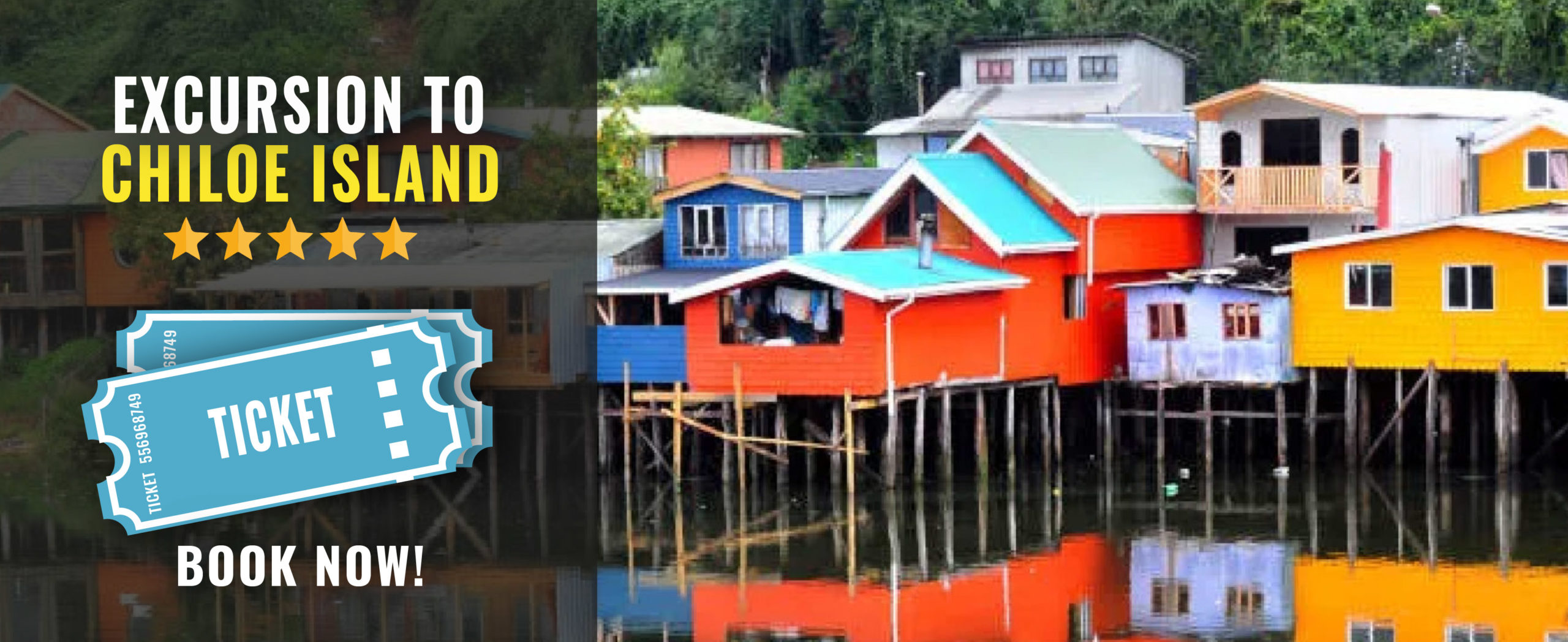 Thank you!