The airport of Ushuaia is located 4km from the city. Access to the airport is through the Paseo Roque Sadrez Galdeano which has 3,3 km long.
The general vehicular parking is located inside the main road circulation, with a surface of approx. Of 4,000 M2 and with a capacity for 150 vehicles. In front of the building is the parking lot for official cars and for those who have reduced capacity. Also, the airport has places (3) for parking large mics and taxis and remis.
The passenger terminal is located next to the parking lot and has a total area of 9,700.00 M2, distributed over two floors. It has the following equipment:
18 check in positions, adaptable to different airlines, all with electronic balances shared for every two positions.
1 boarding lounge - on the upper floor - for 500-seater cabotage flights (500).
1 boarding room - on the upper floor - to be used interchangeably for cabotage or international flights with a capacity of 300 people seated.
Each boarding room has a health group for both sexes and public telephony. All include facilities to be used by people with reduced capacity.
VIP room - high floor - with capacity for 24 people seated which includes a bar with bar service and toilets.
2 telescopic gangways for passenger boarding and disembarkation, suitable for large aircraft (B747).
4 Migrations positions for shipments - upstairs. And 4 migration positions for arrivals - upstairs -.
3 Hydraulic Lifts, Cap. Max. 4 people. Checked baggage check-in tapes and RX equipment for checked baggage. Two Carousels to claim luggage (with Back Up engine).
Confectionery and restaurant on the ground floor with capacity for 120 people seated, and bar / cafeteria bars in both pre-boarding rooms.
Scanner for hand luggage, metal detector bow, explosives detector and scanner for luggage arriving.
Commercial premises and various stands within which the following services are provided:Sale of handicrafts and jewelery in stone, sale of regional and native items, drugstore, kiosk, newspapers and magazines, confectionery bar and restaurant.
ATM - Exchange house currently operated by Banco Provincia Tierra del Fuego.
Renters of cars without driver (2), agency of remis, stand of taxis.
Heating system by hot air circulation. (Fan Coil), air curtains at each opening. (Doors, luggage entrances, etc.), six boarding gates, two Preembarque doors, signage by means of video with flight information, uniform signage - Spanish - English -, for location of areas, sound system, in all The areas for flight information. Nursing.
19 Operational offices:(1), Customs (Operative Office) (1), Senasa (Operative Office) (1), Office (1), Office of the Guard, Of Airport Headquarters. (2), Office ARO AIS - Flight Plan (1), Office Provincial Address AIUMA (2), Offices LONDON SUPPLY S.A.C.I.F.I. (2), Offices Aerolineas Argentinas (3), Lan Chile Offices, (1), Intercargo Office (1), LADE Office and Transp. Aircraft (1).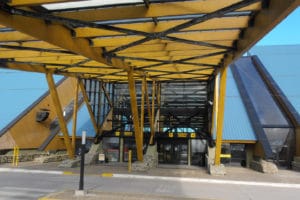 SERVICES
Taxis and car rental.
Commercial Locations.
Bank (Automatic cashier)
Restaurant.
Municipality of Ushuaia.
Luggage plastic wrapping system.
Money Exchange.
Arakur Lounge.
Vehicle Parking.
Wi Fi.
FAQS
- Which is the luggage weight limit to avoid paying baggage fees?
Regional and international flights allow up to 20 kg of checked luggage per passenger. For carry-on baggage, the allowance is 5 kg per passenger. Each airline, however, has its own luggage policy, so we suggest you contact your airline.
- Is there a luggage cart service available at the airport?
Yes. All airports managed by London Supply have luggage carts available for passenger use.
- Are there any currency exchange houses at the airport?
There are currency exchange houses at Ushuaia Airport. TROCAR Local 18 A
TIPS TO TRAVEL
Check flight status on the arrival and departure hall screens.
Keep an eye on your belongings while at the airport.
In case of trouble, ask for help at the INFORMATION counter.
Sharp objects or aerosols, among others, are not allowed in carry-on baggage. We suggest contacting the airline staff before luggage check-in.
Check with your airline the allowed size of carry-on baggage to avoid troubles finding a place for it inside the aircraft.
Animals are forbidden within the airport and if you are travelling with an animal, it must be kept at all times inside its transportation kennel or crate.
If you plan on protecting your luggage with plastic wrapping, you should first check with your airline if it must previously undergo inspection.
IMPORTANT INFORMATION
IF YOU TRAVEL TO PATAGONIA, DO NO TRANSPORT:
- Red meats.
- Sausages.
- Home made products.
- Fruits and vegetables.
For further information, just email us at info@ripioturismo.com We´re ready to help you!
Thank you,