In Buenos Aires, there are bars called "Bares Notables", because they are very antiques, and were the meeting point of great musicians, the space for debate of important writers, or places for social gatherings of actors and politicians.
Many of them, due to their antiquity, architecture, or local relevance, are considered "notable" and are an official part of the city's cultural heritage.
Meeting them and sharing the friendly atmosphere of coffee talks, is an obligatory ritual for the local people of the city and an unmissable experience for travelers.
Café Tortoni
Café Tortoni, a notable bar located in the Monserrat neighborhood, is the oldest in the City (it was founded in 1858).
An important part of the history of Buenos Aires is present in its marble tables and walls, since among its most prominent clients were the writers Jorge Luis Borges, Luigi Pirandello, Federico García Lorca and Julio Cortázar, as well as the musicians Arthur Rubinstein and the mythical Carlos Gardel.
Address: Av. de Mayo 825
Café de los Angelitos
Address: Av. Rivadavia 2100
It was founded in 1890 with the name of Bar Rivadavia by an Italian.
The Café room itself, from where you can see and hear a musician who plays tunes in the afternoon, is complemented by the show room and dinner-show, the souvenir boutique and the room for exhibitions and special events. Every day there is a first class tango show.
La Biela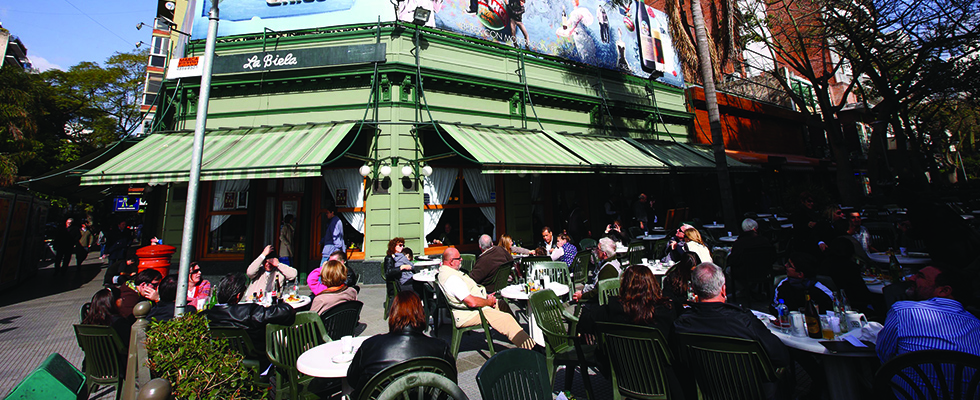 Located in one of the most beautiful corners of the Recoleta neighborhood (one hundred meters from the Iglesia del Pilar and the Cemetery), this has been since 1942 the preferred meeting place for several generations of Argentines. Intellectuals of the stature of Jorge Luis Borges, Adolfo Bioy Casares, Silvina Ocampo, or internationally renowned athletes such as Froilán González or Charly Menditeguy paraded through its tables served by efficient and discreet waiters.
Address: Av. Pres. Manuel Quintana 600
El Querandí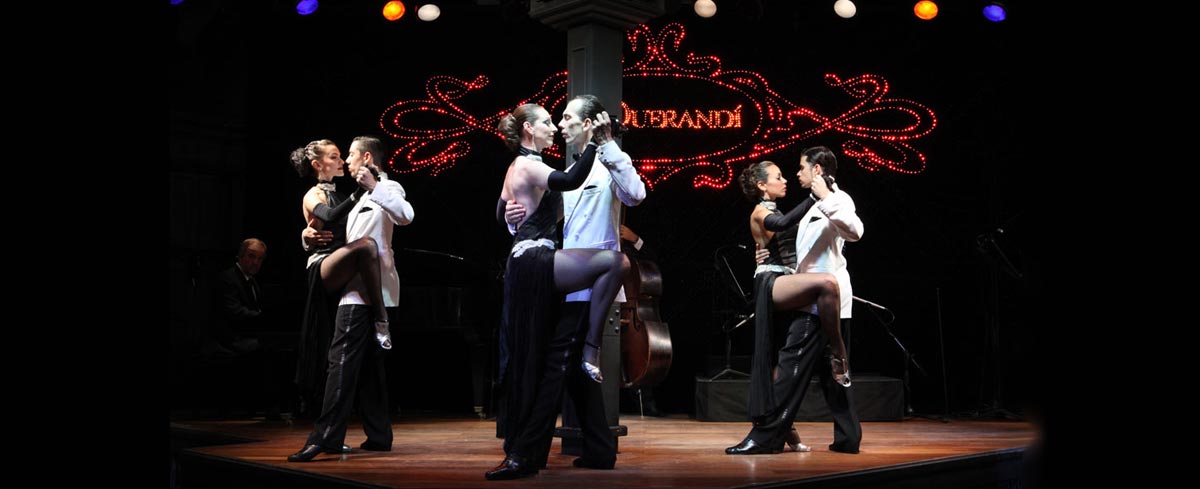 Address: Peru 302
It is an old house located since 1920 in the Historic Center of the City, in the heart of San Telmo.
It was restored in 1992, and declared a "Notable Bar" and "Living Testimony of Citizen Memory".
Its space has very high ceilings, Solomonic columns, dark woodwork, details that make it a classic in Buenos Aires.
It is a classic with different offers depending on the time of day.
At noon a large illuminated space with tables arranged with a large space between them, elegant and comfortable.
With space reserved for business lunches, receptionist service, executive and à la carte menu option, weekly suggestion and a menu that is renewed in each season.
At night, a dinner show with a tango show, international cuisine and an intimate and traditional atmosphere of authentic tanguería.
Do not miss the opportunity to know these historical places!