Patagonia is a place of famous mountains like Fitz Roy in El Chaltèn, amazing glaciers like Perito Moreno Glacier in Los Glaciares National Park, great rivers for activities like the Manso in Bariloche, wonderful National Parks, like Nahuel Huapi. Los Arrayanes, Los Glaciares, Tierra del Fuego... enormous lakes, like Lago Buenos Aires, Lago Santa Cruz, Lago Argentino; incredible sealife, with penguins, whales, sea lions, orcas, sea elephants, birds in Peninsula Valdes... Amazing isn`t it? What else? Well, dinosaurs... Yes, Dinosaurs. The biggest dinosaurs found, were found in Patagonia and there is a place which is fantastic to learn more about that: The MEF, Museo Egidio Feruglio in Trelew,  just a few kilometers from Puerto Madryn. Are you ready? Let me explain what you can expect in the MEF.
MUSEO EGIDIO FERUGLIO: What to expect?
Mef is a center of scientific activities, with entertainment for the whole family. If you have children, they will love it. Have fun in a trip through the past to the origin of the Earth, learn from HD documentaries screened at the Auditorium, meet the lab crew –working in the latest discovery-, have a break with a great cup of coffee at Feruglio Café and finish your journey by shopping souvenirs and gifts at Dinoshop. That`s an overview.
PERMANENT EXHIBITION
The museum exhibition is a journey to the past, starting from the early paleo-men through million years until the Big Bang, the origin of Earth. The museum developed the "black box" design concept to recreate past environments and displaying fossils, curiosities, replica and original scenery. The tour ends with a short film in the central module.
THE COLLECTION
The Collection is the heart of the museum. Once treated in technical laboratories, fossils are cataloged and stored.
MEF Collection set a precedent in technology and innovation throughout Latin America: all the fossil material is classified and arranged in large devices that move on rails and were manufactured with a prepared structure to withstand extreme weight and still be easy to handle by anyone. The collection manager carries on a digital record of all pieces and is responsible for its maintenance and preservation
THE BIGGEST: THE PATAGOTITAN MAYORUM
In the year of 2012, a ranch workman called Aurelio Hernández discovered the first bone of what would become one of the most amazing discoveries in paleontology: over 150 fossils belonging to at least 6 individuals of a new giant dinosaur species that happened to be the largest known so far. The huge size of the fossils and their amount drew much attention since they allowed the most complete anatomic reconstruction ever made of the largest terrestrial herbivores in the history of our planet. That is how the history of Patagotitan mayorum started.
At the present, the original fossils of this giant are deposited at Mef Collection. But the impact this discovery made has been such, that museums around the world are requesting a copy of it to be included in their exhibitions: in the year of 2016, one was assembled at the American Museum of Natural History (Nueva York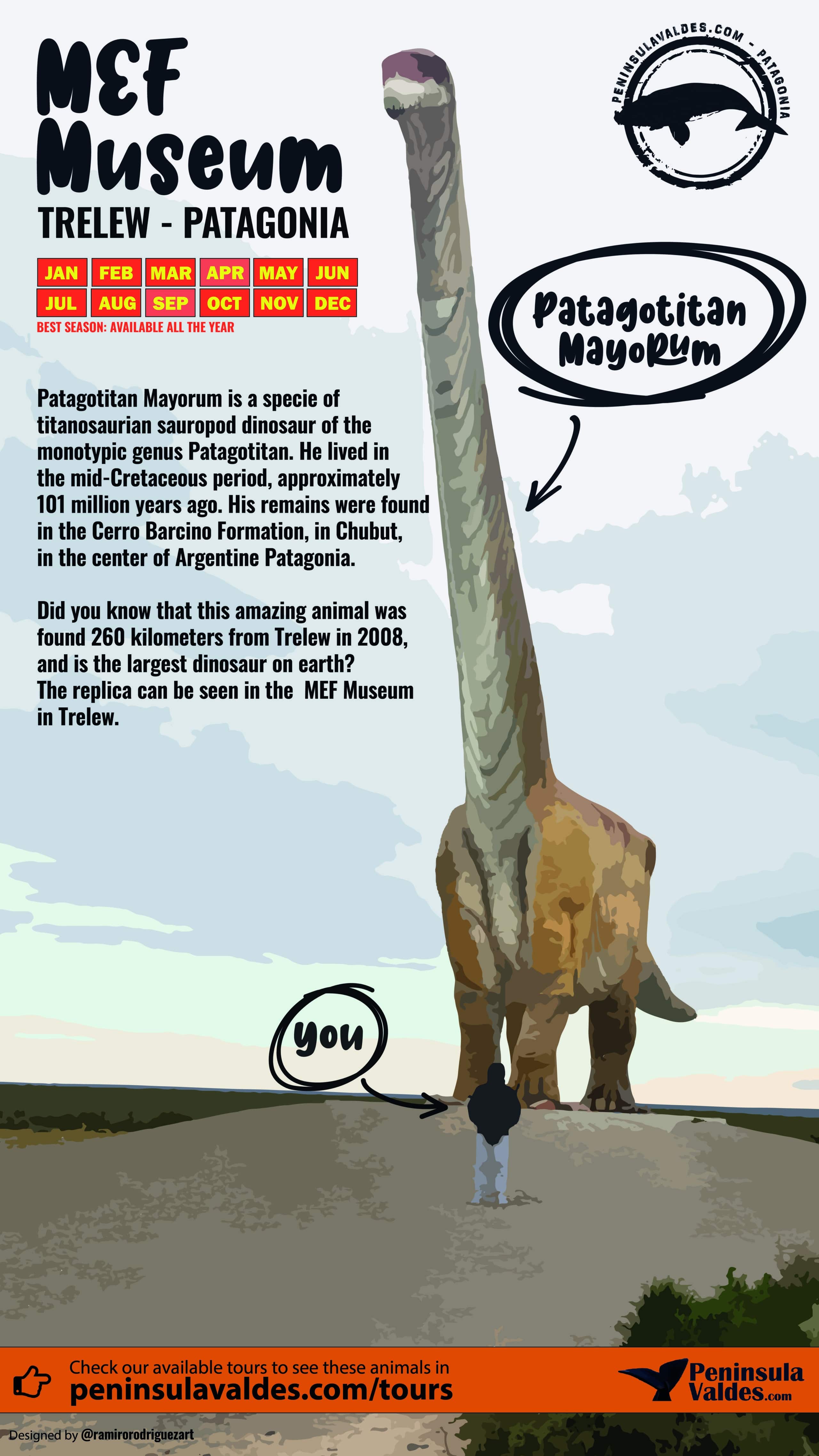 ), and this week, a new one will be built at the Field Museum in Chicago. The Patagonian dinosaur will be placed in a central spot, replacing iconic `Sue´, the largest Tyrannosaurus rex in the world.
The Field Museum, with almost 200 years of history, is one of the oldest in the United States, and it's visited by around 2.5 million people each year. It is located in Chicago, the third city of the country size-wise speaking. "Patagotitan will be at this hub promoting tourism in Argentina, in Patagonia and in our Museum on a continuous basis" Florencia Gigena, Manager to the Communications and Marketing Department at Mef, comments.
The replicas for this new model were completely produced by Mef technicians at one of its workshops, being advised by the paleontologists who took part in the discovery. Now, after almost two years of intensive work, and a two-month trip, the pieces have arrived in Chicago. A team from Mef traveled to assemble the skeleton; for two weeks in a row, Maximiliano Iberlucea, Máximo Delloca, Walter Mora, Pablo Passalía, and Javier García Díaz will be working in the main hall of The Field Museum, to public view, to set this dinosaur at the special spot that has been reserved for it.
"Our giant has been eagerly expected for several weeks at The Field Museum… They have even nicknamed him already! Just like the
ir T.rex was named ´Sue´, at this Museum Patagotitan's name as from now is Máximo (yes, just like that, in Spanish, to honor his home country, Argentina) after his huge size", Florencia details. On May 25th, a formal introduction to the press will be made, whilst from June 1st this exhibition will be available for the public to visit.
Patagotitan is a genus of titanosaurian sauropod. The genus contains a single species known from multiple individuals: Patagotitan, first announced in 2014 and then validly named in 2017 by José Carballido, Diego Pol and colleagues. Contemporary studies estimated the length of the type specimen, a young adult, at 37 m (121 ft) with an approximate weight of 69 tonnes (76 tons).
Like other titanosaur sauropods, Patagotitan was a quadrupedal herbivore with a long neck and tail and is notable for its large size. In 2014 news reports stated size estimates of 40 m (131 ft) long with a weight of 77 tonnes (85 tons); science writer Riley Black had cautioned in 2014 that it was still too early to make size estimates with the desirable scientific certainty. In 2017 the species description of Patagotitan mayorum was published which estimated a length of 37 m (121 ft) long, with an approximate weight of 69 tonnes (76 tons).
In fact, it`s a place to visit. If you visit Puerto Madryn, include the visit to Trelew and Gaiman (a very nice welsh colony) and add the visit to the MEF. you can contact me at my email: info@ripioturismo.com  I`m ready to help you.  Or, visit our website in www.peninsulavaldes.com and check the options available. Of course, the MEF Museum will be found there.
BOOK YOUR VISIT TO TRELEW AND THE MEF MUSEUM
Click in the image below and book your excursion to Trelew, Gaiman (Welsh Colony) and the Egidio Feruglio Museum. }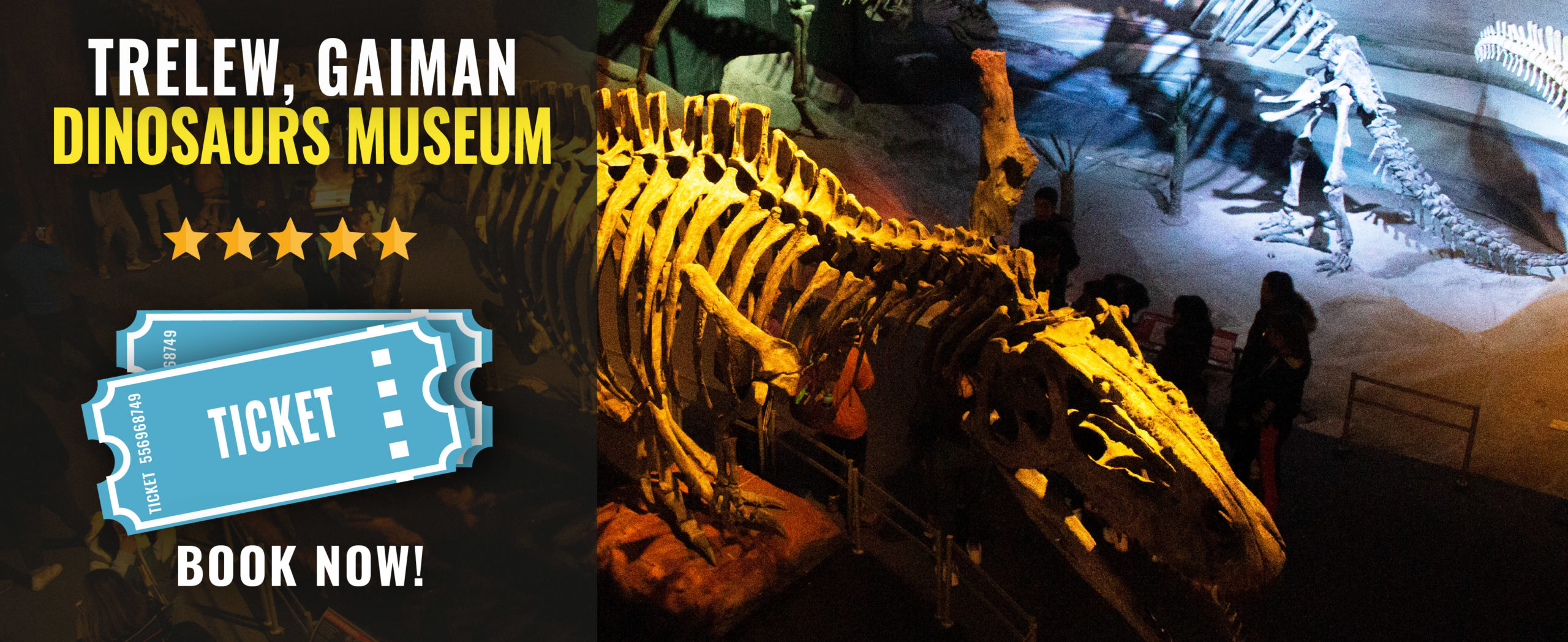 Thank you!
Photos: Thanks for MEF - Museo Egidio Feruglio