Glamping is a great option to be in touch with the environment, watch the stairs, listen the wind, feel the weather... It´s an amazing experience. In Argentina and Chile, we have some great options to enjoy glamping, which is camping with the comfort you can find in a hotel for example. Some of them, with luxury services. The domes, or sometimes yurts, are fully equipped, to offer the best possible experience. But first, let´s talk about Glamping. What means Glamping?
What is glamping?
Well, basically glamping is a form of camping involving accommodation and facilities more luxurious than those associated with traditional camping. So, glamping is likely to satisfy any city slicker seeking a little refuge in nature—without foregoing any of life's luxuries. And we have many options and different levels and different categories of glamping.
Where to enjoy Glamping in Argentina and Chile?
We have a list of places where you can enjoy nature and glamping. It´s a selection of possible glamping places in Argentina and Chile:
So, let´s talk about the available glamping in Argentina and Chile:
Glamping in Patagonia: Glamping in Torres del Paine, El Chalten, and Los Alerces National Park
In Patagonia we have some incredible options. In Torres del Paine National Park we have Patagonia Camp, one of my favorites, then, EcoDomes in El Chalten is also amazing and finally in Los Alerces National Park, close to Esquel in Chubut Province we have Huemules.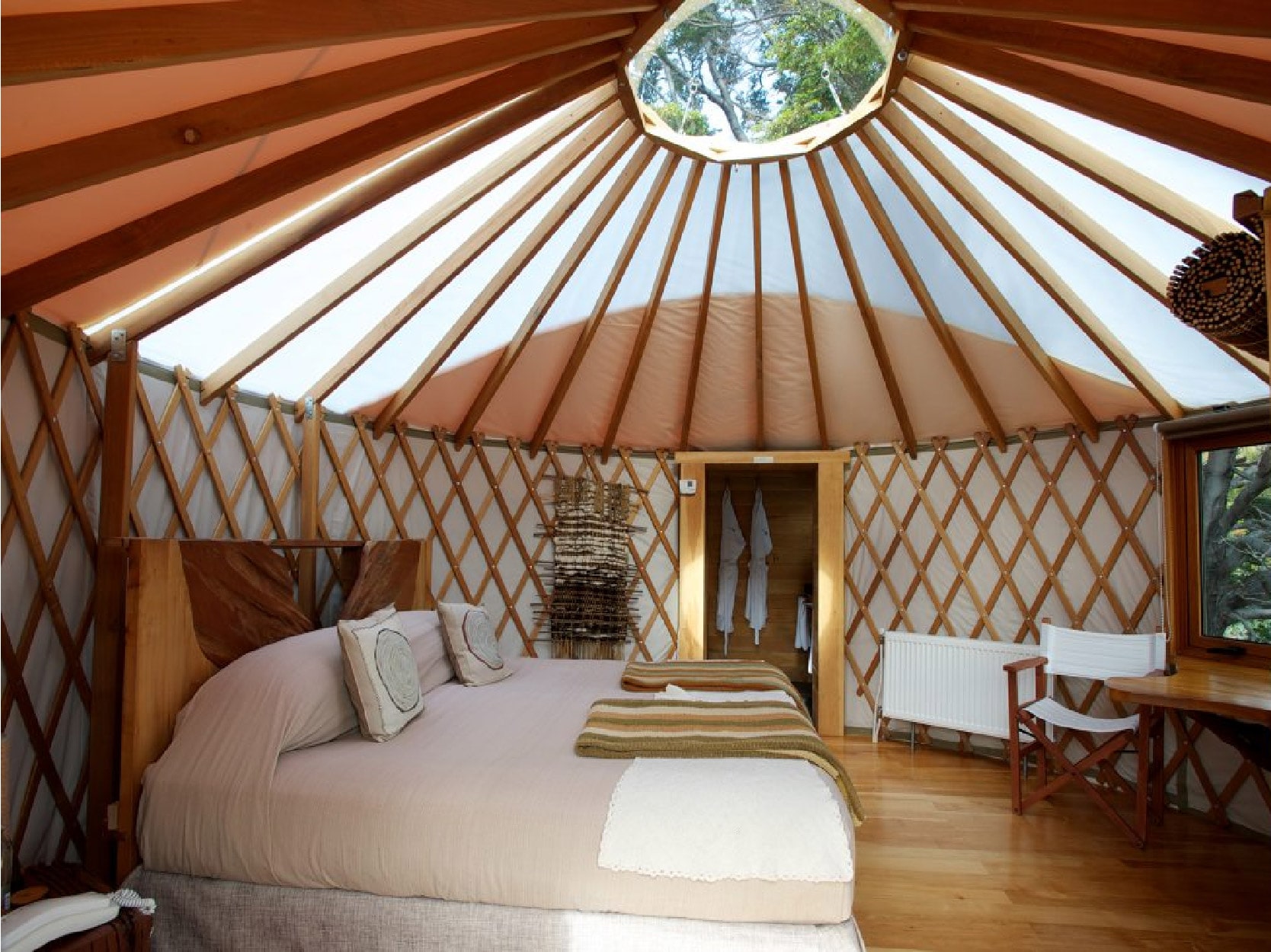 Glamping in Patagonia: Patagonia Camp
Again, it´s one of my favorites. Patagonia Camp is the perfect gate to enjoy Torres del Paine National Park. From the very beginning, Patagonia Camp has been developed based on sustainable principles, our belief in helping protect our planet and our utmost care and commitment for Patagonia. Patagonia Camp was built using the most eco-friendly methods, all while being the most respectful that we can be for our native environment.
Patagonia Camp was created so that each of our guests can feel and enjoy the wonderful nature of Patagonia from the comfort of their own private room. Our yurts provide guests a unique experience to be able to have intimate contact with nature – the magical sounds of the wind blowing, rain falling and being able to see the stars all from the central dome of your private yurt. Our concept allows our guests to experience one of the world's most beautiful landscapes right from your windows alongside being surrounded by an incredible and aromatic native forest where our walkways and viewing platforms are located.
Patagonia Camp is located in Torres del Paine, a 34,000 hectare private reserve that is home to native Coigüe evergreen forests, ancient "Nothofagus" plants like "Lenga" and "Notros" that bloom in Spring. Our site is located on the shores of Lake Toro, the largest lake in the Magallanes region of Chile with incredible views of the Macizo del Paine. The Camp is located at Kilometer 74 on the Milodon-Porteño route (Y-290) which is just 15 kilometers from the main entrance of the Torres del Paine National Park, one of most beautiful, and well-known parks on the planet.
For more information about Patagonia Camp, click here!
You also can see my RipioTurismoInterview here
Glamping in Patagonia: EcoDomes El Chalten
Another great option is EcoDomes, in El Chalten, on the argentinian side of the Andes. The place is located 16km away from El Chalten village, on route 41 to Lago del Desierto, surrounded by mountains and nature, with amazing Fitz Roy views, Patagonia Eco Domes offer luxury ecological domes with a private bathroom, right on the headrail to Laguna de Los tres and glacier Piedras Blancas.
The EcoDomes El Chalten is located 15km away from El Chalten, next to Los Glaciares National Park, counts with unique views of Mount Fitz Roy and private access to Laguna de Los tres trail. It is located in a 3-hectare area surrounded by forest and streams. Counts with 7 en-suite domes for two people, wood stove, private entrance, all with Fitz Roy Views, 1 78 meter dome for restaurant and another one for reception and chill out area.
Each suite Dome has a private bathroom and private hall. Equipped with wooden stove, safe box, sommier and nightstands with night lamps. They all have self-sufficient solar energy on a 12v circuit, this means only a USB Plug is available.
Again, it´s an amazing place! If you are looking peacefull Patagonia, hiking and beeing isolated, this is your place in el Chalten. Connected to Fitz Roy trails and more, Patagonia Eco Domes offers a unique experience in Patagonia. No celll phones, no internet, just good views, comfort, and peace...
Glamping in Patagonia: Huemules in Los Alerces National Park
In Chubut province, in the Argentinian Patagonia, you find Huemules. It´s also a fantastic place to enjoy Glamping. Estancia Huemules is located a few kilometers from the city of Esquel, with 7 weekly flights and 300 km from Bariloche, with more than 15 daily flights.
They built each lodging unit based on a gracious and resistant structure, with an unnoticeable cover that protects our visitors. Nevertheless, our commitment to hospitality provides the utmost comfort while maintaining that special feeling of living in Nature.
All the rooms come with great amenities and services, so you can live an unforgettable experience: Queen Size Sommier, Safety deposit box, Biodegradable Bath products, wood stove, electricity 220V, forest or mountain views, full private bathroom, towels and slippers, private deck... What else?
The Reserve offers 6200 hectares of Patagonian Andean Forests with numerous circuits for the most incredible activities in Nature. Your stay includes daily excursions you can choose that demand different levels of physical effort. Are you ready to enjoy glamping in Huemules?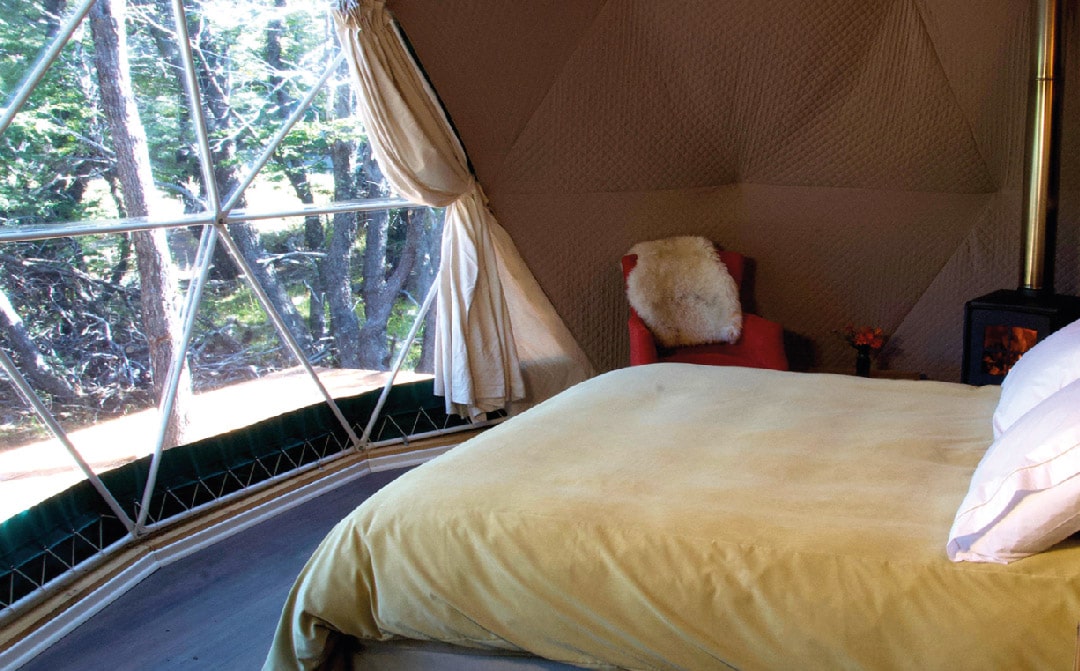 Glamping in Mendoza: Wine country and glamping services
Another great place to enjoy glamping is Mendoza, the wine country. Let´s suggest Alpasion in the Uco Valley, another amazing option to enjoy glamping in Argentina.
Glamping in Mendoza: Alpasion Lodge
Alpasión Lodge is an ideal place for unforgettable experiences... The lodge is located in Uco Valley, Mendoza, Argentina, just an hour and a half away from the city of Mendoza.
Alpasión Lodge has 5 luxurious double rooms and 1 family room. All rooms have private terraces, cable TV and Wi-Fi internet. Each room has a unique style based on one of the elements: metal, wood, earth, air, water, fire. Three of the guest rooms can be configured as twins if required. We also have a "Glamping" area consisting of 3 luxury tents. Each tent is equipped with a private bathroom, king-size bed, safe, minibar and Nespresso machine, private deck with a small hot tub where you can relax admiring the surroundings. The tubs were hand-made in "Tierra del Fuego" of wood that comes from 30-year-old (sustainable) forests. The Lodge & Restaurant are just a few meters away.
Our facilities include a Wine Cellar to taste an excellent variety of wines from the region, a large dining room, a cozy living room to unwind and a library with a fireplace where you can enjoy reading our collection of books. Outside there is a pool with a jacuzzi and a relaxing private garden patio surrounded by olive trees. Our roof terrace with an outside fireplace is an ideal place for an afternoon drink, offering you a beautiful view of the impressive Andes Mountains.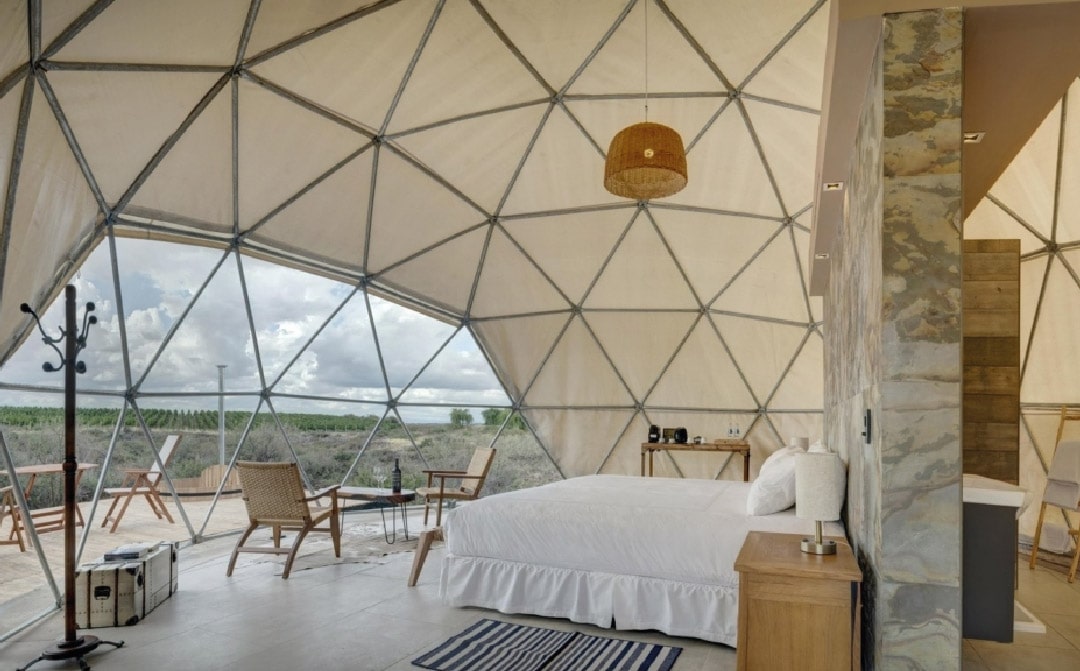 Glamping in the Argentinian Northwest: Glamping in the Salt Flats with Pristine Camps
Wait, glamping in the salt flats? Yes. It´s possible of course. In Jujuy province, in the argentinian northwest, and in the Salinas Grandes (Salt Flats), you find Pristine Camps. A wonderful glamping experience, where you can enjoy the unique environment. The natural pristine observatory, a clear, pure sky, where watching the universe and its stars is a unique spectacle in the world. Beyond the immeasurable beauty of the Salinas Grandes, we have thought about every detail, without losing sight of the sustainability of this natural reserve, offering a personalized service for a maximum of 10 guests per stay who will stay in 4 fully equipped luxury domes. Includes full-board: breakfast, lunch, tea, dinner, drinks, and local wines made with regional products. Also programmed activities with specialized guides.
The program can be combined with other visits in the northwest. Contact us for more experience.
Amazing isn´t it? Glamping is a new way of travel, enjoying the landscape, the environment, the nature, with the comfort you can find in a hotel.
For more information, please contact us at info@ripioturismo.com 
Thanks to Patagonia Camp, Pristine Camps, EcoDomes El Chalten, Alpasion Lodge and Huemules for the photos