Today I came with a very complete program to enjoy one of the most incredible places in Patagonia (and the world), to enjoy sea life. Yes, Puerto Madryn and Peninsula Valdes area is the perfect place to enjoy whales, penguins, sea lions, sea elephants, birds, orcas, dolphins, commersons dolphins, and more. A very complete program combines different visits, in a unique 4-night program.
BEST SEASON TO ENJOY THIS PROGRAM
What`s the best season to enjoy the following program? Well, September is our suggested month, where you can find whales in the Peninsula, but also whales with carves in the area of Doradillo, where the animals can be seen very close to the coastline. Of course, you have sea lions and sea elephants, birds, and first penguins visiting both penguin colonies: San Lorenzo in the Peninsula Valdes, and Punta Tombo. Take a look at our suggested program:
DAY BY DAY ITINERARY
DAY 1 - TRELEW - DINOSAURS OF PATAGONIA
Arrival to Trelew Airport, called Almirante Zar. Trelew is one of the most important cities in Chubut Province. Was founded by welsh people who arrived to the area in the past and it`s the place to visit one of the most incredible museums to see dinosaurs in South America. The MEF Museum, called Egidio Feruglio is our fist stop, to enjoy an incredible collection of dinosaurs of Patagonia, including the recently discovered Patagotitan Mayorum, in early 2013. A team of MEF researchers -on a routine field trip- unearthed the remains of a giant titanosaur. With more than 8 meters high, a length of 40 meters and about 74 tons of estimated weight, it turned out to be the largest known creature that has walked on Earth. This exceptional discovery not only stands out for the size and quantity of fossils found, but also for its unusual state of preservation. No less than seven colossal herbivorous dinosaurs were found in a single site in the Province of Chubut (Argentina). The finding surprised scientists around the world who, until now, only knew the anatomy of these giants based on rather poor remains of few species. After visiting this incredible place, we will visit Gaiman, a welsh colony located very close to enjoy the unique welsh tea. Then, transfer to your hotel in Puerto Madryn.

DAY 2 - DORADILLO BEACH
After breakfast, we will go directly to a place called Doradillo Beach, where whales can be seen with their carves very close to the coastline.  It`s an amazing show of nature. Be ready with your camera to take many photos and enjoy this unique show of nature. This activity can be enjoyed only during the middle June to September period. After that, whales go to the Peninsula Valdes and can be seen from Puerto Piràmides with a wide variety of options to enjoy whale watching from boats specially prepared for that activity. Return to Puerto Madryn overnight.
DAY 3 - PENINSULA VALDES
After breakfast, we will start our first visit to the incredible Peninsula Valdes, a place full of sea life that can be enjoyed in different stops. We will arrive at the peninsula crossing the Istmo Ameghino, where we will stop and see the birds island and the interpretation center. After that, we will continue to the south portion of the peninsula to stop in Puerto Piràmides which is the place you can overnight if you want, or enjoy many activities like whale watching navigations, and many more activities available like diving, trekkings, etc. We will enjoy a unique whale watching to enjoy the Southern Right Whale from a boat, and then we will have free time to enjoy Puerto Piràmides and the sunset.  Overnight in a hotel located in Puerto Pirámides.
DAY 4 - PENINSULA VALDES
After breakfast, we will continue to the east portion of the peninsula, to watch the colonies of Sea Lions and Elephant Seals located in Caleta Valdes. After some photo shots there, we will continue to the north, to enjoy Punta Norte and the sea lions colony, and after that, the incredible penguin colony located in Estancia San Lorenzo, with more than 500.000 penguins during summer season. It`s the most important penguin colony in South America. Be ready again with your camera to take hundreds of photos! Return to Puerto Madryn for our last overnight in the area.
DAY 5 - TRELEW
After breakfast, free time until transfer to airport
BOOK OUR BASIC PROGRAM TO ENJOY PENINSULA VALDES RESERVE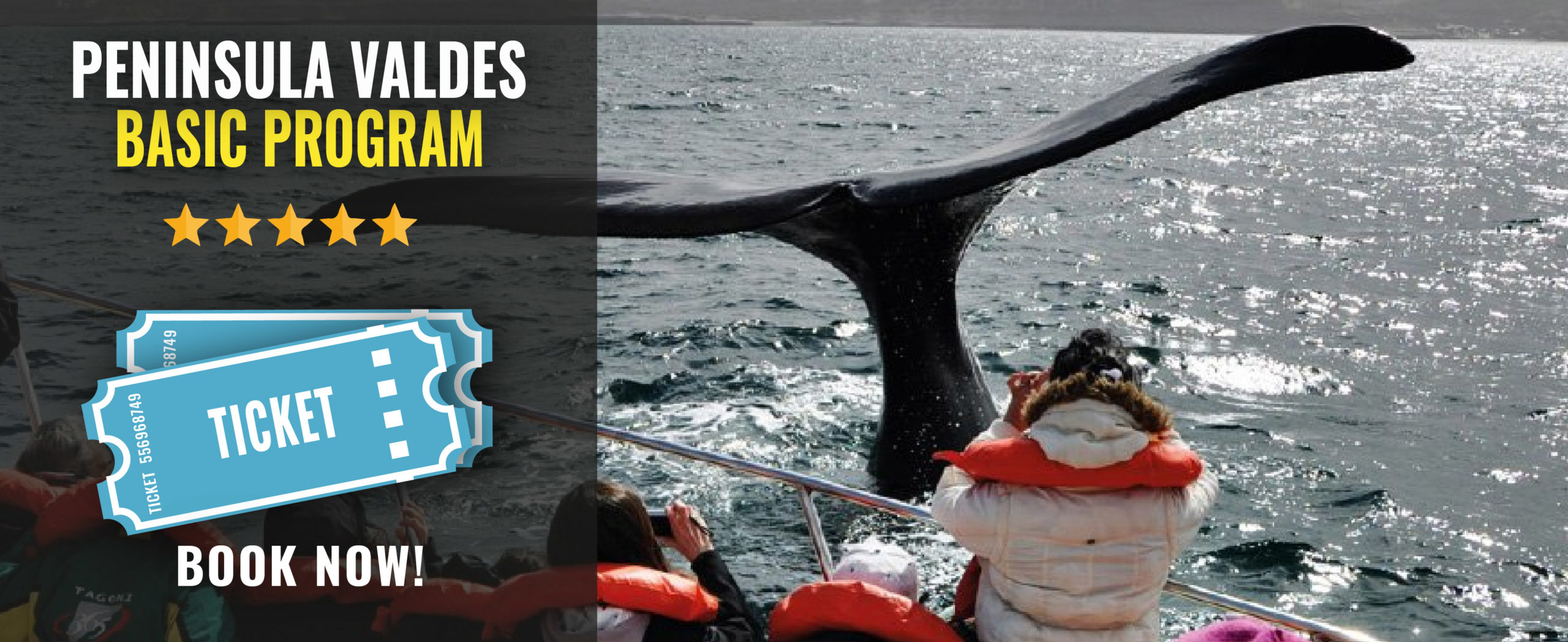 For more information and prices, just contact us at info@ripioturismo.com or visit our exclusive website for the incredible sea life of Penisula Valdes at www.peninsulavaldes.com
Thank you!