If you´re visiting Argentina, it´s probably that your first step will be Buenos Aires. The capital city is one of the most "European cities" in South America, due to the rich origins of the country during the last years of the XIX century and first of the XX. Of course, Buenos Aires is a highlight, because offers a wide variety of attractions, like Caminito, La Boca, San Telmo, 9 de Julio Avenue, and the Obelisk, the Colon Theatre, Palermo, Puerto Madero, Recoleta... A perfect place to enjoy the Tango, one of the most fascinating dances in the world, and taste the local gastronomy. Do not forget to try the Argentinian steak, it´s amazing and unique. Well, but after that, and visit the exciting capital city, it´s a good idea to fly to Patagonia and visit one of the highlights, in the remote extreme. Ushuaia, the southernmost city in the world will be waiting for you with a wide variety of excursions, traditional and adventure visits, museums, history, local dishes, and the magic of the end of the world. But, what´s the best way to go from Buenos Aires to Ushuaia?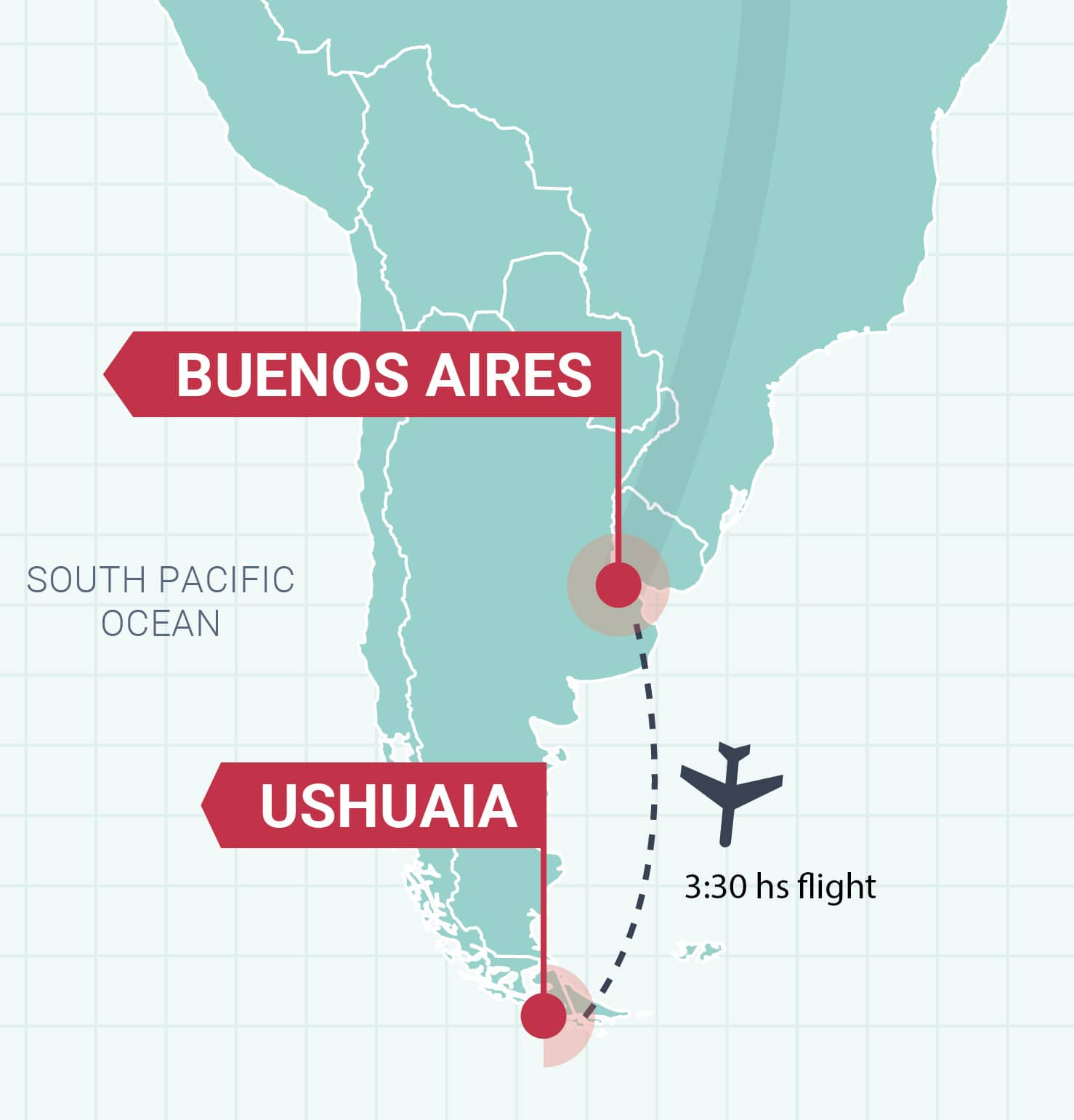 Going from Buenos Aires to Ushuaia
Well, usually flights leave from Aeroparque Jorge Newbery in Buenos Aires. Sometimes from Ministro Pistarini (also called Ezeiza). It´s a 3:30-hour flight to go from Buenos Aires to Ushuaia, the city located in Tierra del Fuego Island. Note that flights provided by Aerolineas Argentinas can be direct, or with a stop in El Calafate, a small village that´s a starting point to visit the magnificent Perito Moreno Glacier and many other glaciers in Los Glaciares National Park. So, a good idea could be to fly from Buenos Aires to El Calafate, and then from El Calafate to Ushuaia.
Of course, you also can arrive to Ushuaia from Chile. Usually, in a 12-hour bus service going from Punta Arenas in Chile to Ushuaia in Argentina. It´s a long way, but it´s an option if you want to arrive to Ushuaia from Chile. Another great option is to take a cruise from Punta Arenas to Ushuaia. Yes, there are excellent expedition cruises leaving from Punta Arenas during summer season, that visits the Cape Horn, and the southern channels and fjords in Patagonia, finalizing in Ushuaia. It´s also an option.
So you know, what´s the best way to go from Buenos Aires to Ushuaia. Are you ready to visit the city at the end of the world?
For more information, just contact us: info@ripioturismo.com 
Thank you!