Argentina is a large country, with 11.968 km of limits, a total surface of 2.780.400 sq km, and 3700 km from north to south and 1425 from east to west. It`s the 9th large country in the world. With that information, you can see that Argentina offers a wide variety of climates, lanscapes, and places to be visited: glaciers, rivers, mountains, coasts, jungles, falls, deserts, snow, lakes, forests...
So, if it`s your first time, or you have just a vague idea of what Argentina can offer for tourist, let me talk about highlights destination by destination:
BUENOS AIRES: A must-see. Tango, Gastronomy and Culture
Buenos Aires, the capital city is of course, a must-see. Maybe the gate to the rest of the destinations in the country and other destinations in South America. Buenos Aires, called La Reina del Plata, is the most European of the cities in South America. It`s a great city, if you didn`t visit Buenos Aires before, you will be surprised the first time, believe me. And what to expect in Buenos Aires? Well... Tango. Tango is one of the highlights. You can enjoy many dinner tango shows in this wonderful city. Take a look to www.dinnertangoshow.com our specific website to book the best Dinner Tango Show for you. We have many options there. Enjoy also a tango class, and a wine tasting.
Buenos Aires is also culture, is wonderful gastronomy, and is also gaucho culture in the countryside. So, city tours and visits to the Pampas are also a highlight. But Buenos Aires offers many museums like Malba for example and wonderful gastronomy. you can find some great restaurants in the renovated dockside area of Puerto Madero. Don`t forget to walk Caminito, La Boca and San Telmo, and the incredible 9 de Julio Avenue with the Obelisk. Buenos Aires, la Reina del Plata will be waiting to surprise you!

PUERTO MADRYN & PENINSULA VALDES:  Whales, Penguins and incredible sealife
Going down to Patagonia, your first step would be Peninsula Valdes. And Trelew is the local airport when you will arrive. From Puerto Madryn, you can visit the most incredible sea life you can find in Patagonia: Whales, Penguins, Sea Lions, Sea Elephants, Birds, Orcas, and more, much more. Of course, whales are a highlight, but also penguins. There are two incredible penguin colonies in the area: San Lorenzo and Punta Tombo.
But from Puerto Madryn, you also can visit Gaiman, a very nice welsh colony with some interesting points of interest about history. In Trelew, you can visit the incredible MEF, the Egidio Feruglio Museum to enjoy some of the most incredible dinosaurs of Patagonia, including the new Patagotitan Mayorum!
For more information about Puerto Madryn and Peninsula Valdes, you can visit our website in www.peninsulavaldes.com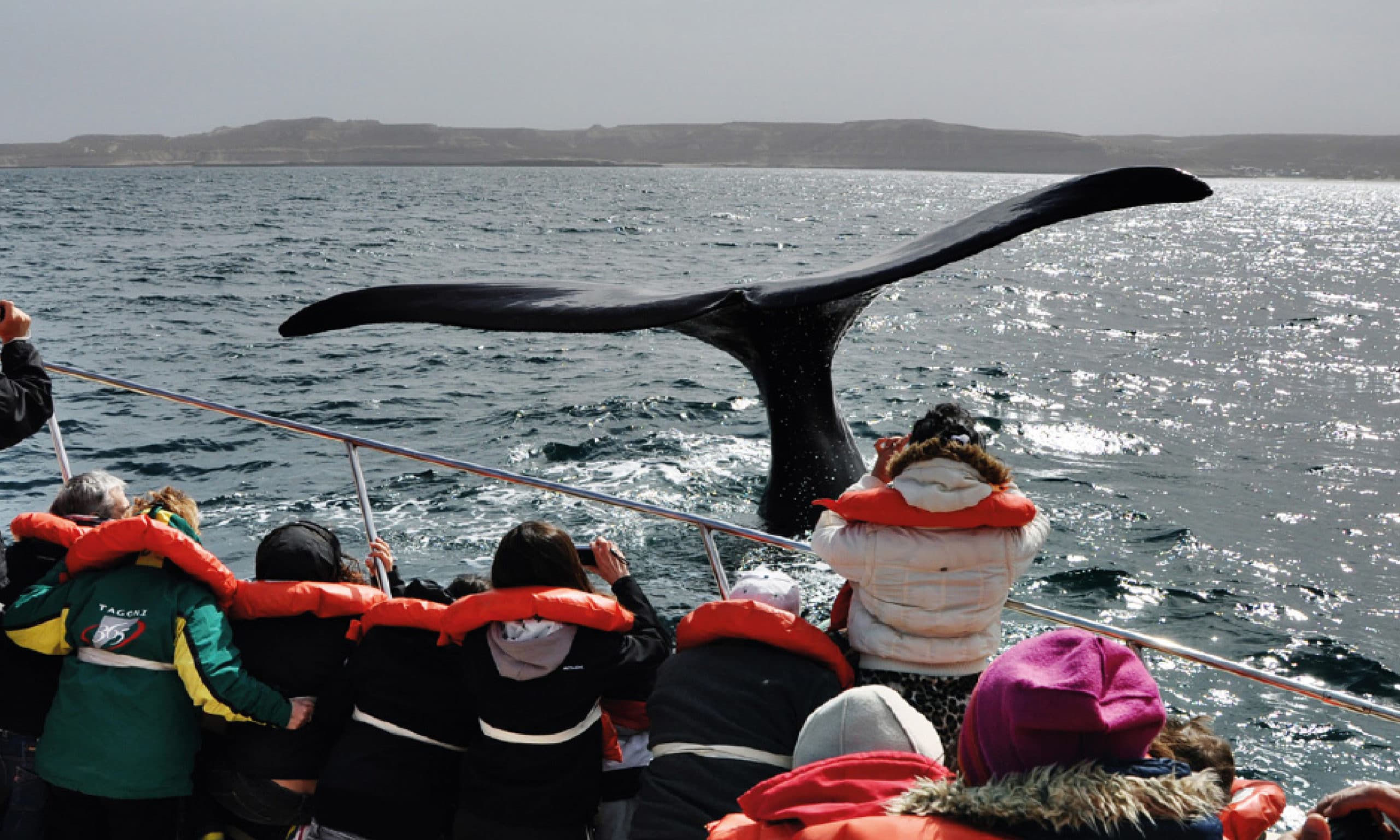 USHUAIA:  The city of the end of the world
Going down again, we arrive to Ushuaia, the southernmost city in the world. Ushuaia is 2371 km from Buenos Aires, so a 3:30 hs flight from the capital city will allow you to arrive at this very nice city. What to see there? Well, Tierra del Fuego National Park is a highlight, with the incredible Train of the End of the World. And Beagle Channel is also a must-see. There are many boat navigations to enjoy Birds, SeaLions, Penguins, and the Les Eclareirs Lighthouse to take the perfect photo! For more information, just visit our website www.beaglechannelnavigation.com
Ushuaia is also the gate to some unique cruises to Antarctica and Cape Horn. Yes, from Ushuaia to can take the Australis Cruise to Punta Arenas and disembark in the mythical Cape Horn, and visit many glaciers and fjords in Patagonia. For more information just visit www.patagoniacruises.com.ar  You also can start a cruise to the white continent. Many ships depart from Ushuaia to Antarctica.
And finally, Ushuaia is also a wonderful gastronomy place. You can enjoy the "Centolla" the King Crab and the unique Lamb (Cordero Patagonico). Be ready to taste both!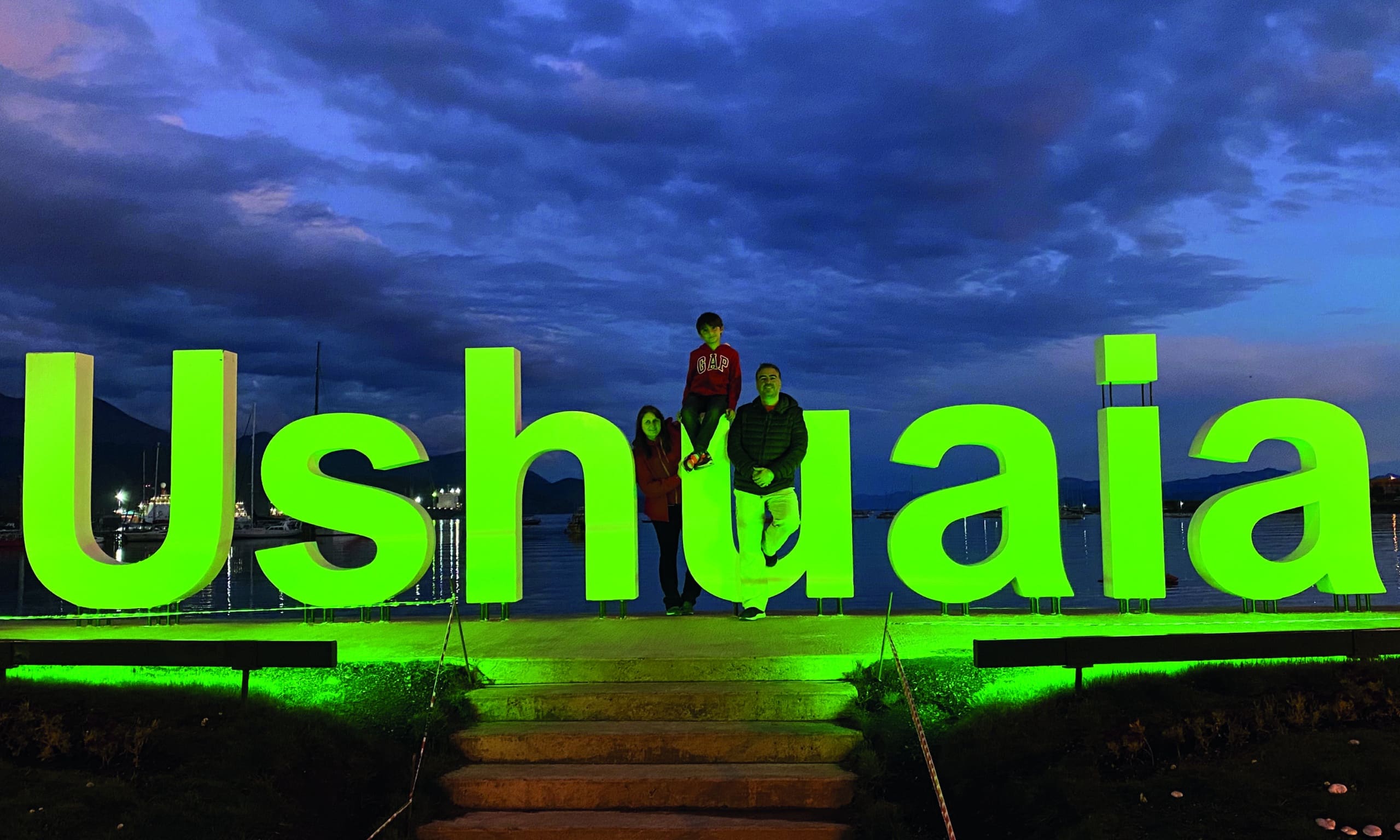 EL CALAFATE: the gate to Perito Moreno Glacier
El Calafate is the gate to visit Perito Moreno and many glaciers in the area. From there, you can enjoy different boat navigations in Los Glaciares National Park, to enjoy different glaciers. There are many adventure activities like the Minitrekking or the Big Ice, to walk over the ice of the glacier in an unforgettable experience. Of course, Perito Moreno is the highlight, and a must-see, to enjoy this incredible colossus of ice with enormous blocks of ice falling into the lake with a thunderous crash. But there are many other options like a visit to Estancias or ride in 4x4 vehicles, horseback ridings, and more.
From El Calafate, you can visit two important destinations in a full-day program, or maybe extend your visit and add some nights there. You can visit El Chaltèn and Torres del Paine National Park in Chile, another highlight in South America.
For more information, you can visit our website www.minitrekking.com and www.peritomorenoglacier.com  We`re ready to help you!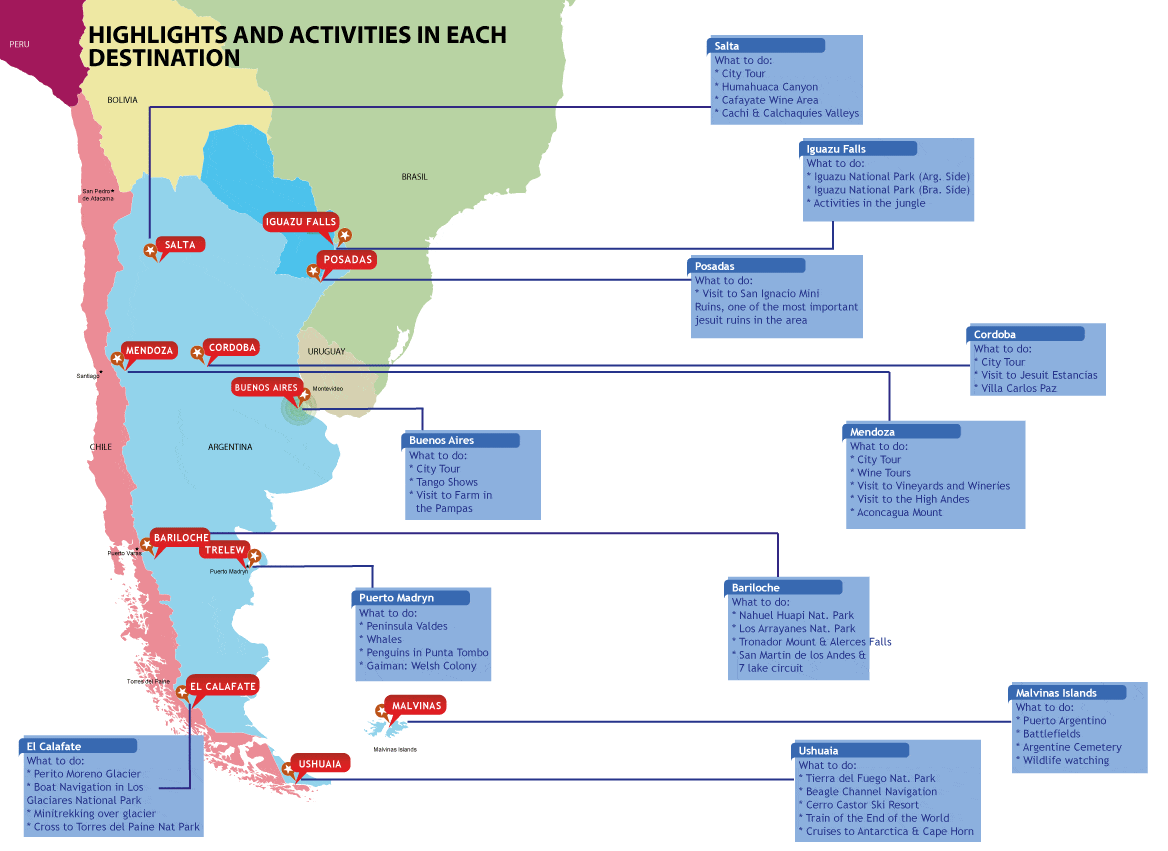 BARILOCHE: Lakes, Mountains, and Wonderful Landscapes
One of my favorites places in Patagonia is Bariloche. Landscapes are beautiful with many lakes and forests, and mountains. Be ready to visit national parks: Nahuel Huapi National Park and Los Arrayanes National Park are two great options. Tronador Mount is another wonderful visit to the area. Or a visit to the small village of Villa La Angostura and San Martin de los Andes via the 7-lake circuit.
Bariloche is also great in gastronomy. Enjoy the Patagonian Lamb, the wonderful chocolate and also some smoked cold cuts. For more information, visit our website www.ripioturismo.com 
IGUAZU FALLS: Magic of Nature
If Perito Moreno is one of the must-sees in Argentina, Iguazu Falls is the other one. Definitely, you cannot visit Argentina and not going to Iguazu Falls. Declared by Unesco a World Heritage and recently declared as one of the new 7-wonders of nature, Iguazu Falls is a unique awesome destination.  You can visit both sides of the falls: the Argentinian side, with up to 8 km of trails to enjoy the falls in three different circuits, the upper, the lower, and the trail to the Devil`s Throat with the Ecological Train of the Jungle. Be ready to enjoy one of the most incredible shows of nature.
The Brazilian side is also amazing. Basically is a bus ride with a 1500 mts trail to enjoy a unique panoramic view of the falls, and an elevator.
In Iguazu Falls, there are many adventure activities to enjoy, from boat navigations, to rappel, trekkings, and it`s also great for nature lovers, with activities of birdwatching available. If you visit Iguazu Falls, take a look to the Full Moon Calendar. Why? Five days a month, the full moon walking tour to enjoy the falls under the moonlight is available, and it`s an unforgettable experience. For more information, just visit our website in www.iguazufalls.com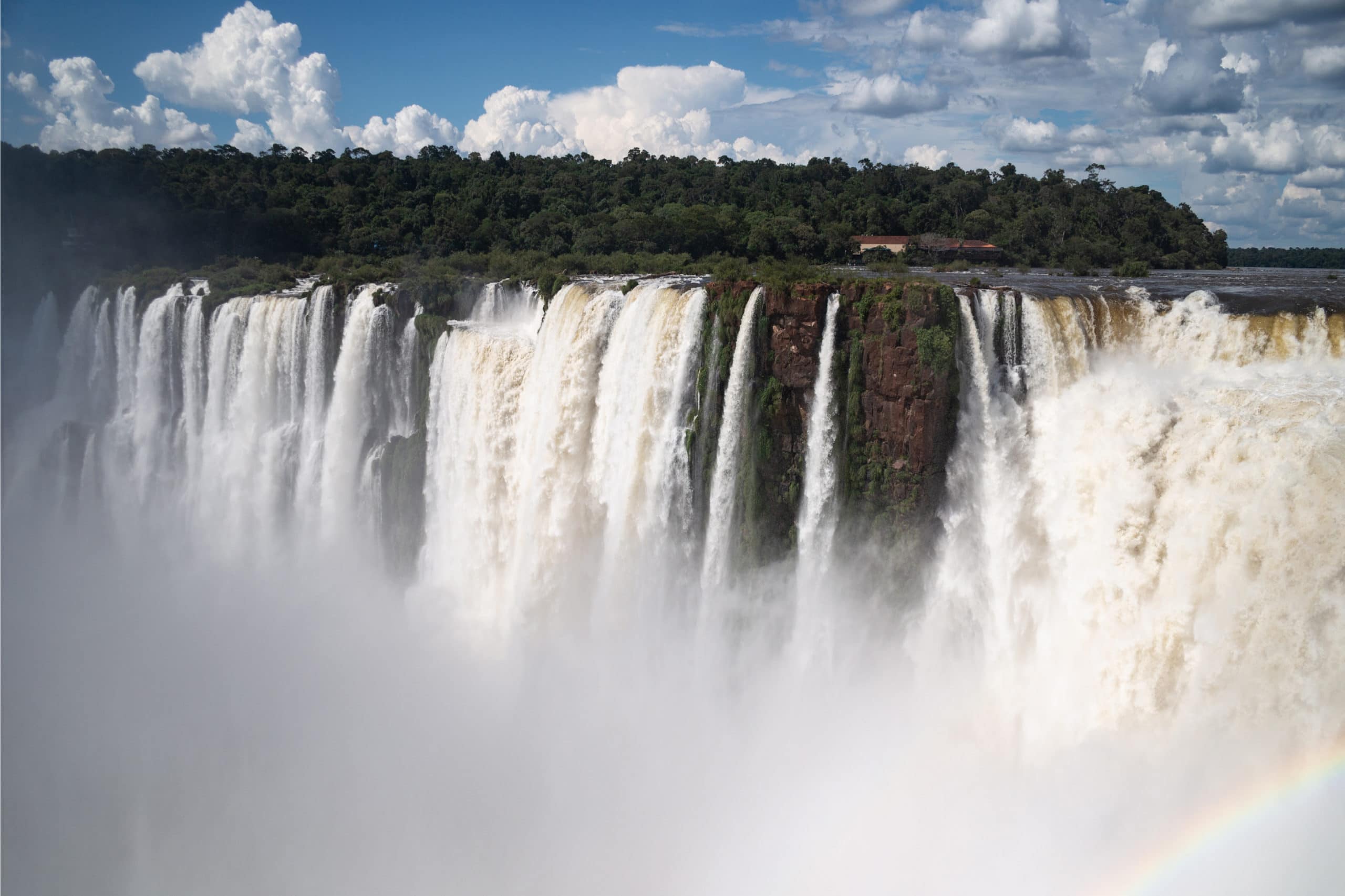 MENDOZA: the wine country
Mendoza, close to the Andes is the best place to enjoy the Malbec, the typical wine of Argentina. It`s an oasis, in the middle of a dry province, where vineyards and wineries are the highlight. But also the High Andes. From Mendoza, you can enjoy a visit to the High Andes and visit the Aconcagua Park, the highest mount in America.
There are many adventure activities that can be enjoyed in Mendoza: Horseback ridings, rafting, rappel, trekkings, and more. We`re ready to arrange your visit to Mendoza, the wine country. For more information, just visit www.ripioturismo.com 
SALTA: Train to the Clouds and the Northwest
Salta, called "La Linda" which means " The Beauty", is the gate for many visits in the Argentinian northwest. Of course, a highlight is Train to the Clouds, a traditional excursion to show you the best of the Puna, up to Viaducto La Polvorilla, over 4000 Mts above sea level. But from Salta, you can visit also many interesting places like Humahuaca Canyon (UNESCO World Heritage) with Purmamarca and the 7-color hill, Tilcara and the Pucarà, and more. From Salta, you also can visit Cafayate, where the wine called Torrontès is the queen.
We`re ready to receive your request for salta. For Train to the Clouds, just book visiting www.traintotheclouds.com 
For more information, just email me: info@ripioturismo.com 
Thank you,