In Ushuaia, one of the excursions you have to do is the Beagle Channel Navigation. The Beagle Channel is famous in history, and also offers different interesting points to see. The Bird´s Island, the Sea Lion´s Island, Les Eclareirs Lighthouse, Martillo Island Penguin Rookery, Harberton Ranch, and more. Take a look at different options:
Beagle Channel Navigation - Isla de los Lobos - Half Day
The most "basic" is the called Isla Lobos, which means Island of Sea Lions. The visit departs from Touristic Pier "Don Eduardo Arturo Brisighelli".
Once aboard, be ready the unforgettable experience of sailing through the Beagle Channel towards the Sea Lions Island, Birds Island, and the Les Eclaireurs Lighthouse. We will see a colony of sea lions and Imperial Cormorants among other birds. If the weather allows, we will do a 30-minute descent on Mary Ann Island (Bridges Islands) with the possibility of short trekking.
Heading back to the city, you can enjoy the panoramic views of Ushuaia city and the mountains.
Presentation Time at Touristic Pier:
Departures: daily
Approximate duration: 3 hs.
Included: Spanish/English Speaking Guide, Pier tax.
Not included: Transfer to/from the Touristic Pier.
You can book services in www.beaglechannelnavigation.com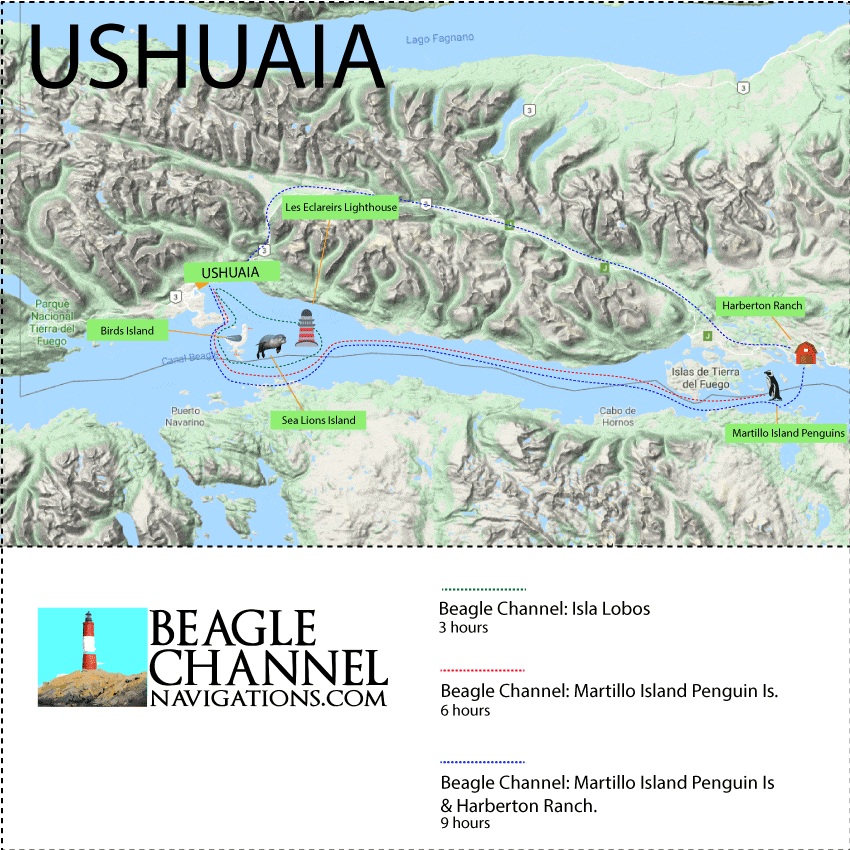 Beagle Channel Navigation – Penguin Rookery Martillo Island – Half Day
This excursion only happens between October and April, and it´s going to be across the Beagle Channel stopping on the main islands, to finally get to Martillo´s Island, where you are going to see the penguins.
Another very good option is to visit the local penguin rookery of Martillo Island.
We will start from the port, and then we will stop on "De Los Lobos" and "De Los Pajaros" islands, to see Sea Lions and Cormorants.
After this, we are going to go to "Les Eclereus" Lighthouse. While we are navigating east, it will possible to see incredible views of the Channel and the Mountains.
During the navigation, we will identify Almanza´s Port on the Argentine side, and Puerto William´s naval base on the Chilean side.
You will get to Martillo Island, to stop for around 30 minutes, and enjoy the experience with these lovely animals. You are going to be able to see mostly Magallanic Penguins and Papua Penguins.
On our return way, we will navigate close to the coast of the Channel that will allow you to see the flora and the wildlife closer.
You also will see Tunel, and Remolino Stanza, also the half-sunk, Steam Ship Monte Sarmiento, that´s been there since 1912.
Our last view on our way back will be from the mountains that surrounded Ushuaia.
This is a pretty complete trip, since you have history and nature, with incredible landscapes.
NOTE: If it´s necessary, this trip could stop on Harberton to pick up or drop off passengers from the catamaran.
You can book services at www.beaglechannelnavigation.com 
Or click on the image below and book boat navigation to enjoy the Beagle Channel.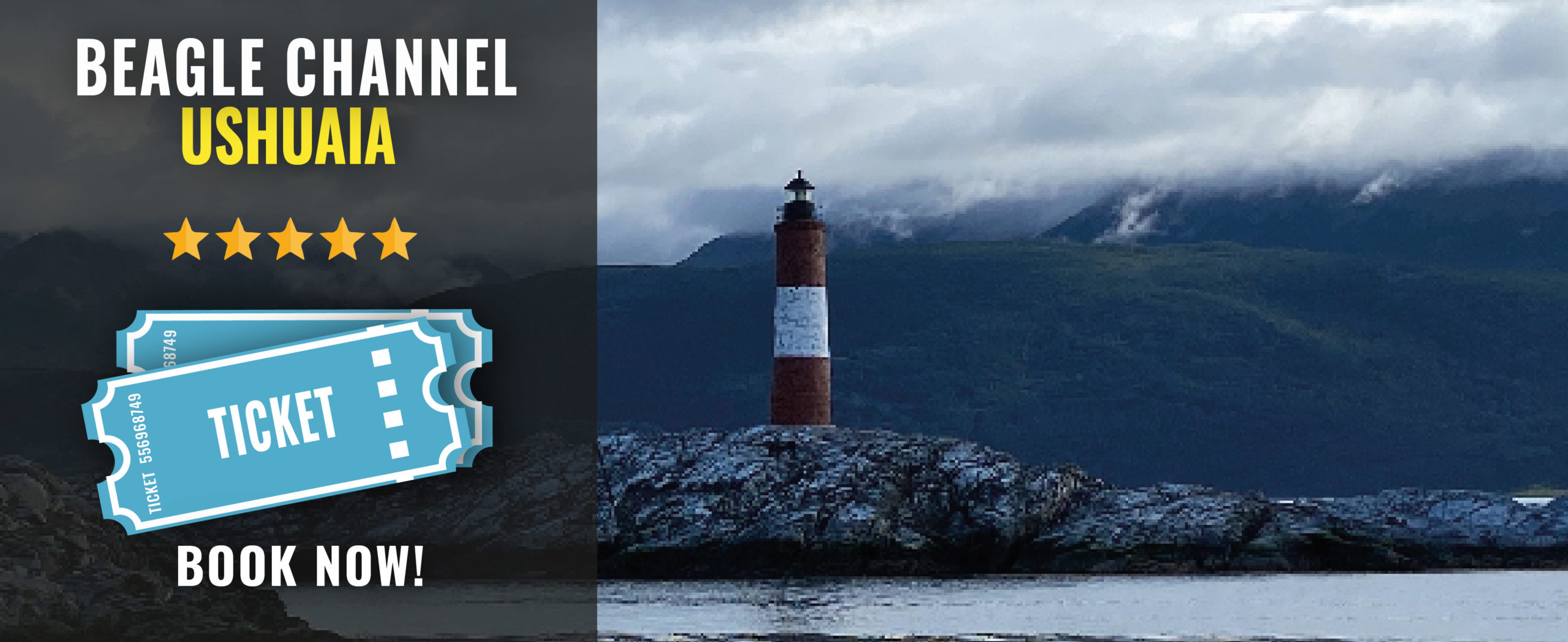 For more information, you can contact me at info@ripioturismo.com