If you organized a trip to Patagonia, I´m sure you will visit El Calafate and of course the incredible Perito Moreno Glacier. It´s a must-see. But, if you have an extra full day in the area, a good idea is to take boat navigation in Argentino Lake, to discover different glaciers in Los Glaciares National Park. Of course, there are some different options to choose from, so I wanted to help you with some information on three possible boat navigations in Los Glaciares National Park:
1 - TODO GLACIARES BOAT NAVIGATION
Maybe one of the most traditional boat navigations in the national park, Todo Glaciares is a great option if you want to discover different glaciers in the area. The activity starts early in the morning with a pick up from your hotel in El Calafate, to transfer you to Puerto Bandera, located 47 km from the city. Once there, embarkation and start sailing through the North Arm of Argentino Lake. You will cross the Boca del Diablo towards the Upsala Channel and navigate between the large icebergs that emerge from the front of the Upsala Glacier. Then you will be in the Spegazzini Channel and moments later you will have the first view of the Seco Glacier. Be ready to take photos! Then you will continue sailing to the front of the Spegazzini Glacier where you will also see the Heim Sur and Peineta glaciers. Be prepared to disembark at  Spegazzini Base, and begin the visit to the area by walking through the forest path to the Spegazzini Refuge. This 300-meter path has unparalleled views of La Bahía de Los Glaciares, on its way we can enjoy thematic stations and viewpoints.

Basic Information:
Duration of the excursion: 7 hours
Pick up: approx 7 am
Embarkation: 8.30 am
Departure: 9.00 am
Disembarkation: 4 pm aprox
Return to your hotel: 5 pm aprox
Book Todo Glaciares Boat Navigation and enjoy a full day boat navigation in Los Glaciares National Park, visiting different glaciers!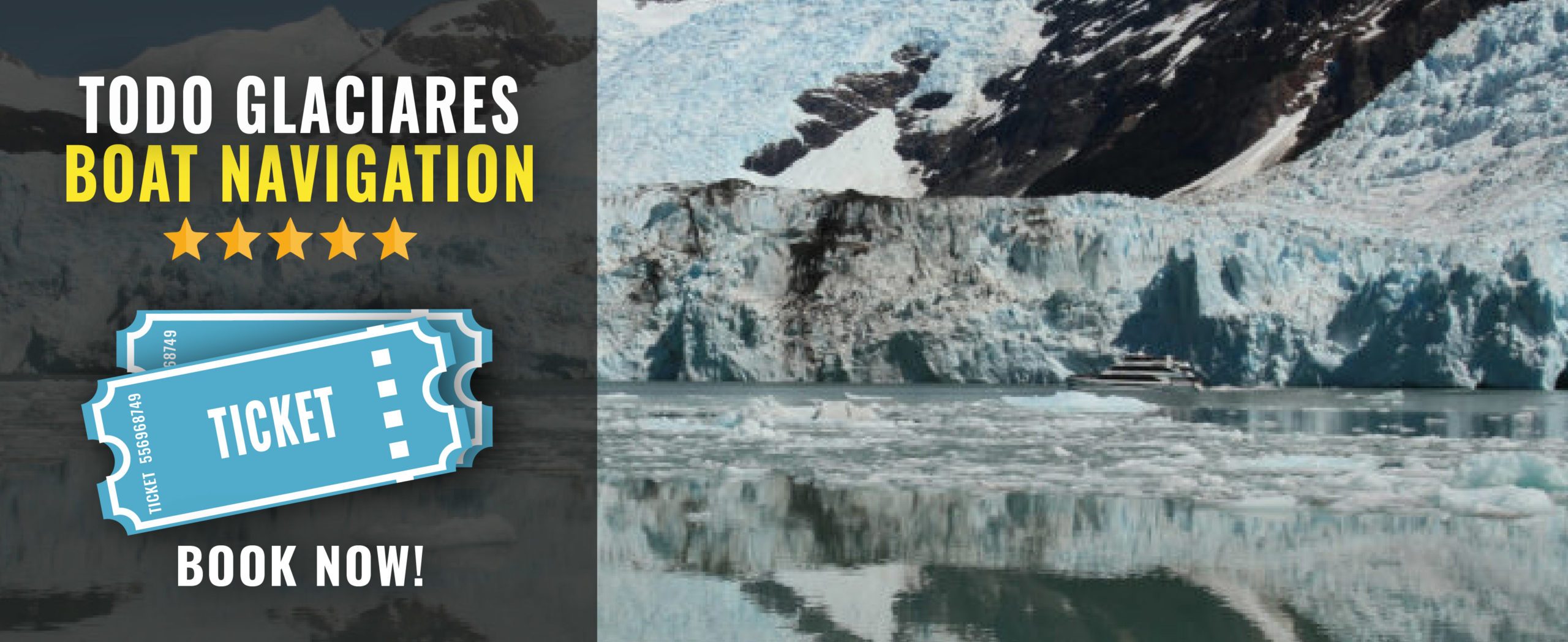 2 - BOAT NAVIGATION TO ESTANCIA CRISTINA
Another great option is to navigate Argentino Lake, to visit different glaciers in the area, and visit Estancia Cristina. There is a variety of options, but basically, the program starts with a transfer from your hotel in El Calafate, to Puerto Bandera, located 47 km from the center, to embark and start sailing the Argentino Lake. You will glide over the waters of Lake Argentino's Northern Arm to reach the furthest possible point of navigation in the Upsala Channel, where we can enjoy an incredible panoramic view of the Upsala Glacier's immense front. Then, having disembarked at the shores close to Estancia Cristina, an expert guide will welcome visitors and take them on an exciting trek through the surrounding valley. The hike unfolds along an ecotone area, a beautiful, semi-arid place carpeted in native shrubs and grasses. Next, the walk gradually ascends to an elevated lookout point that bestows sweeping views of the valley beyond, over Lake Argentino and Lake Pearson across to the towering Andes Mountains.
From here, continue on a path sloping gently uphill, surrounded by ñire trees, until you reach the highlight of this trek: Los Perros River Waterfall, whose viewpoints not only bestow jaw-dropping vistas but are also a fantastic spot for observing flowers and plant life especially orchids.
Later on, having returned from the trek, we will visit the Costumbrista Museum, housed in the estancia's old shearing shed where guests can learn all about the history of the Masters family: their lives, adventures, and how they became pioneers in Patagonia. Finally, a guided tour will take lucky visitors around Estancia Cristina's estate–up to the Caterina River, the waterwheel, chapel, and the rest of the lodge. It´s the Classic Excursion, but you can choose also Trekking, Discovery, and Horse Back Riding too.
Basic Information:
TREK DURATION: 2 / 2:30hours
TOTAL EXCURSION DURATION: 11 hours
DIFFICULTY: Low – Medium
Book Estancia Cristina, Classic Option, to enjoy a wonderful full day boat navigation in Los Glaciares National Park, enjoy different glaciers and visit this typical estancia in Patagonia! Click in the image below and book!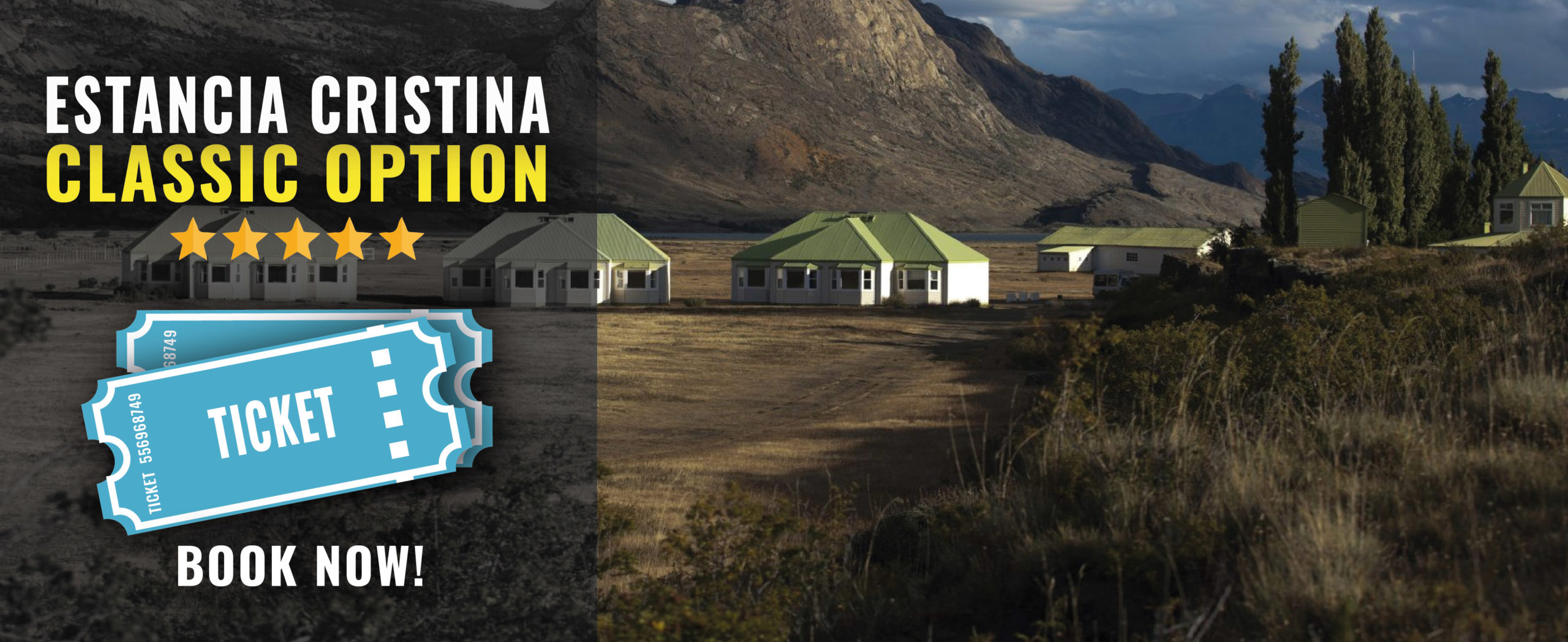 3- MARPATAG GLACIERS GOURMET CRUISE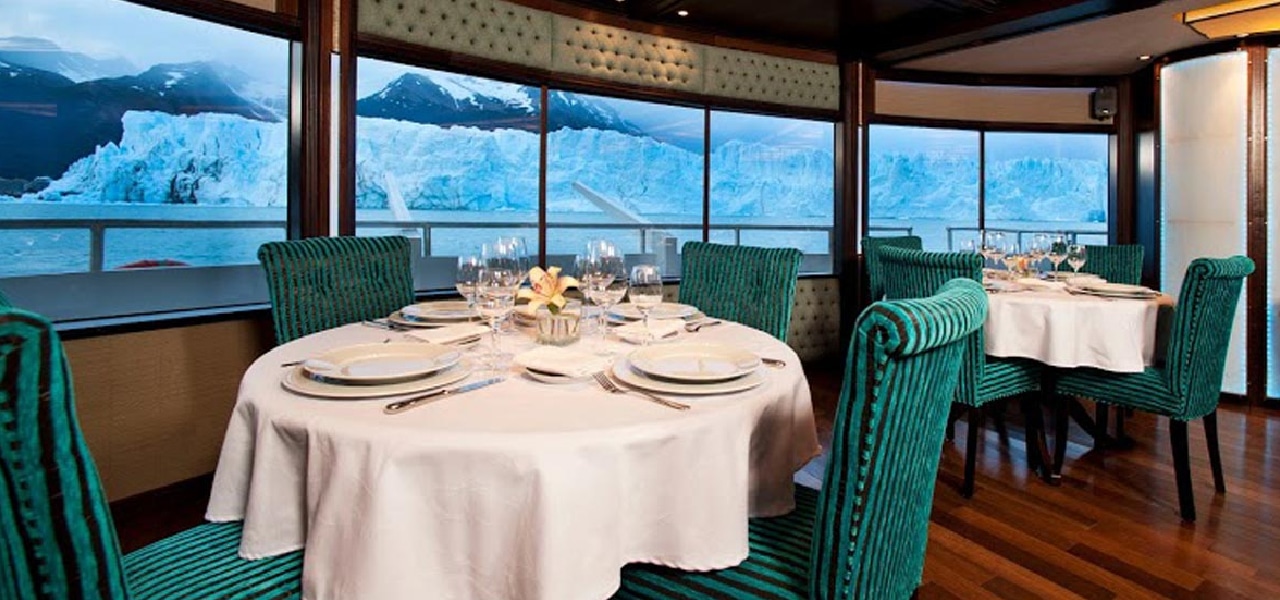 Finally, the MarPatag Glaciers Gourmet Cruise is perfect if you want to enjoy the area and taste an exquisite lunch aboard. The Patagonian ice field is, after Antarctica, the largest concentration of ice on the planet. Its glaciers descend from 1,500 to 200 meters above sea level enabling unique access and viewing of the glaciers.
As you know, Los Glaciares National Park offers a magnificent combination of forest, lakes, mountains, ice, and steppes with over 200 glaciers. The most renowned being Spegazzini, rising 135 meters above sea level, Upsala covering an entire valley with an approximate extension of 765 Km2 and a length of 53km, and Perito Moreno Glacier, constantly advancing and causing the spectacular rupture of the wall of ice, providing one of Nature's most impressive sights.
Glaciares Gourmet is a full-day journey to one of the most wonderful places in Southern Patagonia. Sailing aboard exclusive Cruise María Turquesa will enjoy the highest standard of comfort and gourmet cuisine, for a truly memorable experience.
Journey starts with a transfer from your hotel in El Calafate to the pier, to start around 8.30 am with boat navigation in the Lago Argentino, on a northwest course to Punta Avellaneda and Boca del Diablo. Spegazzini Glacier, landing at Las Vacas Station, in the Spegazzini Canal Bay. Here our guides coordinate a trek with a view of the old Settlers' Station identifying flora and fauna.
Visit the Upsala Canal and navigate to Herminia Peninsula – limit of the navigation zone allowed by National Parks – panoramic view of the Glacier. Then, you will enjoy a great lunch during navigation and in the afternoon, you will navigate to Canal de Los Tempanos, and visit the amazing Perito Moreno Glacier.
The boat is the Maria Turquesa, that offers a main deck with capacity for 180 people + space specially designed for children.
4 exterior decks and 1 PREMIUM DECK on the upper level with a maximum capacity for 16 people. Lunch Gourmet Menu Tasting for the PREMIUM DECK or Gourmet Lunch Box for the classic deck. Alcoholic and non-alcoholic beverages Infusions. Bilingual English Spanish guide and air-conditioned environments.

Basic Information:
Total excursion duration: 9 hours approx
Pick up from 7.00 am
Departure 8.30 am
Return to your hotel: 5.00 pm approx.
Book the Glaciers Gourmet Cruise and enjoy the best boat navigation in Los Glaciares National Park!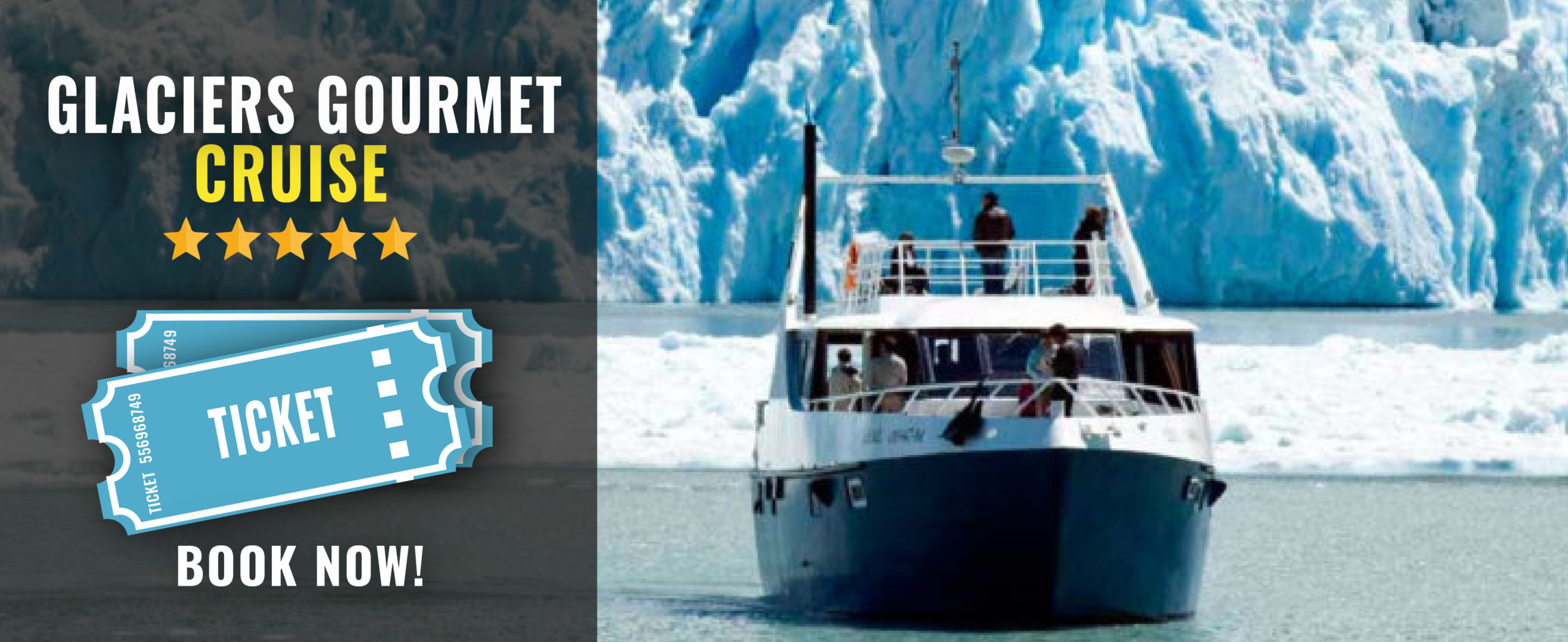 For bookings or more information, you can visit the activities section in our website, or just email me at info@ripioturismo.com  We will be ready to help you!
Thank you,