Tango: Music of Buenos Aires, Argentina
Well, if you´re visiting Argentina and/or Uruguay, and more if you´re visiting Buenos Aires and/or Montevideo, you will meet the Tango. You should meet the Tango, which is a real highlight in South America. One of the icons of the Rio de la Plata culture.
The Tango in Buenos Aires: a Unesco World Heritage
The Argentine and Uruguayan tradition of tango, today known throughout the world, was born in the Río de la Plata basin, among the popular classes of the cities of Buenos Aires and Montevideo. In this region, where European emigrants, the descendants of African slaves and the natives (Creoles) mix, an amalgam of customs, beliefs and rites was produced that was transformed into a specific cultural identity. Among the most characteristic expressions of this identity are tango music, dance and poetry, which are, at the same time, an incarnation and a vector of diversity and cultural dialogue. Practiced in the milongas –typical dance halls– of Buenos Aires and Montevideo, tango has spread the spirit of its community throughout the world, adapting to new environments and the passage of time. Today that community includes musicians, professional and amateur dancers, choreographers, composers, lyricists and teachers who teach this art and make us discover the national living treasures that embody the culture of tango. Tango is also present in national heritage celebrations, both in Argentina and Uruguay, which shows the vast scope of this popular urban music.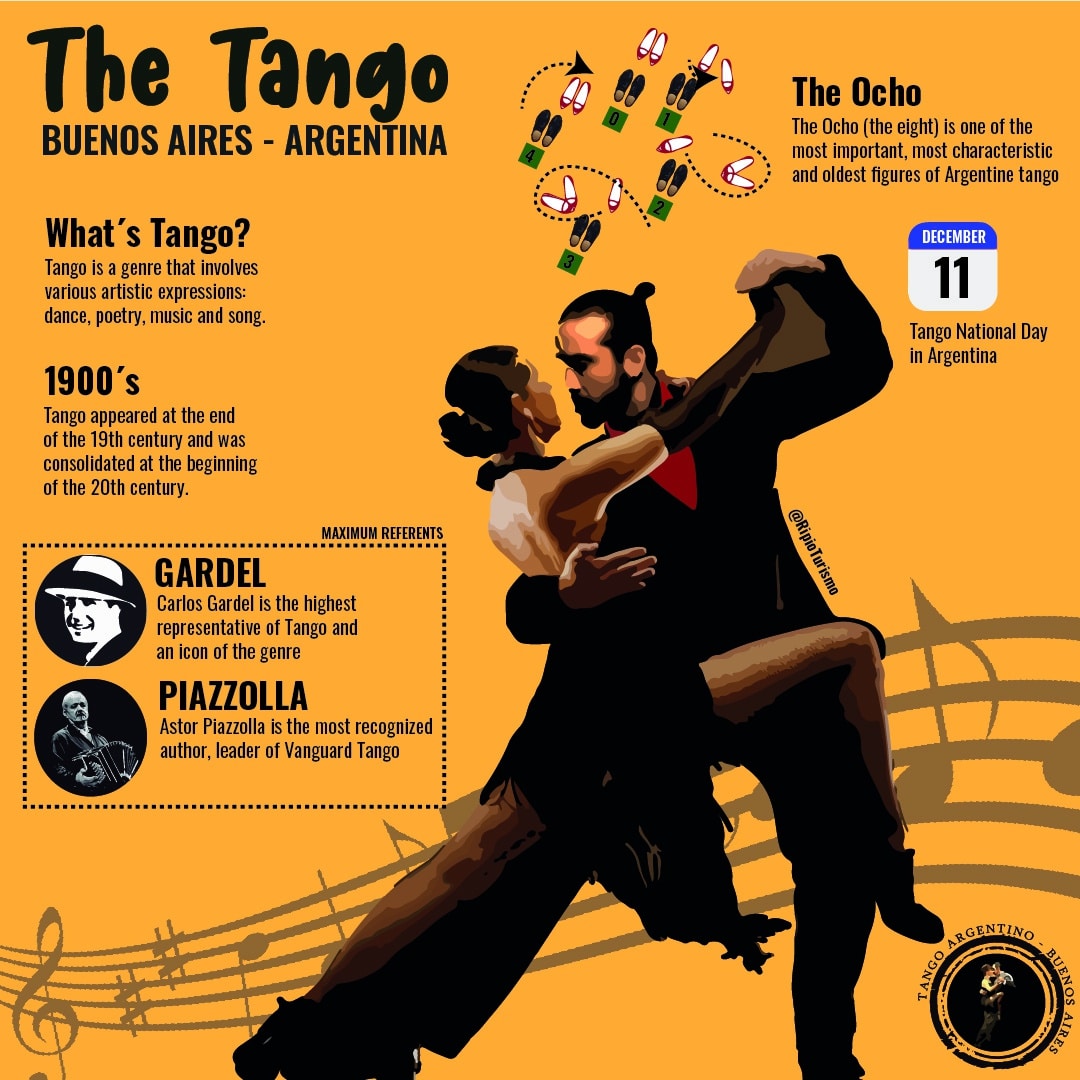 Tango in Buenos Aires: a bit of history
Tango is a dance full of sensuality that was born during the 1900s in the less favored areas of Buenos Aires, Argentina. These communities were inhabited by a rich diversity of people that included Argentines of African, indigenous and Caribbean origin. On the other hand, there were also many European immigrants who began arriving in great waves towards the end of the century.
The elegant and passionate movement of tango shows the exotic cultural mix of these first tango dancers. The solemn melodies of this music offer the listener a glimpse into the lives of the first Argentine immigrants. Tango later spread to the richest areas of Buenos Aires.
This type of dance continued to expand and in the early 20th century became a sensation throughout Europe and the United States. Argentina's golden age (1930-1950), a period marked by the country's prosperity, witnessed an explosion in the popularity and new styles of Argentine tango.
In the 1980s, tango gained more popularity due to international recognition through various Hollywood films. Today, tango schools have been opened all over the world and in 2009 UNESCO included it in its list of world intangible heritage.

Tango in Argentina: the National Day
On December 11, the National Tango Day is celebrated, established since 1977, in commemoration of the birth dates of two of the most important exponents in the history of tango, Carlos Gardel and Julio De Caro.
Tango in Argentina: Carlos Gardel
I´m sure you heard about Carlos Gardel if you have a minimum interest in the Tango. Carlos Gardel is an argentine singer, composer and actor of French or perhaps Uruguayan origin; According to this second hypothesis, he would have been born in 1887 in Tacuarembó. At the end of the 1920s, Gardel's identification with tango was already a universal phenomenon. Since then, his essential role in the development and dissemination of tango and his status as the best interpreter in the history of the genre has never ceased to be recognized.
As is often the case with figures of such enormous popular dimension, the biography of the "criollo thrush" is tinged with legends, and its posthumous fame has barely diminished over the decades. For many years it was common to see how many people made a pilgrimage to Carlos Gardel's tomb to ask him for health and work; in Argentina, the expression "is Gardel" is equivalent to "is incomparable".

Carlos Gardel had that childhood punished by the adversity that seems to characterize every successful and suburban hero. His mother, Bèrthe Gardès, never knew exactly who was the father of that son born on December 11, 1890 in the hospital of La Grave (Toulouse) and baptized with the name of Charles Romualdo, although an important part of scholars maintain that the above data are a fabrication aimed at hiding his status as the illegitimate son of Carlos Escayola and María Lelia Oliva, and that he was actually born on December 11, 1887 in Tacuarembó (Uruguay).
Later, in the suburbs of the city of Buenos Aires, where Bèrthe Gardès fled in search of a few crumbs of fortune when Gardel was not yet three years old, he resigned himself to seeing how his offspring or his adopted son scampered between the shacks of Retiro, Montserrat or Los Corrales, and he sought his life by kicking ramshackle and dirty streets, growing up with resentment, anguish and insecurity.
Gardel's appearance and sympathy overwhelmed his voice, especially among women. Revealing is the interview "in the shadow of Gardel", which was published in Tango Moda in 1929. The shadow was a beautiful French woman who followed the idol everywhere after having seen him perform once at the Florida cabaret in Paris. "When at night I retire to my hotel room, I consider my efforts very well paid if I have heard him sing three or four songs," confessed this unconditional admirer. His films, such as Flor de durazno, shot in Argentina in 1917, Luces de Buenos Aires and Cuesta down, in France in 1931 and 1934, and Tango Bar, in the United States in 1935, as well as Melodía de arrabal, El tango en Broadway, The Day You Love Me and Star Hunters, among others, contributed to increasing his fame, thanks to his magnificent voice and his fascinating personality.
His way of singing the little existential dramas of his tangos is going to mean a revolution. No one is capable of imitating Gardel's phrasing or his ability to transform himself into the characters in his songs. In addition, his sympathetic figure, a mixture of mischievous and punisher always well dressed and combed, becomes a model for the porteños. Now he is a born winner, a model of "the one who arrived", a River Plate myth admired by men and adored by women.
On June 24, 1935, when he was at the peak of his fame, the singer died in a plane accident whose causes have never been clarified, at least not for the millions of tango fans who all over the world cried the death of their idol and even today they speak of him in the present tense. Gardel was traveling from Bogotá to Cali in an F-31 from the Saco company. After stopping in Medellín, the plane crossed the runway to take off, but as soon as it had taken off it rushed to the ground, colliding with another German plane that was waiting at the head of the runway.
Carlos Gardel is undoubtedly a legendary figure of Tango, a representative icon of the Rio de la Plata culture.

Tango in Argentina: Astor Piazzolla
Born on March 11, 1921 in Mar del Plata, province of Buenos Aires. He was a bandoneon player and composer. His contact with music began in New York, where his family lived between 1925 and 1936. At the age of eight, his father gave him his first bandoneon, and he began taking classes with Andrés D´Aquila; he made an acetate recording when he was only ten years old, without commercial purposes. In 1933, he studied music with the Hungarian pianist Bela Wilda, who introduced him to Bach's sonic universe. The following year, she met Carlos Gardel and quickly established a friendly relationship with him. Gardel heard him play and offered to participate and play various themes in the film El día que me quieras; in which he played a quill. He was also invited to the tour of America in which Gardel lost his life with his team; But, given his young age, he did not travel because he did not have a permit.
In 1936, his family returned to Mar del Plata, and Astor participated in various ensembles and learned about the work of the Elvino Vardaro sextet, which influenced him in a definitive way. Determined to explore tango, he moved to Buenos Aires at the age of seventeen and, shortly after, achieved his goal: to join Aníbal Troilo's orchestra, first as a bandoneon player and occasional pianist and, later, as an arranger of the orchestra. He continued his studies of academic music with Alberto Ginastera and, of piano, with Raúl Spivak. His arrangements took him further and further away from classical tango. Around 1944, he left the Troilo Orchestra to direct the orchestra that accompanied the singer Francisco Fiorentino until 1946, when he composed El Desbande, considered by himself his first tango with a different formal structure. He formed his own orchestra, which he dissolved in 1949, and began to write music for films. He left the bandoneon and approached jazz: the search for a style different from everything led him to deepen his musical studies.
Between 1950 and 1954, he composed works clearly different from the conception of tango up to that time (Para lucirse, Tanguango, Prepárense, Contrabajeando, Triunfal, Lo que venrá), and began to define his style. Also at this time, he wrote pieces of music cultured, such as Rhapsody porteña (1952) and Buenos Aires, three symphonic movements (1953). For the latter, he won the Fabien Sevitzky Prize, and the French Government awarded him a scholarship to study in Paris with the famous musical educator Nadia Boulanger, who convinced him to persist on the tango path: «Astor, your scholarly works are fine written, but here is the real Piazzolla, never abandon him ». The fellowship lasted almost a year and, during that time, he formed a string orchestra together with the musicians of the Paris Opera Martial Solal and Lalo Schifrin. With Schiffrin, he recorded Two Argentinians in Paris (1955).
Upon his return to Argentina, he summoned leading musicians and formed the Octeto Buenos Aires. It was made up of Enrique Mario Francini and Hugo Baralis, on violins; Roberto Pansera, on bandoneon; José Bragato, on cello; Aldo Nicolini, on bass; Horacio Malvicino, on electric guitar, and Atilio Stampone, on piano. Several versions of the Octet had a decisive influence on the future evolution of tango, due to its rhythmic and contrapuntal novelties.
When his father died in 1959, he composed perhaps the most beautiful work in his tribute: Adiós, Nonino. In 1960, after a stay in the United States, where his style was presented as jazz-tango, he formed a quintet with musicians such as Elvio Bardaro, Dante Amicarelli, Antonio Agri, Horacio Malvicino, Oscar López Ruiz, Kicho Díaz, Osvaldo Manzi and Cacho Tirao.
In 1968, he composed, with the poet Horacio Ferrer, the opera María de Buenos Aires, for eleven instruments, recitant and female and male singers. In 1969, he began to write, also together with Ferrer, simpler songs for the voice of Amelita Baltar, his partner in those years. They composed Balada para un loco, which became a huge popular success followed by others. In 1972, after a heart attack, he decided to settle for five years in Italy. He formed the Conjunto Electrónico, recorded Libertango and experimented with his approach to jazz-rock. In 1974, he recorded Summit with saxophonist Gerry Mulligan; and, a year later, after the death of Aníbal Troilo, the album Suite Troileana. In 1976, he appeared at the Gran Rex theater with his play 500 Motivations; and, in 1977, with a series of concerts at the Olympia in Paris. In 1978, he returned with his Quintet and consolidated his international fame with tours of Europe, South America, the United States and Japan. In 1983, at the Teatro Colón, he offered a program entirely composed by him.

Where to enjoy Tango in Buenos Aires?
Buenos Aires in Argentina, is the Tango capital of the world, no doubt of that. So, in the "Capital of the Tango", there are many options to enjoy the music and the dance. There are several Tango Shows with Dinner Tango Shows available. Tango shows are artistic performances. This is the art form of tango played and danced by professionals. Just like Jazz, Tango evolved into many different things from songs to very complex music. Tango shows will present a "ballet" of tango, or the pure tradition of the costumes and moves represented by artists who dedicate their lives to it. Tango shows tend to come with dinner and take place in salons. One of the best places to see tango is La Ventana and Gala Tango, but there are many other options available in the city.
If you´re looking for something less touristic, and professional, the Milongas are a perfect place to visit. Milongas are Tango Clubs where people go to Tango. People who attend are not professionals, everything is more flexible. Milongas have very different styles, from some very traditional to others that will even mix tango with other music. In Milongas some people will dance very well, others very bad and often casually dressed. Different to tango shows there is not always live music. Milonga is the social expression of the tango, for people that just like it. It is a place where people go dancing the Tango to have fun and hang out with friends. Many Milongas will offer tango lessons.
Best Restaurants with Tango Shows in Buenos Aires
There are many tango houses in Buenos Aires, where you can enjoy a wonderful dinner tango show, and taste the exquisite local gastronomy while you enjoy the show, or just the show with a drink... The most famous are - Esquina Carlos Gardel, Tango Porteño, El Querandi, Café de Los Angelitos, El Viejo Almacen, Homero Manzi, Piazzolla Tango, Catulo Tango, Rojo Tango, Aljibe, Gala Tango and La Ventana. These are the most important tango houses, but I will suggest some of them;
Booking the best Tango Show in Buenos Aires, Argentina
When you visit Buenos Aires, for the first time or not, a must-see in the capital city of Argentina is a Tango Show. There are different options to choose in Buenos Aires, but some of them are unique and different. There are also options to enjoy Wine Tastings and take Tango Lessons to learn more about this incredible dance. So, let me talk about some of the best options of amazing Tango Restaurants or Dinner Tango Shows:
Tango in Buenos Aires, Argentina: La Ventana Dinner Tango Show
It´s a traditional tango show. Located in the historical area of San Telmo, La Ventana offers first-class tango shows and meals. The house preserves the building's purity, and it offers an ideal ambiance for a unique proposal: Traditional Tango Show with a touch of folklore. There are two typical orchestras: The great orchestra of Juan D´Arienzo and a quintet. Two tango singers and six dancing couples accompany the orchestra.
When folklore arrives, enjoy the music of the "Altiplano" and a folklore ballet with a show of "boleadoras" which is fantastic. You can choose to book only show or dinner tango show. Artists on stage, a menu of typical and international dishes, and exquisite Argentine wines make La Ventana, one of the best options if you´re looking for a traditional show. Book La Ventana Dinner Tango Show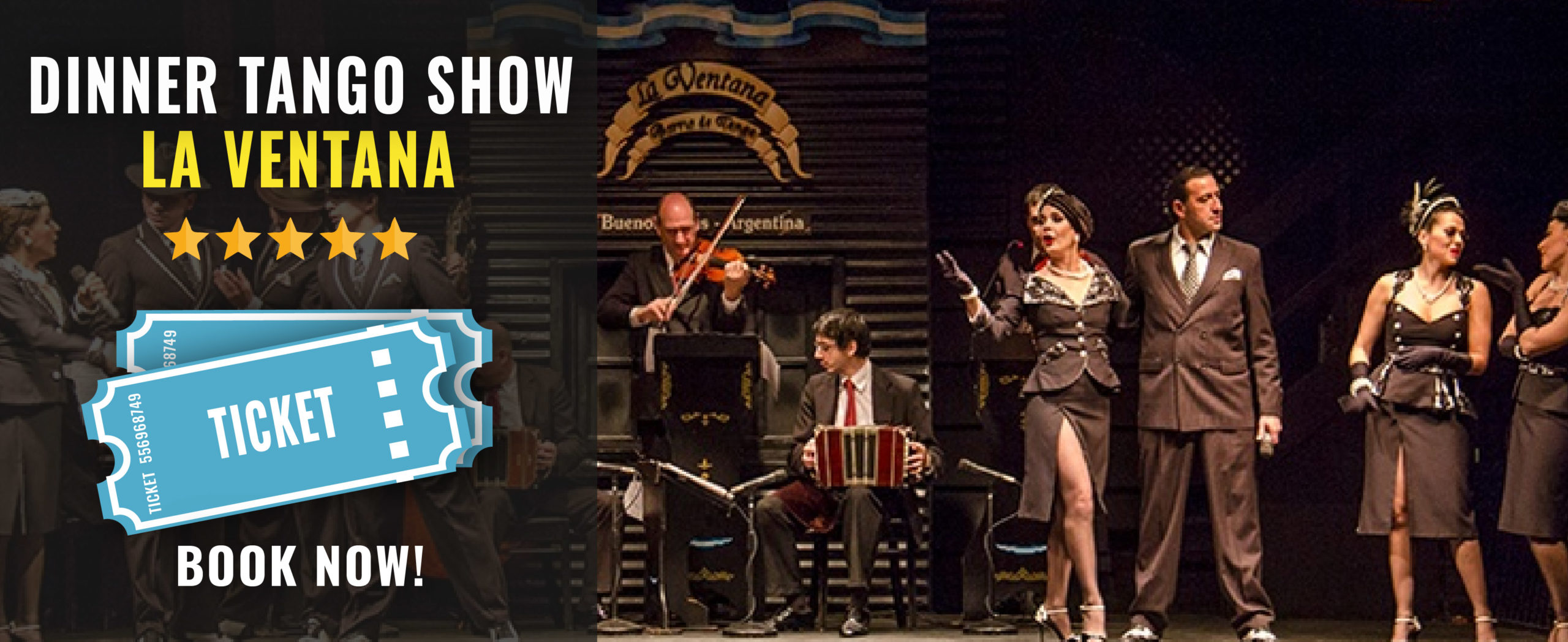 Tango in Buenos Aires, Argentina: Gala Tango
If you´re looking for something more, I mean more luxury, the closest location to the artist, better wine, better ambiance... well Gala Tango is your option.  Book Gala Tango Dinner Tango Show
Located in San Telmo, in a unique place for the architecture and decoration, with wonderful french-style, Gala Tango offers one of the best options for a Luxury Tango Show in Buenos Aires. Exclusive details of refinement make Gala Tango the most glamorous site of Buenos Aires. From the first contact with Gala Tango until the end of the show, you will feel in a different place and live a real tango experience. The gourmet a-la-Carte menu was specially designed for the most exclusive customers accompanied by wines from one of the most exclusive wineries of Argentina. A Tango Show and elegant, warm, and refined Folklore Gala Tango is defined as a higher level in folk art. Typical Orchestra formed by a quintet (piano, accordion, two violins, and bass) accompanied by two tango singers, four couples dancing a show charanguista, and more.
You can choose only a show, or dinner tango show, and combine this option with a wine tasting or a tango lesson. Check more information on our website www.dinnertangoshow.com or click in the image below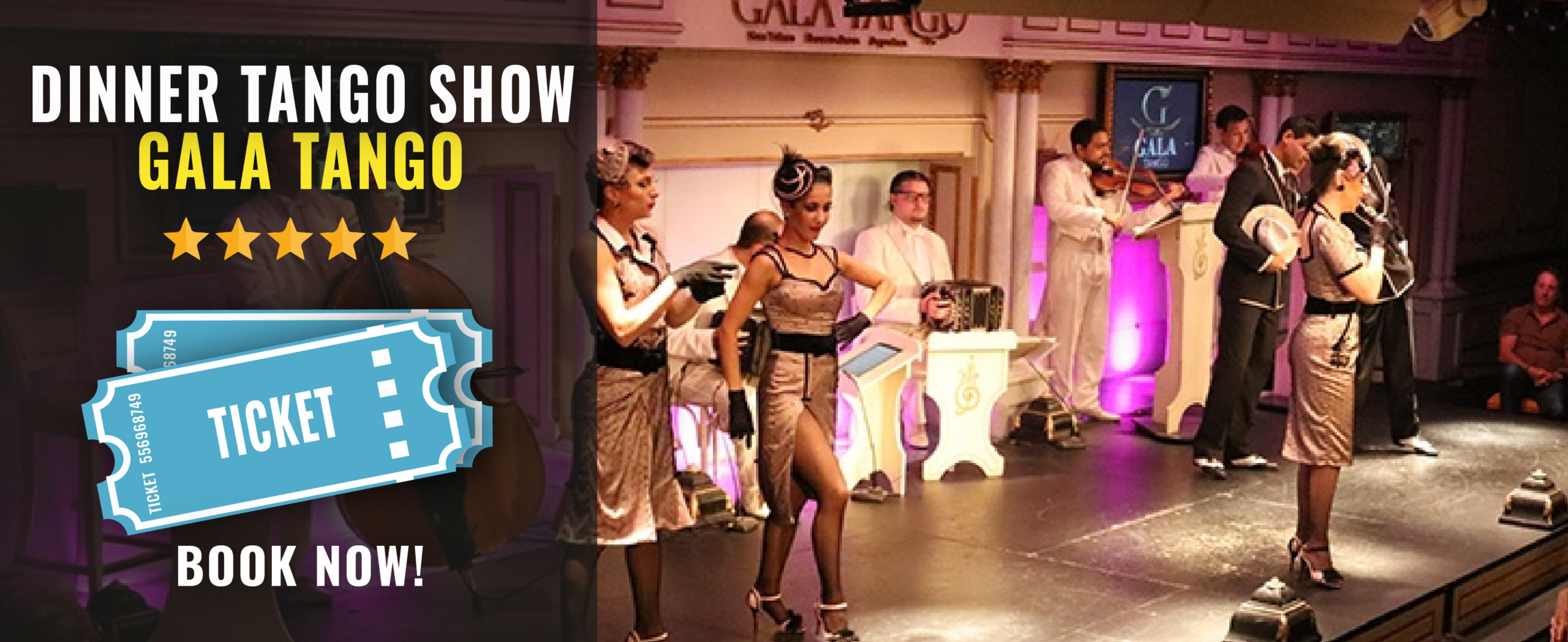 Tango in Buenos Aires, Argentina: Aljibe Dinner Tango Show
The third option, also located in the historical area of San Telmo, is Aljibe. The new option in Buenos Aires for a Tango Show. Aljibe offers a different offer, to start dinner at 7 pm and enjoy a tango show from 8 pm to 9 pm. So, if you want to return to your hotel early, and not extend your stay until midnight, Aljibe is a great option. Aljibe Tango refers to the beginnings of the city of Buenos Aires and its old conventillos that forged the popular culture of our country. Our House of Tango located in the historical center of the city continues with this tradition offered to those who visit us a Tango and Folklore Show accompanied by a traditional menu and Argentine wines, to make your experience a unique souvenir. Book Aljibe Dinner Tango Show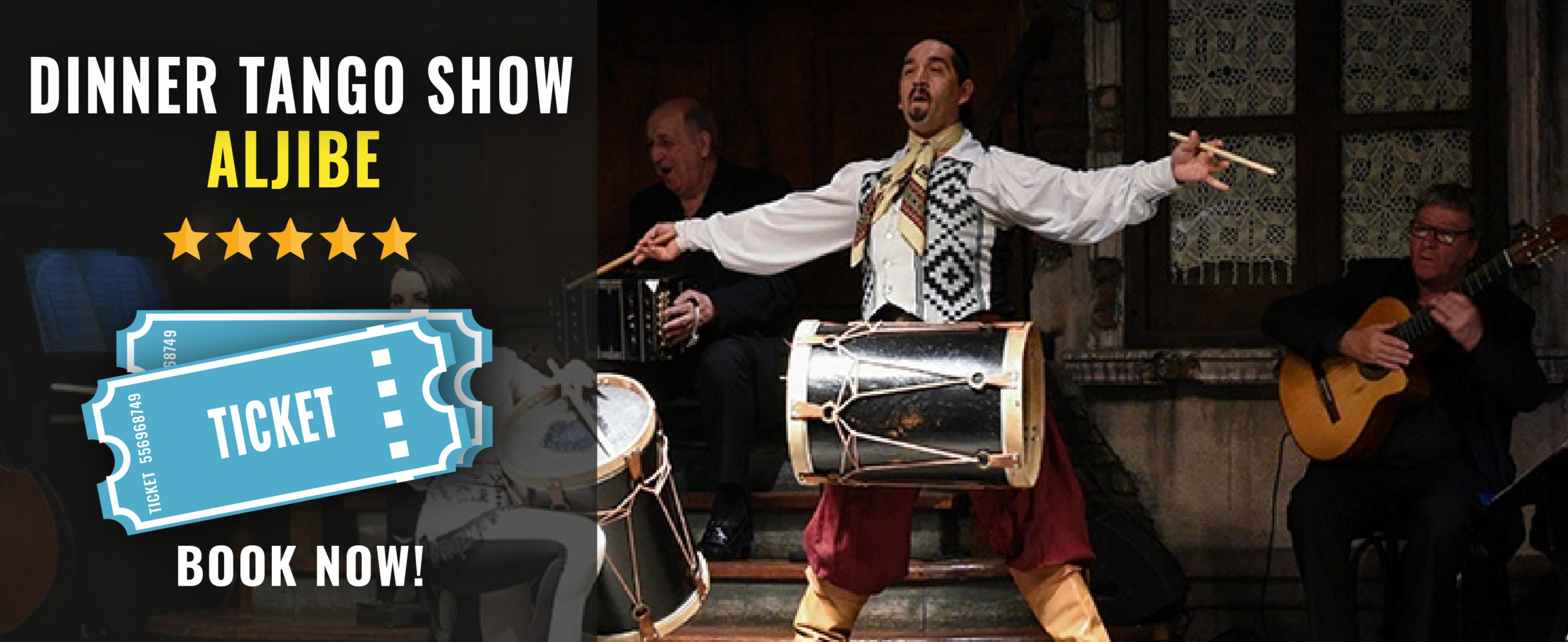 Tango in Buenos Aires: Tango Lessons
There are many places that offers tango classes in Buenos Aires. If you just want to "taste" the Tango, just trying without going too deep, a great idea is to add a tango lesson to your dinner tango show. Tango houses usually offer the possibility of adding an hour of group tango lessons, to learn the first steps and enjoy this unique dance. Of course, you can take several tango lessons and we also can offer an organized program with different tango lessons.
Depending on your preferences you can take either personal or group Tango classes. Buenos Aires offers numerous Tango shows and real-life opportunities to see how professionals or locals dance. You can also dance the tango yourself at a popular "milonga" and some tango bars. To learn the basics of Tango or to further develop your current skills, there is no better experience than living and studying the dance.  We can also arrange for you to have classes with a private tango teacher if you prefer.
For more information about Tango Lessons, please contact us at info@ripioturismo.com 
Where to book a good Dinner Tango Show with Tango Lesson in Buenos Aires?
Just go directly to our activities in Buenos Aires area, or click directly in any of the following links below. You will find Dinner Tango Show with Tango Lesson and Dinner Tango Show with wine tasting which is also wonderful: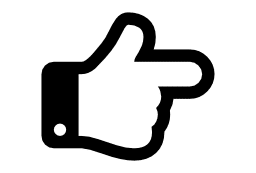 Dinner Tango Show + Tango Lesson in La Ventana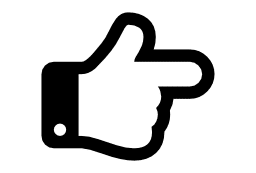 Dinner Tango Show + Wine Tasting in La Ventana
Tango in Buenos Aires: The Milongas. Meet other Tango Dancers
Perhaps one of the most famous "milongas" in Buenos Aires, is La Viruta. A perfect place where you can meet other tango dancers. Located in Palermo Soho location La Viruta is the best of the local tango scene, but if it´s your first time with the tango dance, La Vitura also offers lessons that are split into six different levels of experience. So, do not worry! La Viruta it´s also for you. Classes can be enrolled at any time of the year, and they also offer lessons to learn rock´n roll, swing, salsa, and bachata. You know now, that you can enjoy La Viruta or any other Milonga in Buenos Aires. But, what´s a Milonga?
What´s a Milonga?
The Milonga dance incorporates the same basic elements as Argentine tango but permits a greater relaxation of legs and body. The movements are faster, and pauses are less common. It is usually a kind of rhythmic walking without complicated figures, with a more humorous and rustic style in contrast with the serious and dramatic Tango. Of course, there are different styles of Milonga. The simple Milonga, also called Milonga Lisa where the dancer steps in every beat of the music; and Milonga con Traspié, in which the dancer uses Traspiés or contrapasso to interpret the music. Thus, dynamics may be danced without having to run fast or without the use of much space. Overall, milonga is danced at a faster pace than tango which makes this dance "unforgiving" regarding mistakes or clumsiness.
Tango in Buenos Aires: A 7-night tour to enjoy the Tango in Buenos Aires
We developed a special tour program for tango lovers, including 7 nights of accommodation in a great hotel, 5 tango lessons, 3 dinner tango shows and a visit to a Milonga. Amazing isn´t it? Check our Tango in Buenos Aires Tour or click on the image below