Torres del Paine National Park is one of the most important destinations in Patagonia. And of course, a must-see when you arrive to the area. There are different ways to arrive to Torres del Paine. By air from Santiago to Punta Arenas and then by land to Torres del Paine; from Puerto Natales in the chilean Patagonia, or from El Calafate in Argentina after visiting Perito Moreno Glacier. Take a look at the map to see the location of each destination in Patagonia: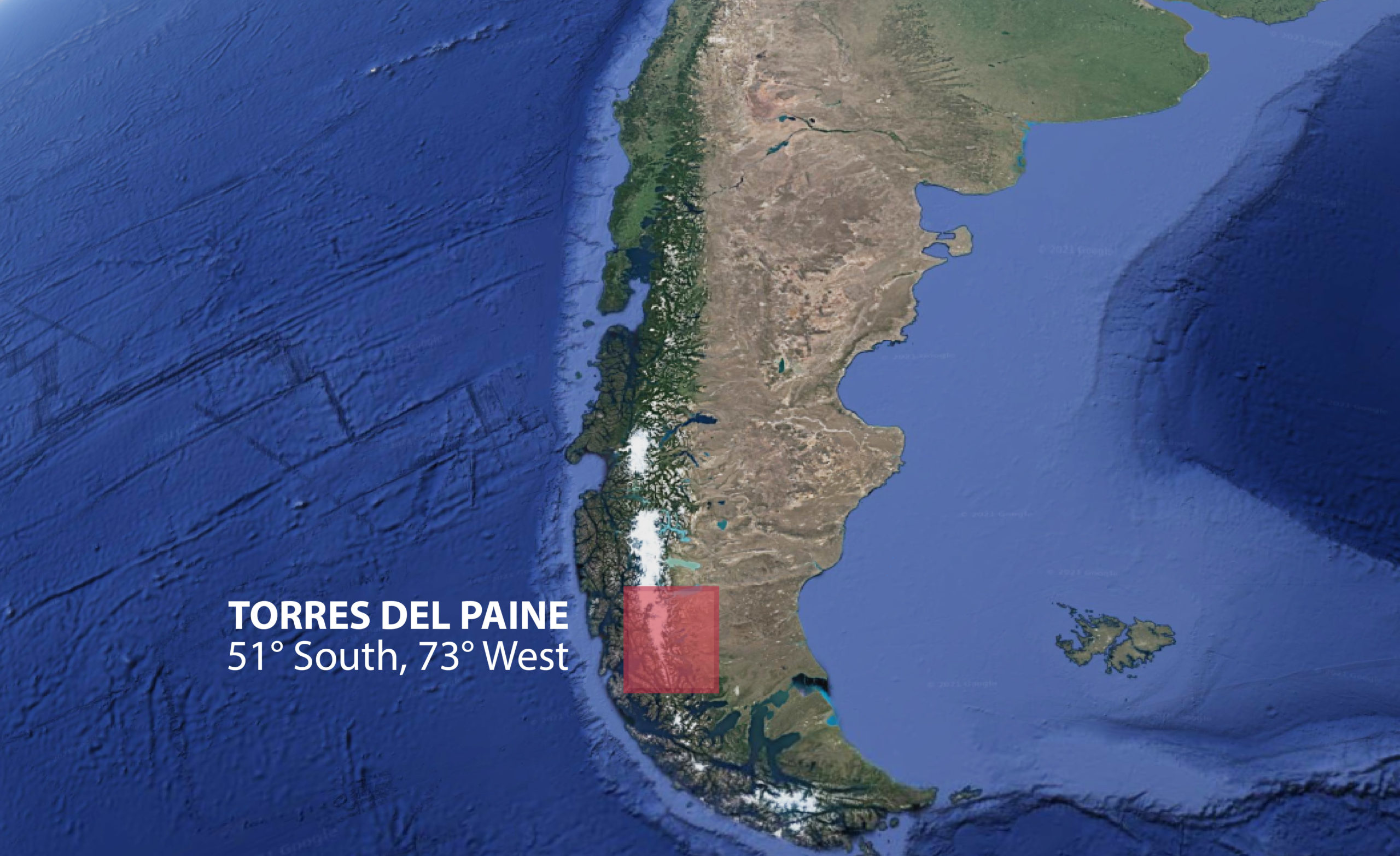 As you can see, Torres del Paine is located 51° South and 73° West, in the southern extreme of Patagonia, in Chile. Now, take a look to a map including the location of Puerto Natales, Torres del Paine and El Calafate: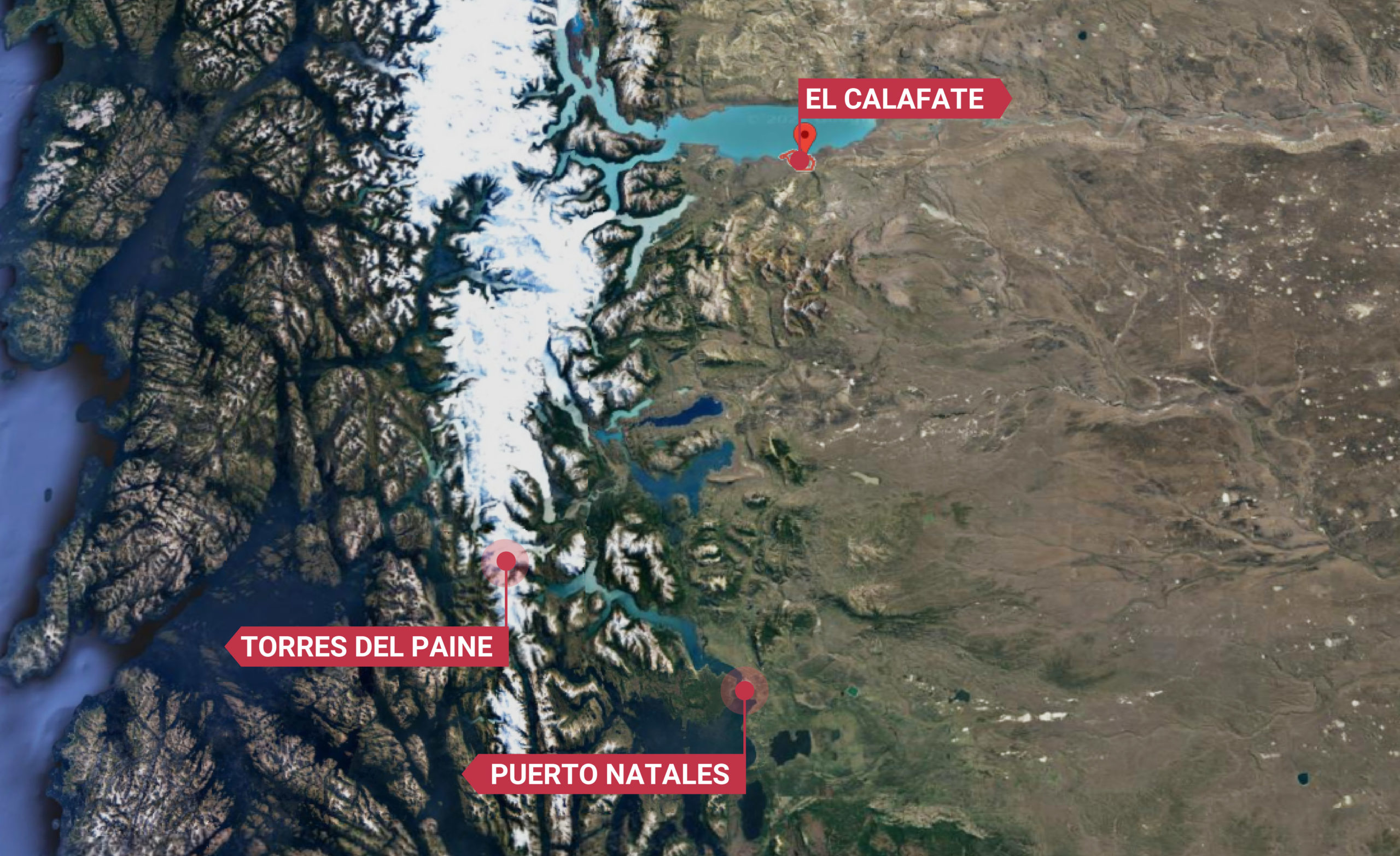 Visiting Torres del Paine from El Calafate
If you´re visiting El Calafate first, a good idea could be to cross to Chile to continue traveling through Chile. It´s a very usual route for international travelers. But you also can visit Torres del Paine for a day, from El Calafate and return to this city on the Argentinian side. Of course, it´s not the best idea if you want to focus your visit to Torres del Paine and enjoy trekking activities there. For that, the best option is to be located in any of the available hotels in the park. But, if you haven´t enough time, or just organized a different route after El Calafate, a good option is to take this full-day trip to Torres del Paine Nationa Park from El Calafate.
The full day excursion to the Torres del Paine National Park will depart early from El Calafate we will pick you up at your hotel in El Calafate and begin the journey towards Torres del Paine in Chile. After crossing the patagonian steppe from North to South, you will arrive at the border post "Cancha Carrera" after a 2,5 hs trip. There, you will start to travel through beautiful South Chile until you arrive at the "Torres Del Paine" National Park. The trip from El Calafate to National Park Torres del Paine takes 3,5 hs. Once in the park, we will combine rides and hikes, as there are many roads that go along the park and hundreds of hiking paths from one side to another.
Among the different places and viewpoints, you will be able to see: Sarmiento de Gamboa Lake viewpoint, Saltos del Rio Paine (walking down beside the river 30'), Cerro Almirante Nieto / Cuernos del Paine – superior viewpoint, Laguna Amarga entrance: optional trekking by the Fauna's footpath to the Sarmiento entrance 1.30 h, Salto Grande viewpoint (Big Fall), Viewpoint Nordenskjold Lake de los Cuernos del Paine 2 hs Trek, Pehoe Lake.
You must consider that the journey inside Torres del Paine National Park can be modified or shortened depending on the road conditions and border crossing times may vary depending on traffic. Besides, it is important to know that each passenger is responsible for carrying the required documentation for the border crossing. Return is late in the afternoon.
For more information, please contact us: info@ripioturismo.com 
Thank you!