Whales in Peninsula Valdes
Whales are maybe, the highlight attraction in the area of Peninsula Valdes and Puerto Madryn in Argentina. Of course, these incredible animals arrive at the area in some specific months. Take a look at the season to enjoy whales. The first specimen arrives in June, and mother and calf can be seen in the area of Doradillo, very close to the coast.  It´s an amazing show of nature. During June and July, and sometime in August, they are in this area, and also in Puerto Piramides, in the Peninsula Valdes, but from September to middle December, the best place to enjoy whales is the Peninsula Valdes. This colossus can be seen in Puerto Pirámide for example, a small village in the Peninsula when you can overnight.
SOUTHERN RIGHT WHALES IN PATAGONIA, CHUBUT, ARGENTINA
Let us talk about the whale, our whale in the area. The Southern Right Whales are a member of the baleen whale family. Many baleen whales will take in large amounts of water then strain it back out through specialized plates in their mouths known as "baleens." The krill are trapped inside by the baleen and then are swallowed.  However Southern Right Whales are different in that they are skimmers – they swim through clouds of krill with their mouths open, removing the krill from the water as they pass.
These are social animals, whales are quite curious and playful when it comes to being around humans. They have been known to try to give boaters and kayak rides on their backs. They're also known to happily interact with Dolphins and other whales. They move slowly and swim around 5 - 6 km per hour... It`s an average speed.
Southern Right Whale females become sexually mature around the age of 9 years old. They will give birth every 3 to 4 years. The breeding season lasts from the middle of July through August when they come to the area of Puerto Madryn and Peninsula Valdes. The first month, the show in the Doradillo area is awesome! The female will become surrounded by many males. She will roll onto her back to keep her genitals up out of the water and out of the reach of the males until she is ready. This is not always so successful since the male's penis is 12 feet long and maneuverable.
The males, while not outright fighting, will push and shove each other around to gain access to the female. When she is ready the female will give multiple males access. The males produce a gallon of sperm. The pregnancy can last for over a full year. The calf weighs 1,500kg at birth.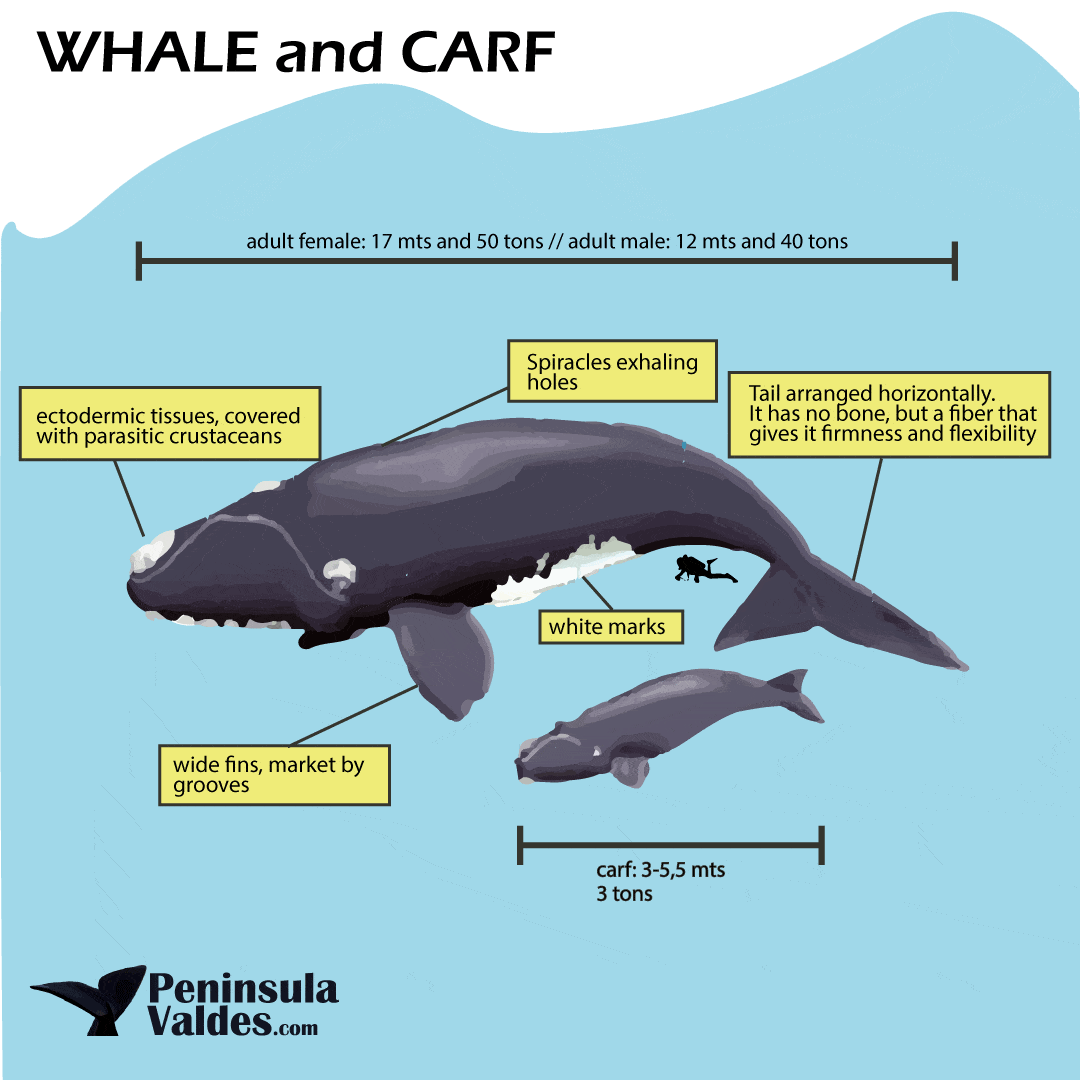 Southern Right Whales are thought to live an average of 50 to 60 years in the wild, but could be more... There are about 10.000 southern right whales in the world, and you can see these animals in Puerto Piramides, Argentina!
Southern Right Whales have been known to be attacked by Kelp Gulls off the coast of Patagonia. The Gulls do surprising amounts of damage with their beaks, leaving large wounds in the Whales' skin. In addition to the injuries, the Whales spend more time evading the Gulls meaning they have less time to feed their young. Southern Right Whale calves are also vulnerable to Orcas (Killer Whales)
See whales and carves in Doradillo Beach, a local beach close to Puerto Madryn, Argentina;  and enjoy this unique experience in the province of Chubut!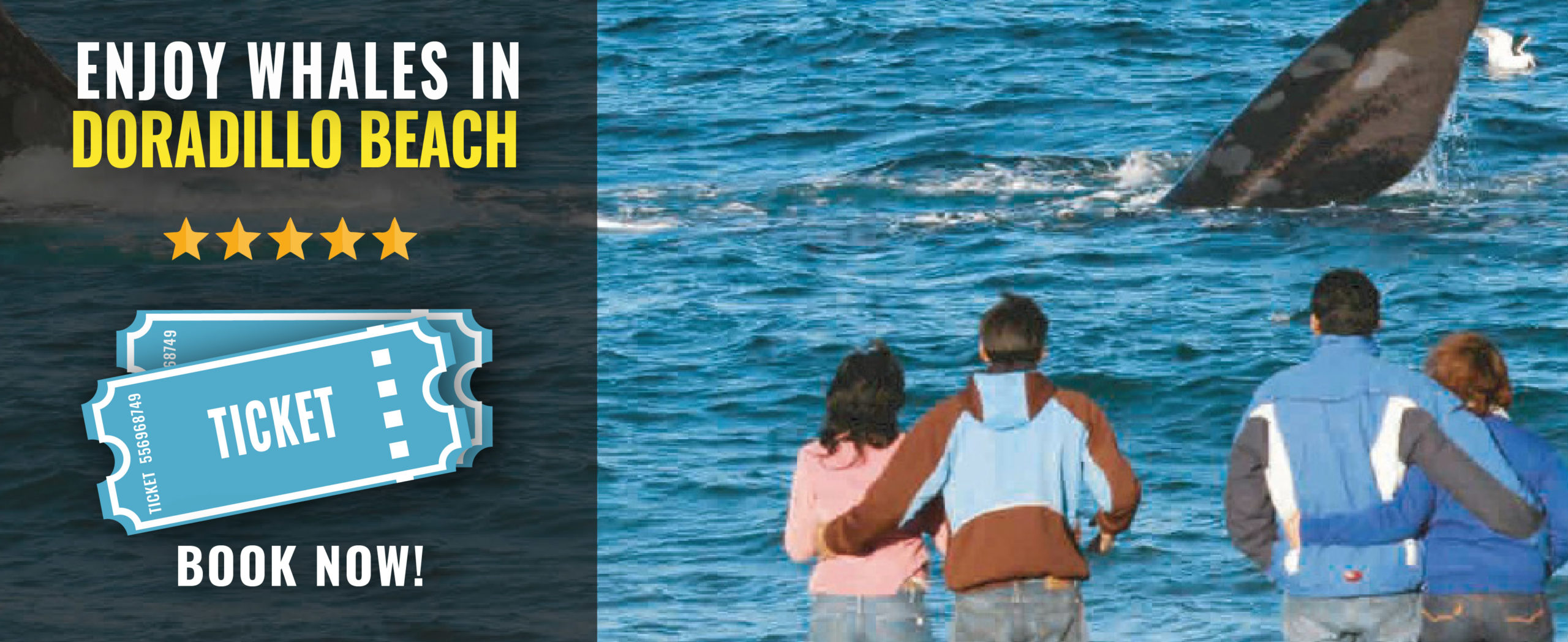 More activities and excursions in Puerto Madryn and Peninsula Valdes, in Chubut Province?
If you want to see more options of activities and excursions in Puerto Madryn and Peninsula Valdes, to see whales, penguins, birds, sea lions, elephant seals, foxes, orcas, birds... Check our complete list of activities to enjoy Peninsula Valdes, Argentina. Check our specific section for activities
WHALES: When to go to Peninsula Valdes, Chubut? High Season and Low Season
Well, first you need to know is that all the time during whale season, it`s possible to see these incredible animals along the coastline or just minutes in short navigation. But when is the high season of the whales, and when to see them in the area. First in the local beaches, in the Puerto Madryn area. You can see mothers with their calves! Amazing isn`t it? Well again, when do you need to go there to enjoy this incredible show of nature? Well, in the general high season to enjoy whales in Puerto Madryn and Peninsula Valdes goes from the beginning of June until the middle of December. It`s a large photo, but there are different periods during this season that are important. Why? Because sometimes the whales can be seen better from Puerto Madryn and beaches located close to the city, and sometimes it`s better to go to Puerto Piramides, in the Penisula Valdes a wonderful marine and natural environment with unique wildlife on the earth.
Whales in Doradillo, Puerto Piramides. When is the high season and when low season?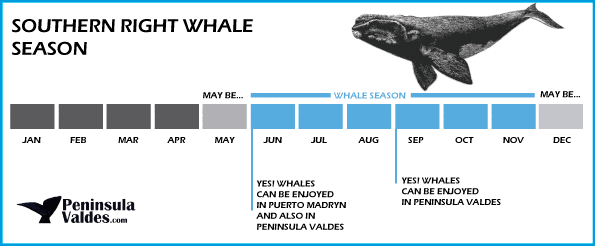 The first period in the season is between June and September, it´s specifically June, July, August, and September… the Right South Whale prefer to stay in the southern bay, called Golfo Nuevo, and it`s the best season to watch the whales from Puerto Madryn and beaches like Doradillo, where mother whale and her calf will delight you just a few meters from the coastline. Yes… and it`s amazing. Finally, from the last days of September to the middle of December, the whale prefers to stay in the northern gulf and can be seen better from the Peninsula Valdes, so Puerto Piramides is the perfect natural and marine environment to see these amazing animals.
Peninsula Valdes: A Unesco World Heritage Site
Peninsula Valdes and the incredible marine mammals you can find there made this place unique in the world. For that, the Península Valdés in Patagonia is a site of global significance for the conservation of marine mammals: Not only whales, also magellanic penguins, sea lions, elephant seals, orcas, and more. It is home to an important breeding population of the endangered southern right whale as well as important breeding populations of southern elephant seals and southern sea lions. The orcas in this area have developed a unique hunting strategy to adapt to local coastal conditions. For that reason, the Peninsula Valdes was declared Unesco World Heritage Site in 1999.
More references about the Orcas? Check our  The Orca Watching Activity in Valdes Peninsula here! 
More wildlife in Peninsula Valdes
We have whales, but also other animals on the shores, like penguins, sea lions all the year, elephant seals, a wide variety of bird species, foxes, orcas in Punta Norte, maras, guanacos, ñandues, and wide and complete wildlife. Most important places in the Valdes Peninsula are Punta Delgada, Caleta Valdes, Punta Norte, Golfo Nuevo, Golfo San Matias, Istmo Ameghino, Puerto Piramides, Punta Pardelas, Estancia San Lorenzo where specifically you can see magellanic penguins.
For more information, check our section called Travel Guide for Puerto Madryn and Peninsula Valdes
Climate. How is the weather in Valdes Peninsula?
Let´s talk about the climate in the area. Temperatures: the highest temperatures are during the summer season, it`s between last days of October and March, to be exact November, December, January, and February, and of course lower during the winter season, with minimum temperatures of 2-3 degrees during July and August too. Of course, it`s Patagonia, and climate can change all the time, and the marine environment is important to avoid extreme temperatures in summer and winter, for that reason, the average temperatures do not go over 27 degrees (80.6 °f) and neither below 2 degrees (35,6° f)
What about Rain? It`s a rainy place? No, definitely not, as many places in Patagonia, except those located close to the Andes with a high level of rains, Puerto Madryn and Peninsula Valdes are dry places with low levels of rainy days.  Check more information about weather in the area in our special section
Whale Watching activities in Peninsula Valdes
Enjoy a full-day visit to Peninsula Valdes and see the whales from a boat between June and middle December!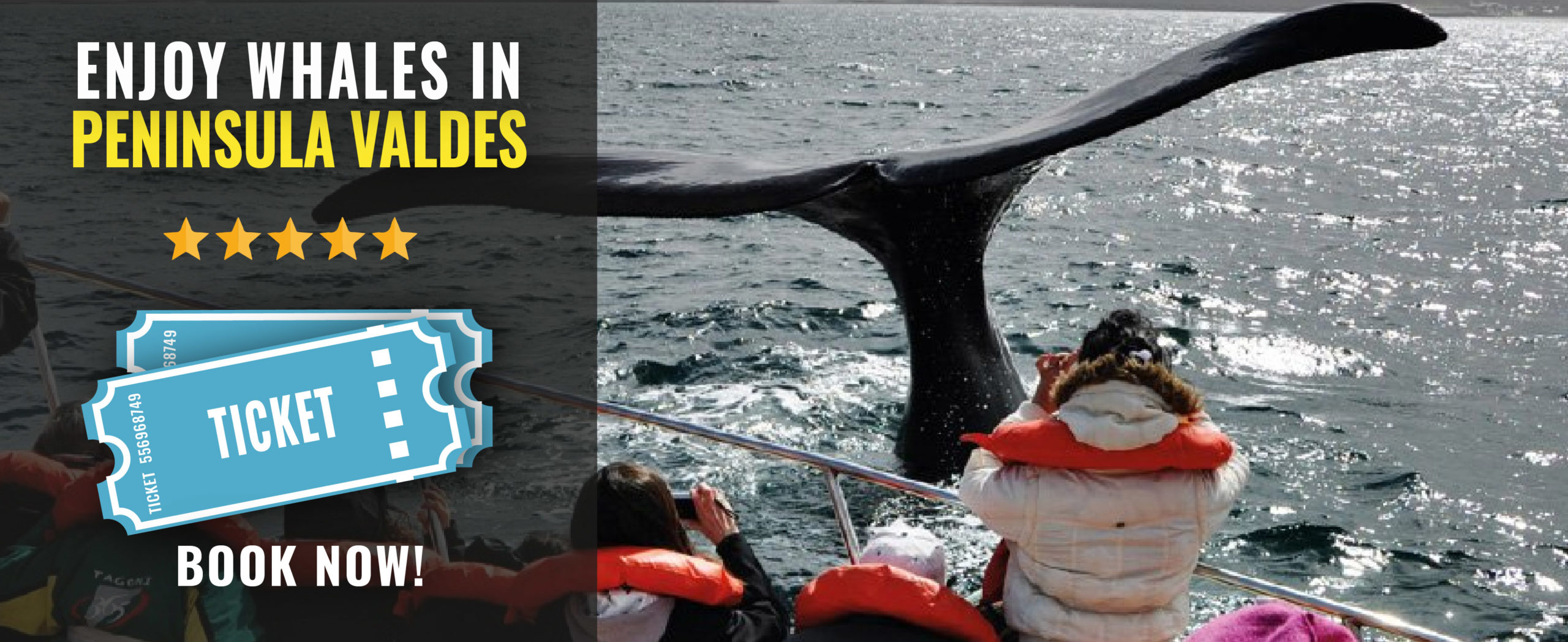 Another great whale watching is the semi-submersible called Yellow Submarine. Book a wonderful whale watching aboard Yellow Submarine!
Whale watching in Peninsula Valdes aboard the Yellow Submarine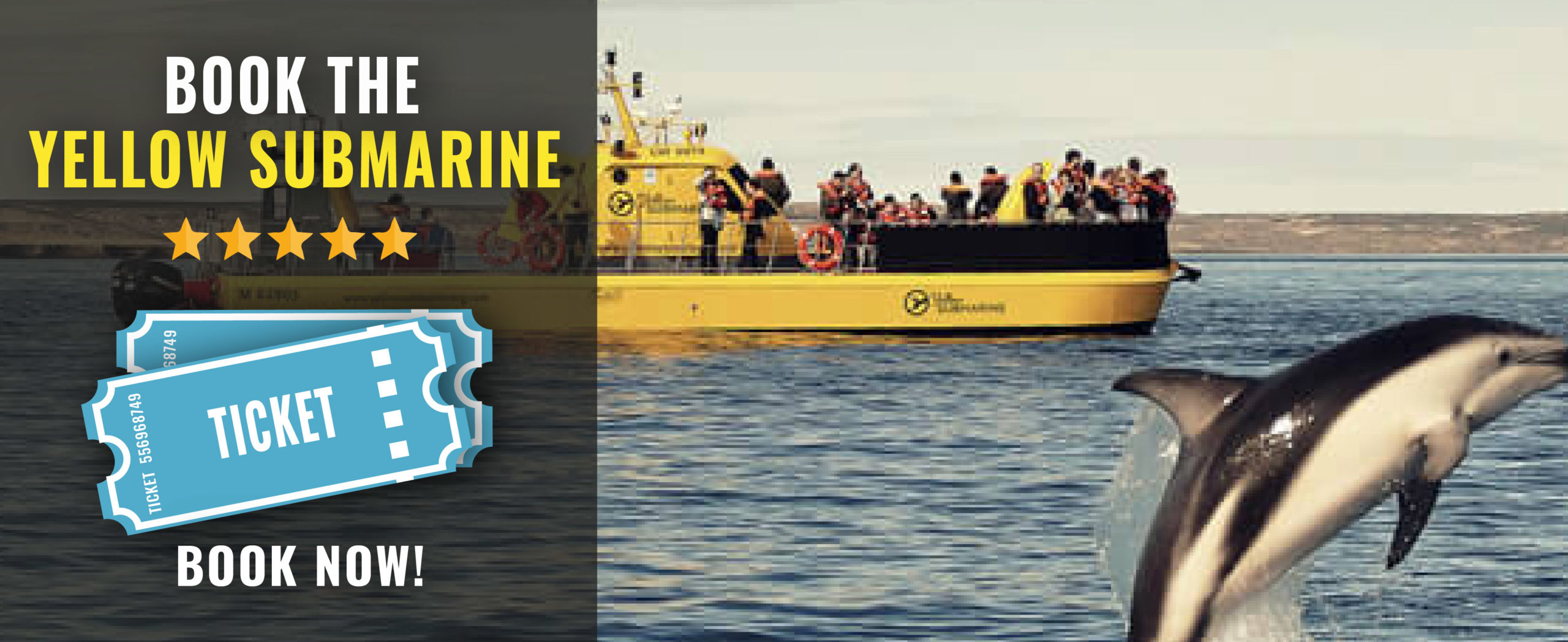 Are you looking for tours in Patagonia including the amazing wildlife in Puerto Piramides and Peninsula Valdes, Chubut?
We have many great options, tours to visit Peninsula Valdes, combined with other great destinations in Patagonia like Ushuaia, or El Calafate, El Chalten, and Bariloche. And of course Buenos Aires, Iguazu, Salta, Mendoza, or any great destinations in Chile like Torres del Paine National Park or Puerto Varas and the lakes district. One of my favorites is the following. The best season to combine Peninsula Valdes and other destinations in Patagonia is between September and middle December, because you still have whales in the area of Valdes Peninsula.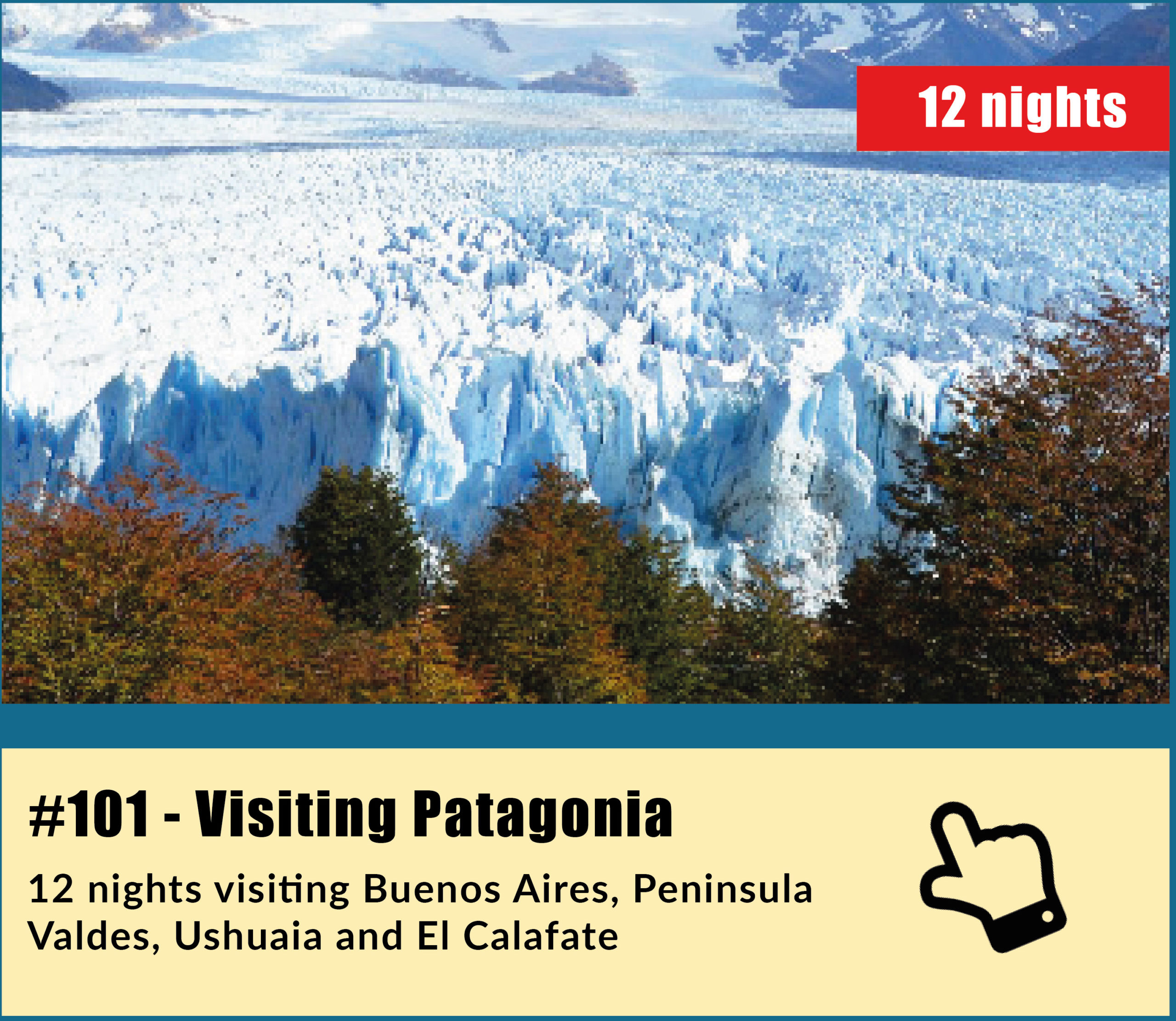 It´s not what you´re looking for? See our complete list of tours to visit Peninsula Valdes and other destinations. Choose between amazing destinations in Argentina!
Thank you for visiting Valdes Peninsula!