Patagonia is one of the most famous and fantastic places to visit in South America. It´s a vast area shared by two countries: Argentina and Chile, with an incredible variety of landscapes and incredible attractions to enjoy. Some of them are worldwide famous: Perito Moreno Glacier, and Torres del Paine, but also Ushuaia and the End of the World, Peninsula Valdes and the incredible marine mammals, Aysen in Chile with the Carretera Austral, the Lakes District in Chile and in Argentina, the southern are of the fjords and glaciers in the Chilean side of Patagonia... Again, it´s a vast area. So, can we talk about regions in Patagonia. Well, yes. There are different regions in Patagonia and it´s important to see that each area offers a different kind of attractives. Check our Patagonia Map and the different regions or areas in Patagonia:
Patagonia Map: Main regions and areas of Patagonia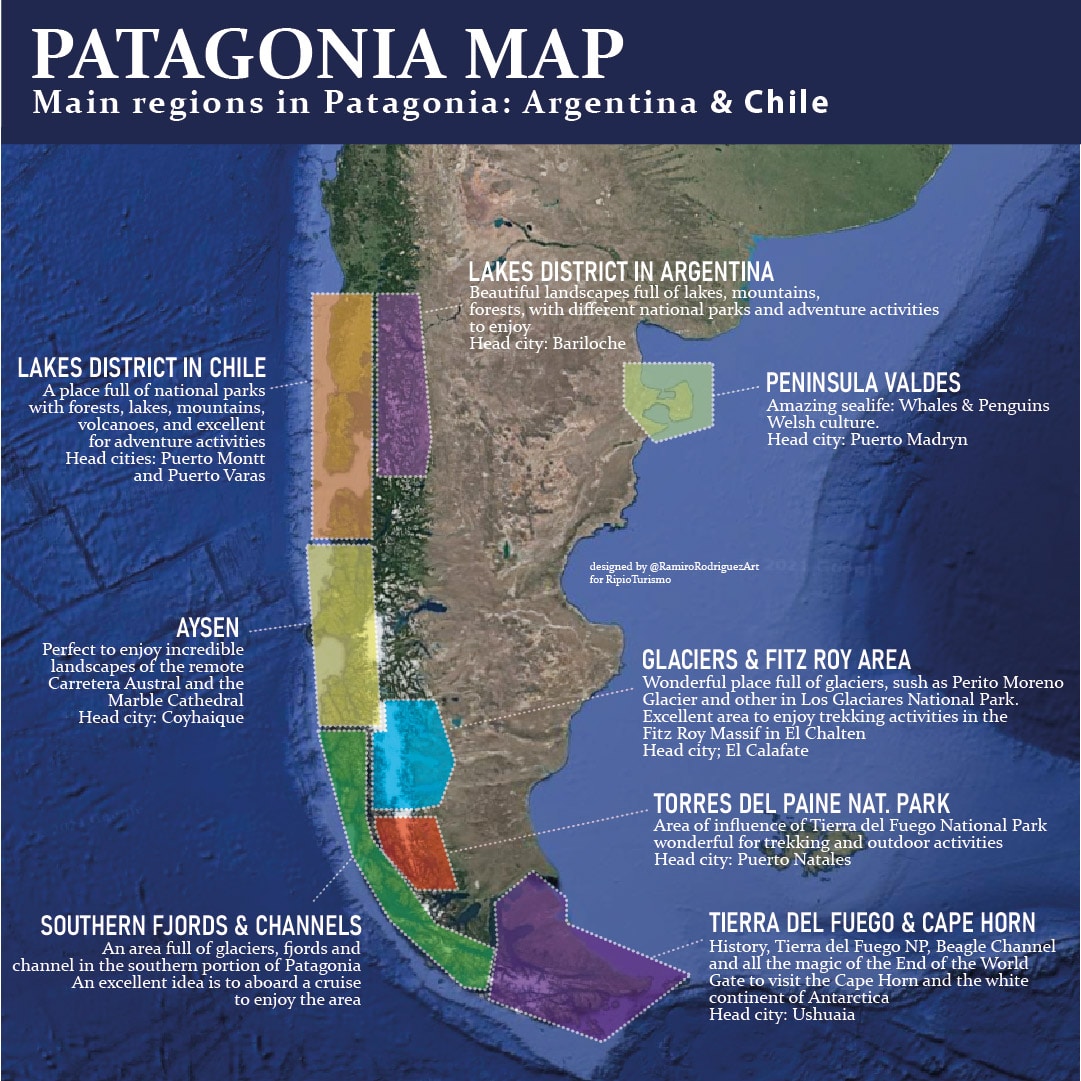 So, we have different areas in the whole Patagonia region. Let´s talk about each one and what to see there:
1 - Regions of Patagonia: The Lakes District in Chile & Chiloe Island
A great place to enjoy different national parks, and an area full of national parks, with some famous volcanoes, and beautiful lakes, forests, lakes, and rich local culture. Chiloe Island is especially interesting because of the typical architecture. Chiloe Island is reachable from  the Patagonian ferry port of Puerto Montt for either daytrippers or overnighters. Resembling Canada's Vancouver Island, the Isla Grande ("Big Island") of Chiloé was home to endless stands of alerts, a "redwood of the south" that made a strong, durable, and rot-resistant material to build houses.
Duting colonial times, Jesuit missionaries proselytized among the archipelago's native inhabitants and, at the same time, started an architectural tradition of shingled churches that helped make it a UNESCO World Heritage Site. One of the most impressive, in the city of Castro is the San Francisco Church, with its flamboyant banana exterior, twin bell towers in violet, and reddish trim. That said, there are other equally impressive but more subdued constructions – in the city of Ancud, the Fundación Amigos Iglesias de Chiloé is a museum that provides an overview, with original pieces salvaged from chapels and churches that no longer exist. Chiloé also has a secular architectural tradition, visible in the diverse design of shingles that covers its house and, especially, in the palafitos (houses on stilts) strung along the shoreline of Castro and elsewhere. Contemporary architects have transformed many of these into stylish small hotels, restaurants and galleries that promise to make a longer stay rewarding.
But, the area is well known due to the national parks you can visit: The Vicente Perez Rosales National Park is chile's first national park, and is wonderful for nature and outdoor lovers. Located almost entirely within the Andes, the park is amazing with akes, rivers, and waterfalls found here and there amongst its many valleys. Hiking or horseback riding through the park is a beautiful way to explore the landscapes, and some must-see include Osorno Volcano, Petrohue Falls, and Todos Los Santos Lake.
The Puyehue National Park is another great place to visit with amazing volcanoes and valleys, forests, rivers, hot springs, and unique beautiful sceneries. Puyehue National Park is the most visited national park in the country. Lying entirely within the Andes and dominated by the Puyehue and Cordon Caulle volcanoes that lie within it, the park is divided into three different areas. Enjoy trekking, horseback riding, climbing and other adventure activities during the summer months, and skiing and snowboarding in the wintertime.
Another national park is the Conguillio National Park, which was declared national park in 1950, Conguillío is made up of some of the most beautiful parts of the country, with the towering, snow-capped Volcan Llaima its undoubted crown jewel.
Interested in Chiloe Island? Book our excursion to Chiloe Island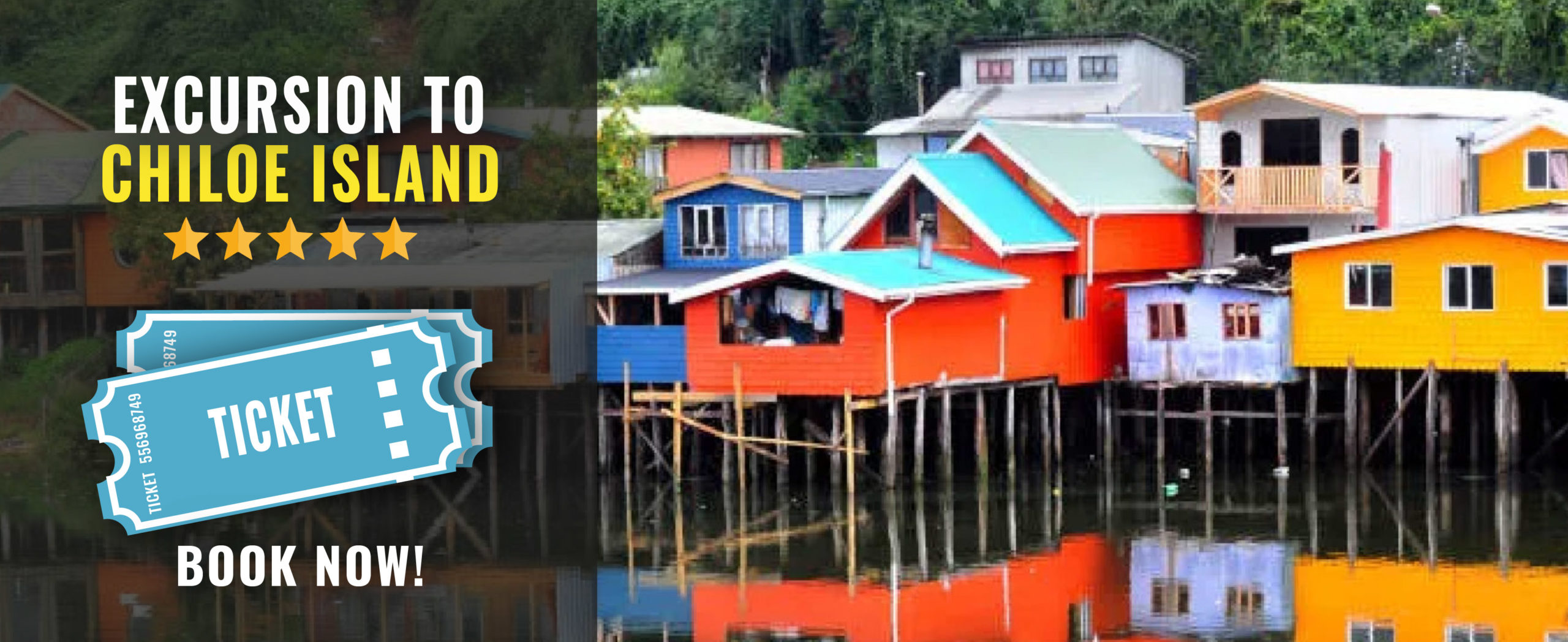 2 - Regions of Patagonia: Lakes District in Argentina
The head city is Bariloche, the famous city will be waiting for you with beautiful scenery. The city itself is amazing because it´s located on the shores of Nahuel Huapi Lake, with the Andes chain as background. And what you can see in Bariloche, or from Bariloche in the beautiful lakes district in Argentina? Well, national parks, forests, lakes, mountains, and the chance to enjoying a wide variety of activities such as rafting, horseback riding, trekking, rappel, tirolesa or canopy, paragliding, and during winter season ski in some of the ski centers available. The most important is Cerro Catedral, but also Cerro Bayo and Chapelco in Villa La Angostura and San Martin de Los Andes, two small villages but also beautiful quiet places.
The area offers many national parks, like Nahuel Huapi National Park, Los Alerces National Park, Lanin National Park, and in the south of Bariloche, near Esquel city, one of the most beautiful national parks in the area: Los Alerces National Park.
A good idea to link both lakes district is to take the Lakes Crossing activity and cross from Bariloche to Puerto Varas, in a trip that´s a combination of boat navigation and bus rides.
Interested in visiting the Lakes District? The Lakes District of Patagonia tour
3 - Regions of Patagonia: Aysen and the Carretera Austral
In Aysen, you will discover a place where life flows in harmony with nature and the senses get lost in the green of its forests, the turquoise of its waters, the blue of its ancient ice and the thousands of colors of the flora and fauna that live there. There is no doubt, the more than 800 kilometers of Patagonia's scenic route along the Carretera Austral will take your breath away.
The calm of the Aysen Regio also leaves the most adventurous spirits happy. Whether doing the incredible trekking to the top of Cerro Castillo, navigating the General Carrera Lake to the mythical Marble Cathedrals, walking on the Exploradores glacier, or walking the walkways of Caleta Tortel, the most hyperactive will not have room to get bored in this paradise of pristine landscapes and lots of adventure.
A natural destination by essence, since half of its territory, corresponds to Protected Wild Areas, among which the "Laguna San Rafael National Park" stands out, declared a Biosphere Reserve by UNESCO and the highest peak in Patagonia, the "Monte San Valentín", with a height of 4058 meters. Beauties, which you can visit through navigations through its icy waters and end the adventure by toasting with a glass of whiskey with millenary ice.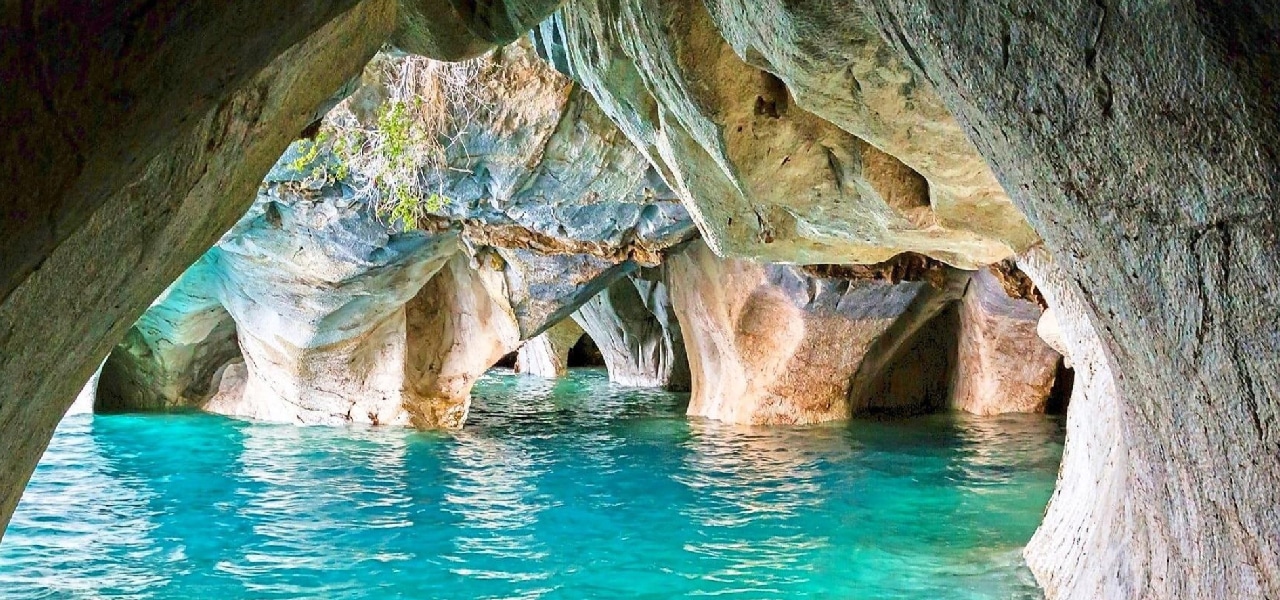 4 - Regions of Patagonia: Southern fjords and channels in Patagonia
It´s maybe the most inhospitable area in Patagonia. A place is full of islands and islets, channels, fjords, and glaciers. How to visit the southern fjords and channels in Chilean Patagonia? Well, it´s necessary to aboard one of the cruises available from Puerto Natales and Punta Arenas. The Skorpios III Cruise, for example, is a wonderful 3-night expedition cruise to visit the area, leaving from Puerto Natales. Another option leaving from  Punta Arenas is the Australis Cruise, which also disembarks in the mythical Cape Horn. Check more information about these cruises in our section Cruises in Patagonia
See more about cruises available in the area: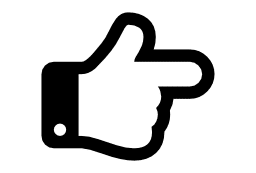 Skorpios III and the Kaweskar Route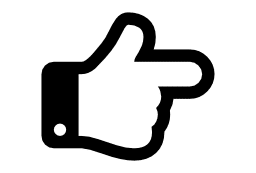 Australis Cruise expedition to Cape Horn and Southern Fjords and Glaciers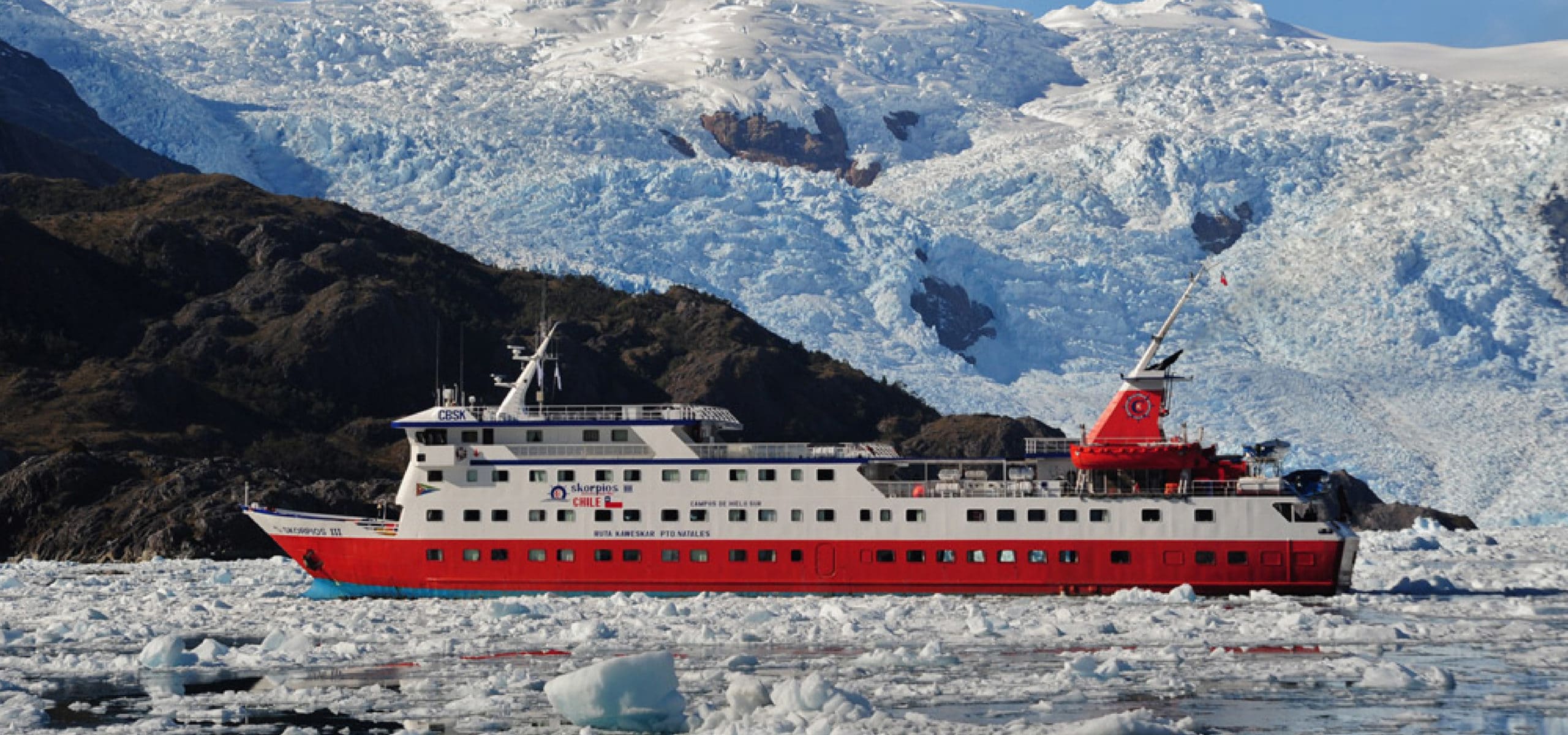 5 - Regions of Patagonia: Tierra del Fuego Island and Cape Horn
Tierra del Fuego is the big island at the end of the South American continent. And the main city is Ushuaia, the southernmost city in the world. It´s a highlight itself, the idea of visiting the last city in the world, or the southernmost capital in the continent. But from Ushuaia you can visit some other attractions like Tierra del Fuego National Park and the Train of the End of the World, to learn more about the history and the origins of the city. Fagnano and Escondido Lakes in the heart of the island is another great day trip to enjoy beautiful views and typical Patagonian landscapes.
Finally, Ushuaia also offers a great local gastronomy, like the King Crab, called Centolla in Spanish, and the amazing Patagonian Lamb you have to taste!
From Ushuaia con can embark the Australis Cruise called Patagonian Explorer, to sail to the mythical Cape Horn and visit southern channels and fjords in the Chilean Patagonia.
6 - Regions of Patagonia: Torres del Paine National Park
One of the highlights in Patagonia is Torres del Paine National Park. The vast national park is a must-see when you travel to the area. Can be combined with El Calafate and Perito Moreno Glacier, so it´s a strong attraction and core of many tours visiting Patagonia. The Park is amazing and perfect to enjoy different trekking and expeditions such as the famous W Trekking, or O Trekking, or the Trekking to Base de las Torres, but also boat navigations to Grey Glacier, or Balmaceda and Serrano Glaciers. The park offers accommodation inside, but the head city to visit Torres del Paine is Puerto Natales. From there, you can take full-day tours to overview the park and make short trekking. But if you really want to enjoy trekking, you have to book a hotel in the park.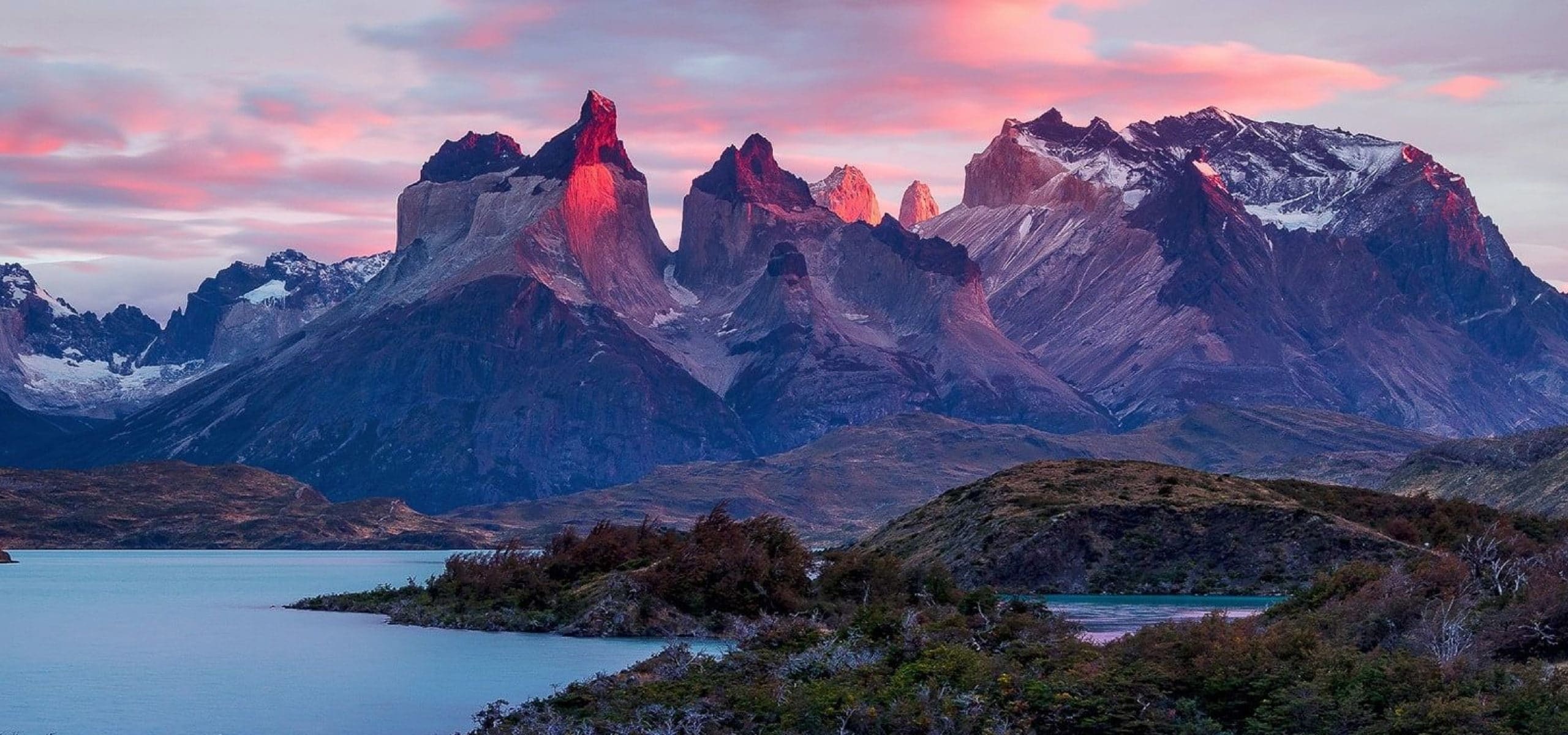 7 - Regions of Patagonia: Perito Moreno Glacier & Fitz Roy Massif
Another must-see when you visit Patagonia is Perito Moreno Glacier, one of the most famous glaciers in the area because is still growing, or at least in equilibrium. The gate to visit the colossus of ice, is the city of El Calafate, with an international airport that receives flights from Buenos Aires and other cities in Patagonia. Los Glaciares National Park is the home of many glaciers that can be visited. Not only, Perito Moreno, but we also have many glaciers that can be visited with any of the boat navigations available in the area.
From El Calafate, you can reach El Chalten and visit the amazing Fitz Roy Massif. The place is fabulous to enjoy different trekkings such as Trekking to Laguna de Los Tres, Trekking to Cerro Torre, Trekking to Pliegue Tumbado, Trekking to Laguna Torre, and Trekking to Laguna Capri.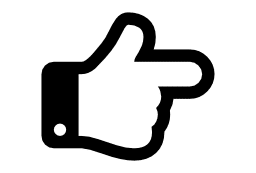 Check our tour 102 tour - Patagonia Adventure Tour
8 - Regions of Patagonia: Peninsula Valdes Area
A perfect place for nature lovers, where you can see whales, penguins, sea lions, orcas, elephant seals, birds, foxes.  The airport to arriving at the area is Trelew, and from there the head city is Puerto Madryn. From Puerto Madryn you can visit the Peninsula Valdes and once there places like Puerto Piramides, Caleta Valdes, Punta Norte, Punta Delgada, and Estancia San Lorenzo where you can find a wonderful penguin colony. Some interesting adventure activities are available, like diving, snorkeling with sea lions, and of course the whale watching.
Punta Tombo in the south of Puerto Madryn is also a penguin colony with more than 500.000 penguins during the high season (summer). And Trelew and Gaiman are options too, to discover and learn more about the welsh colonies and the MEF Museum to learn more about the amazing dinosaurs of Patagonia.

So, now that you know what to see, and which regions can be seen in Patagonia, a good question could be: how to reach Patagonia? What are the main head cities and airports to visit the highlights of this amazing place on the planet?  Take a look at a Map of Patagonia with the usual flight frequences, and main airports in Patagonia
PATAGONIA MAP: Main airports to reach Patagonia from Buenos Aires and Santiago de Chile
Buenos Aires, the capital city of Argentina, and Santiago, the capital city of Chile are the main gates to visit Patagonia. From both cities, you can aboard a plane a fly south to arrive at different cities from where you can visit the area. Take a look at our Patagonia Map: Main airports to reach Patagonia from Buenos Aires and Santiago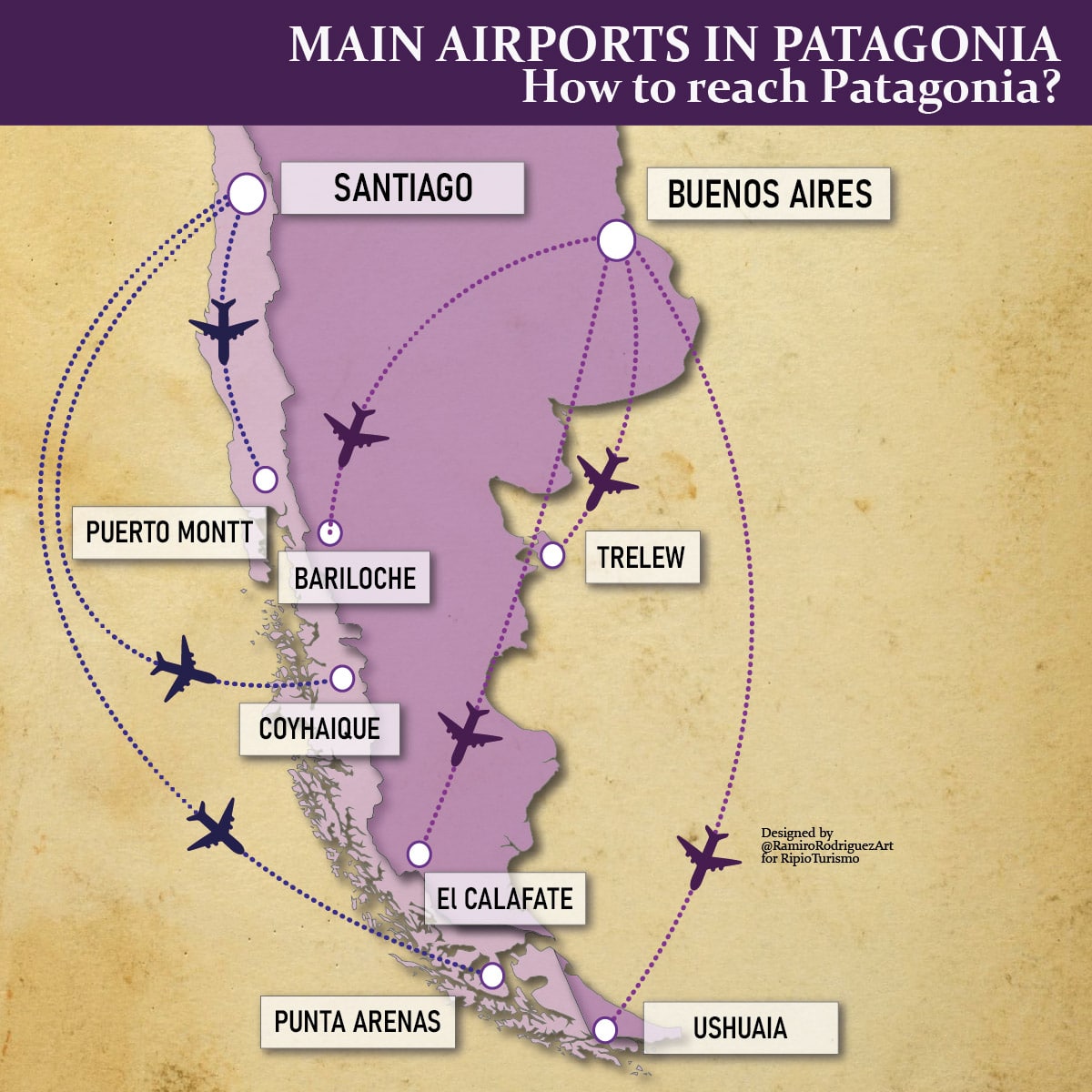 Tours to visit Patagonia
We have a great diversity of tours to enjoy different regions and areas of Patagonia. Some of them are very complete tours like our Amazing Tour of Patagonia with 25 amazing nights to discover the main cities in the region. But we also can focalize in southern Patagonia and offer our Southern Patagonia Tour and visit Ushuaia, El Calafate and Torres del Paine. And finally, if you want to disembark in the Cape Horn and enjoy the southern channels, the tour called Incredible Patagonia with Australis Cruise is an amazing option.
More tours in Argentina including Patagonia
If it´s not what you´re looking for, don´t worry. We have a complete list of tours to enjoy Argentina and of course include Patagonia.
For more information, just contact us at info@ripioturismo.com
Thank you!