Manaus is the capital of the Brazilian state of Amazonas. It is the main entrance for most people to the Amazon basin in Brazil. It is also the last well-populated area people visit before disappearing into the jungle, which means it is both the first and last opportunity to enjoy urban cultural delights. This heart of the Amazon has many different things to enjoy, from zoos to museums, shopping to culinary wonders. Here is a look at some of the most popular visits you can do in Manaus:
Anavilhanas Archipelago
This archipelago of hundreds of long, ribbon like islands in the Rio Negro is geologically the remnants of a large river delta that was once here. It is the world's largest freshwater archipelago, and contains a large amount of untouched jungle, an ecological station, and several jungle-based ecotourism lodges along the shores. The wildlife here is spectacular, and because there is little standing water, the mosquito count is very low. This makes it especially lovely for nocturnal wildlife viewing, though daytime tours for bird-lovers are also known to be rich in variety and beauty.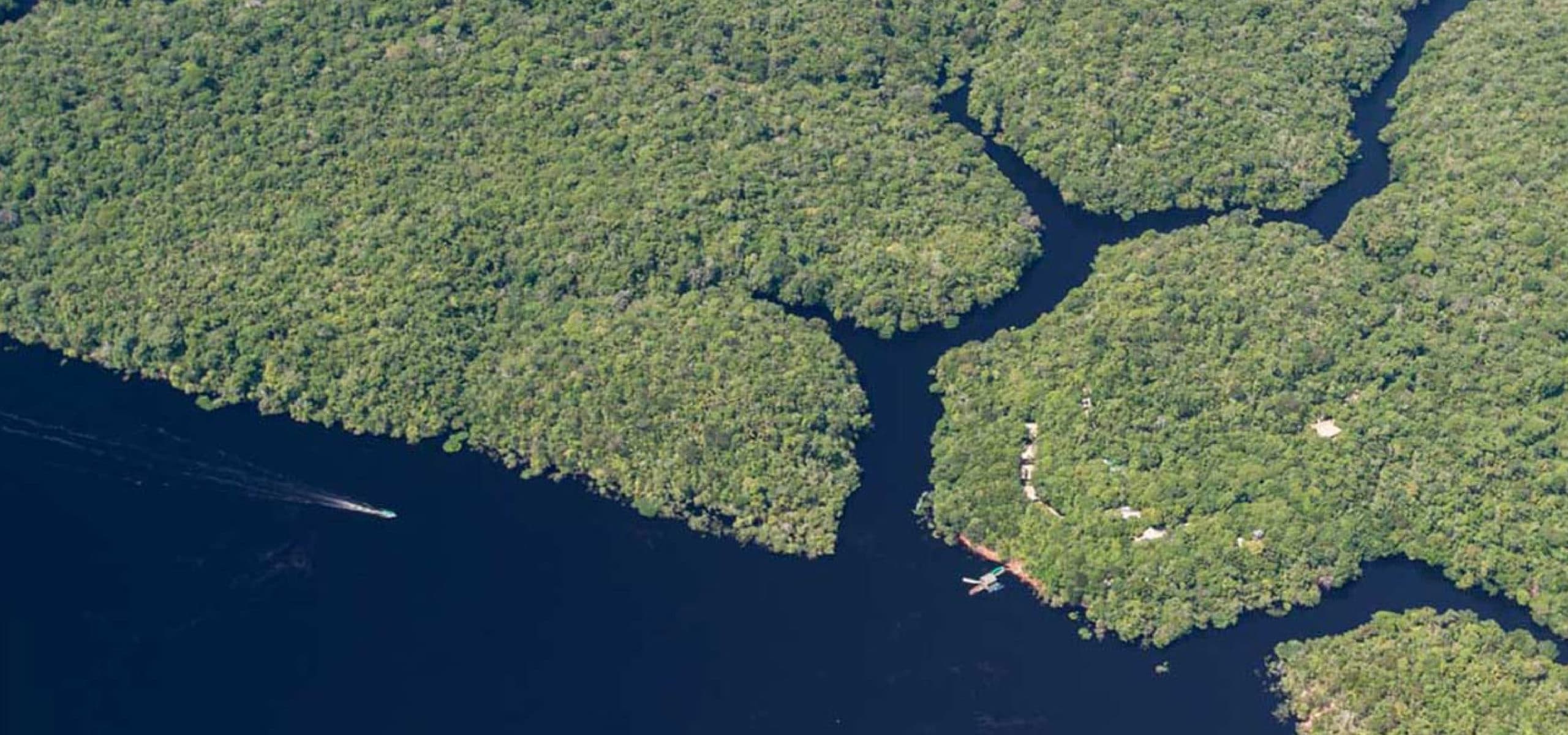 Encontro das Aguas (Meeting of the Waters)
The Encontro das Aguas or Meeting of the Waters in english, is the confluence between the black waters of the Rio Negro and the sand-colored waters of the Amazon. The difference in speed, temperature, and densities of the waters in the two rivers are so different that they create beautiful colored swirls as they intersperse without fully mixing together. This is a beautiful sight, and is best seen either by boat or by air.

Jungle Lodges
As Manaus is entirely surrounded by the Amazon rainforest there are dozens of jungle lodges in the area. Most are reachable by boat and range from rustic fan-cooled huts to luxurious air-conditioned chalets. Many of these lodges can be found near Iranduba including the Ariau Towers, a luxury hotel built in the treetop canopy of the jungle, and the Tiwa Amazonas Ecoresort which offers air-conditioned cabins around a private lagoon. Activities at jungle lodges include piranha fishing, jungle treks, night walks, canoeing trips and bird spotting.
Teatro Amazonas (Amazonas Theatre)
This gorgeous theater was built at the height of the rubber boom, using European designers, decorators and even raw materials. The original driveway was Brazilian, though, made of Amazonian rubber to soften the clatter of late-arriving carriages. The theater's performance schedule includes an excellent opera festival in April and May. Hour-long guided tours offer an up-close look at the theater's opulent construction.
Parque Ecologico Januari
As close as you'll get to experiencing a real Amazonian ecosystem on a half-day trip from Manaus, this 9000-acre park has flooded forests, giant water lilies, large trees, fishing opportunities and a smattering of Amazonian wildlife. It's fairly tame compared to the real thing, with raised wooden walkways and even a restaurant, but it's still a worthwhile introduction. All tour operators in Manaus can organize visits here, often combining them with visits to the Encontro das Águas and other nearby attractions.
Praia da Lua
Manaus' best beach has fine white sand and tea-colored water, and can be coupled with a visit to the Museu do Seringal for a nice city escape. Like all river beaches, Lua is biggest when the water is low (September to December). Beach shacks serve fish and beer at tables set up along the water.
Catch a boat to Praia da Lua (R$5, 10 minutes) from Marina Davi, just past Ponta Negra. Take bus 120 or 121 (R$3, 20 minutes) to the turnaround, and then walk or wait for the free 'Especial' bus to the marina

Boat navigations
Manaos is located in the heart of the world's biggest rainforest, so tourists have to be prepared to travel for at least a few days out of Manaus if they are serious about spotting a wide range of wildlife. Birds including macaws, hummingbirds can generally be spotted during most trips. Alligators, snakes, sloths, river dolphins and a few species of monkey are sometimes seen on a three-day trip. Sightings for large mammals and cats, however, are very rare.
Swim with pink dolphins
South America's only freshwater dolphins can be found in the Amazon rivers. And they are pink!.  Like many other dolphin species, they can be friendly and curious, which has created a large tourist industry of swimming with pink dolphins in Manaus. Though many different places offer this service, it seems to be done in two main ways. Some lodges will have captured dolphins, and guests can swim with them in an enclosed area. Other tours will bring guests out by boat and allow them to jump in when they find a wild group.
Rio Negro Bridge
This cable-stayed bridge was created in 2010 to overcome the slow ferry service to the neighboring town of Iranduba and its neighbors, and open access to the untouched rainforest behind. This turned a trip that once took 30 minutes or more into an expanse that can be crossed in five minutes or less, and allowed better access to the lands beyond. The steel bridge is about 3.5 km (2.2 miles) long and allows the Amazon's shipping traffic to pass unhindered. It is so large that cruise ships can pass beneath without