The Beagle Channel is a must-see when you visit Ushuaia, the Southernmost City in the World! Yes, you can navigate this remote channel in Patagonia to enjoy unique landscapes. Let´s talk first about some important basic information.
The Beagle Channel: Basic Information
Beagle Channel, called in spanish Canal del Beagle, is a strait in Tierra del Fuego Archipelago on the extreme southern tip of South America between Chile and Argentina. The channel separates the larger main island of Isla Grande de Tierra del Fuego from various smaller islands including the islands of Picton, Lennox and Nueva; Navarino; Hoste; Londonderry; and Stewart. The channel's eastern area forms part of the border between Chile and Argentina and the western area is entirely within Chile.
The Beagle Channel, the Straits of Magellan to the north, and the open-ocean Drake Passage to the south are the three navigable passages around South America between the Pacific and Atlantic Oceans. However, most commercial shipping uses the open-ocean Drake Passage. The Beagle Channel is about 240 kilometers long and is about 5 kilometers wide at its narrowest point.
Navigate the Beagle Channel
Navigating the Beagle Channel is one of the highlights when you visit Ushuaia. There are different options to navigate and visit the channel, during which there are small islands with colonies of sea lions and sea birds, or visiting the Les Eclarurs Lighthouse.  The tours are aboard modern catamarans, or classic motor boats with a rich history in the area, including sailboats and dinghies. In all cases, the boats pass by the photogenic lighthouse Les Eclaireurs. Some of these services include disembarkations and walks. For example, Bridges Islands, in the rookery on Martillo island or Redonda Island. Take a look to different options available in www.beaglechannelnavigation.com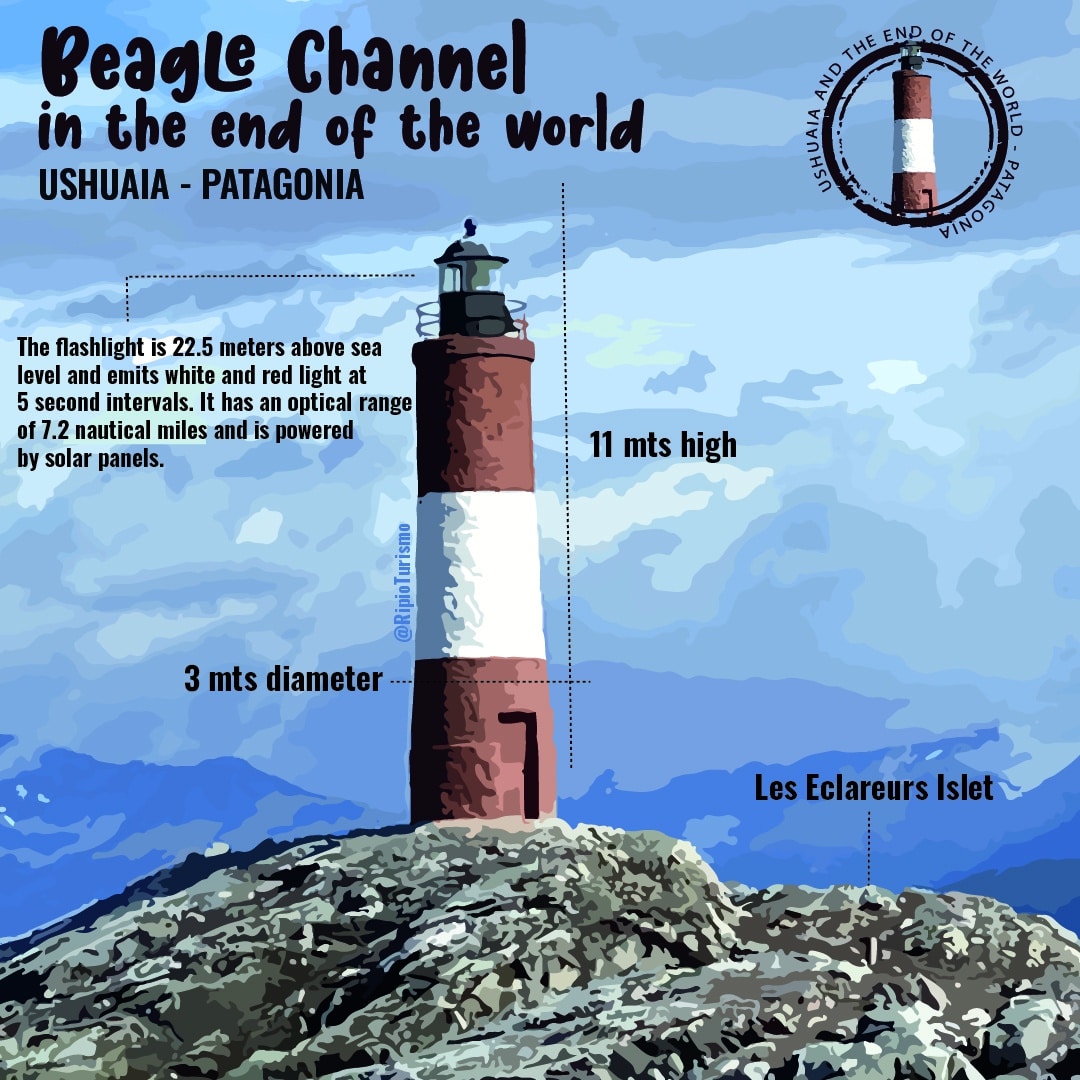 Visiting the mythical Les Eclaireurs Lighthouse
Les Eclaireurs Lighthouse is a slightly conically shaped lighthouse standing on the northeasternmost island of the five or more Les Eclaireurs islands, which it takes its name from, 5 nautical miles (9 km) east of Ushuaia in the Beagle Channel, Tierra del Fuego, southern Argentina. And it´s one of the highlights when you make any of the Beagle Channel boat navigations available from Ushuaia city.