ENJOYING THE SPIRIT OF THE GLACIERS IN PATAGONIA
One of the most amazing destinations in  Patagonia is El Calafate and the area of the glaciers. From this city, you can enjoy a wide variety of activitites and excursions, and a must-see is the incredible and unique Perito Moreno Glacier. Well, you can visit this attraction in a traditional excursions, driving 70 km to arrive to the front of this awesome glacier. There are many trails there, you can walk, and enjoy the glacier. There are also many boat navigations to enjoy different glaciers in Los Glaciares National Park, big boats that navigate the Argentino Lake, and stops in front of different glaciers in a full day trip. Now, if you´re looking for something more, a great experience is the boat navigation called Spirit of the Glaciers… you can visit the Moreno Glacier and the other incredible glaciers in the national park, in a one cruise. Yes, a wonderful 2-night cruise, to enjoy the best of this incredible area.

A LEGENDARY EXPEDITION TO DISCOVER THE MAGIC OF THE SOUTHERN PATAGONIAN GLACIERS.
The Patagonian ice field is, after Antarctica, the largest concentration of ice on the planet. Many glaciers descend from 1,500 to 200 metres above sea level enabling unique access and viewing of the glaciers. And Los Glaciares National Park offers a magnificent combination of forest, lakes, mountains, ice fields and steppes with over 200 glaciers. The most renowned being Spegazzini rising 135 meters above sea level, Upsala covering an entire valley with an approximate extension of 765 Km2 and 53 Km in length, and the Perito Moreno Glacier, constantly advancing and causing the spectacular rupture of the wall of ice, providing one of Nature's most impressive sights.
The Spirit of the Gla
ciers is an expedition that explores nature in depth to un
fold the true essence of this Patagonian region. Sailing on board the elegant and exclusive M/V Santa Cruz, specially designed for this journey, It offers a perfect combination of high-end comfort and gourmet cuisine creating a truly memorable experience.
SPIRIT OF THE GLACIERS: THE ITINERARY
The program is awesome, visiting many glaciers. If you´re looking for ice… it´s your cruise:
DAY 1
5:00 pm: Boarding at the company's private dock "La Soledad" in Bahía Tranquila (Paraje Punta Bandera) 5:30 pm Set sail to Bahia Alemana | Dinner and overnight at Puesto de las Vacas.
DAY 2
Breakfast I Landing at Puesto de las Vacas for a walk | Sailing towards Spegazzini glacier | Lunch | Sailing towards Upsala glacier | Dinner and overnight at Bahía Toro – Seno Mayo.
DAY 3
Breakfast | Hike in the Andean-Patagonian forest with views of Mayo and Negro glaciers | Navigation through Canal de los Témpanos towards Perito Moreno glacier | Lunch | Landing and walking along the glacier's northern footpaths in the National Park | Sailing back to Paraje Punta Banderas | Disembark at 4:00 PM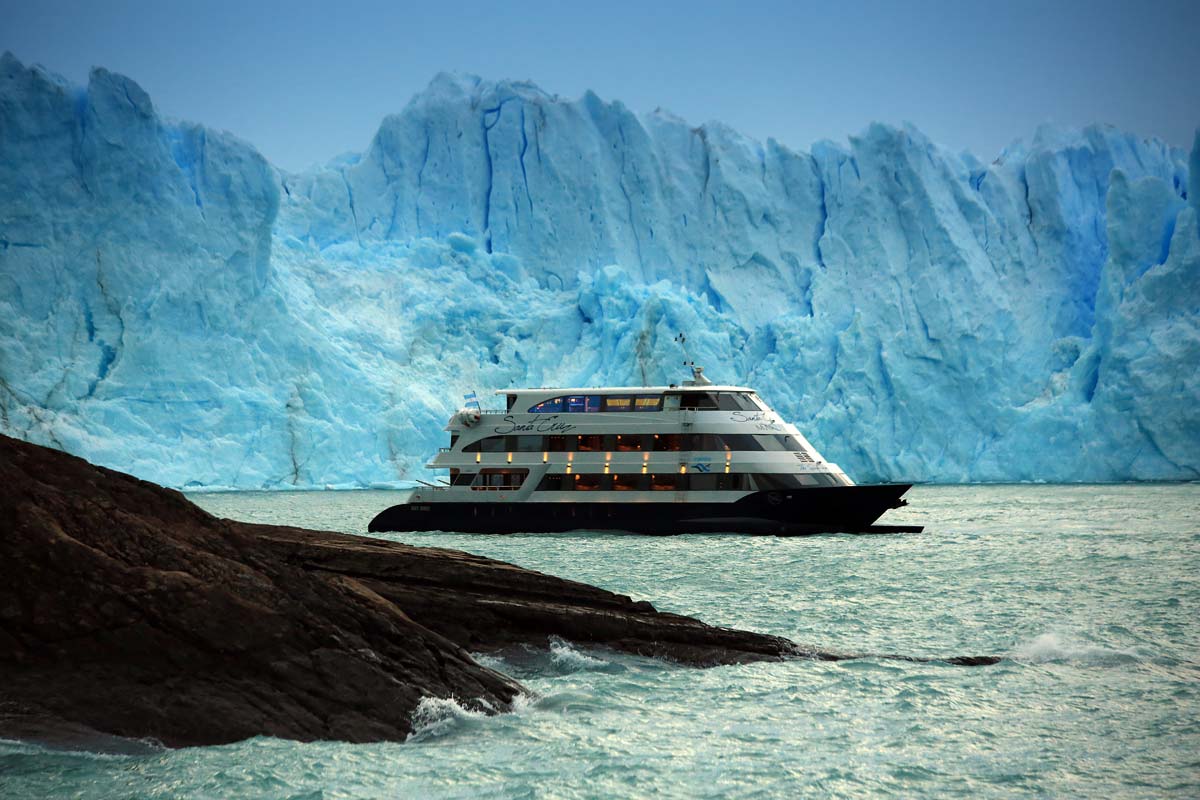 THE SHIP
The M/V Santa Cruz combines comfort, design and state-of-the-art technology to offer a unique glacier cruising experience:
20 en-suite cabins with outside view distributed in two levels.
Ample deck space above the main lounge as well as the stern and bow deck.
Restaurant, library, lounge and bar.
Full board service including alcoholic beverages with meals.
Hot beverages and soft drinks while sailing
All activities with bilingual guides (Spanish-English)
Fully equipped kitchen
Length: 40.5 metres Beam: 10 metres
Pontoon Beam: 2.1 metres Draught: 1.2 metres
Hull and Superstructure built in Aluminium Engines: 2 x 1000 HP Caterpillar
Cruise speed: 19 knots
Maximum capacity: 40 passengers