Well, it´s one of my favorites... Maybe the best way to enjoy the incredible beauty you can find in Torres del Paine National Park and surrounding areas. In Patagonia Camp, you can feel the wind, the rain, the snow; and enjoy unique landscapes from your yurt. Yes, a yurt is a comfortable tent. In fact, it´s more than a tent, it´s basically a hotel room, with all the comfort you would like to receive in a 4-star hotel. Amazing isn´t it? But let me explain first, what´s located.
Patagonia Camp is located in Torres del Paine, in a 34,000-hectare private reserve that is home to native Coigüe evergreen forests, ancient "Nothofagus" plants like "Lenga" and "Notros" that bloom in Spring. Our site is located on the shores of Lake Toro, the largest lake in the Magallanes region of Chile with incredible views of the Macizo del Paine. The Camp is located at Kilometer 74 on the Milodon-Porteño route (Y-290) which is just 15 kilometers from the main entrance of the Torres del Paine National Park, one of the most beautiful, and well-known parks on the planet.
There are different ways to get to Patagonia Camp, primarily from the cities of Punta Arenas and Puerto Natales in Chile, or from El Calafate in Argentina.
Well, the location is perfect, to enjoy the magic of Torres del Paine. So, let me explain now, what is a yurt and why is a luxury way to visit the area.
What is a Yurt? Well, originating from Mongolian nomads, Yurts are lightly colored and circular in shape and designed to maximize both light and heat energy efficiently. Yurts are designed to allow guests to enjoy listening to the wind and rain, birds singing in the surrounding forest all with one of the most impressive views on the planet. And that´s real, real and amazing. I spend three nights and I still remember the rain and the wind during the night. An unforgettable experience.
Patagonia Camp offers 20 yurts connected by wooden walkways that weave through native Patagonian Coigue, Lenga and Notros forests that surround the area. Yurts feature impressive views of Lake Toro and the famous Cuernos del Paine.
GLAMPING IN PATAGONIA
But why it´s a luxury way to camp in Torres del Paine. Well, yurts offer central heating, en suite bathrooms, a private terrace, private safe box, incredible views, laundry service, a comfortable bed... And you´re just in a tent. It´s amazing.
Patagonia Camp complete services with a nice restaurant, a bar lounge, wifi service, and a souvenir shop.
But maybe the best part of the history is the wide variety of activities you can choose from the menu. from short trekkings, full day trekkings, scenic & short hikes, boat navigations, horseback ridings, etc. Of course, the visit to the base of Las Torres Trekk is one of the most requested activities, Valle del frances Trekk too, Los Cuernos Trekk, but you have many like Kayaking in Toro Lake, Fishing in the Shore of Lake Toro, Stand Up Paddle in Bonita Lagoon; or just the traditional Grey Lake Navigation, or Kayaking Grey Glacier.
PATAGONIA CAMP OPTIONS
There are different options. You can choose the All-Inclusive Shared Program, to enjoy different activities in groups, or the All Inclusive Private Program, to take exclusive activities with your tour leader.
PATAGONIA CAMP ALL-INCLUSIVE SHARED PROGRAMS
Enjoy your yurt sharing with other people each activity from our menu of activities available.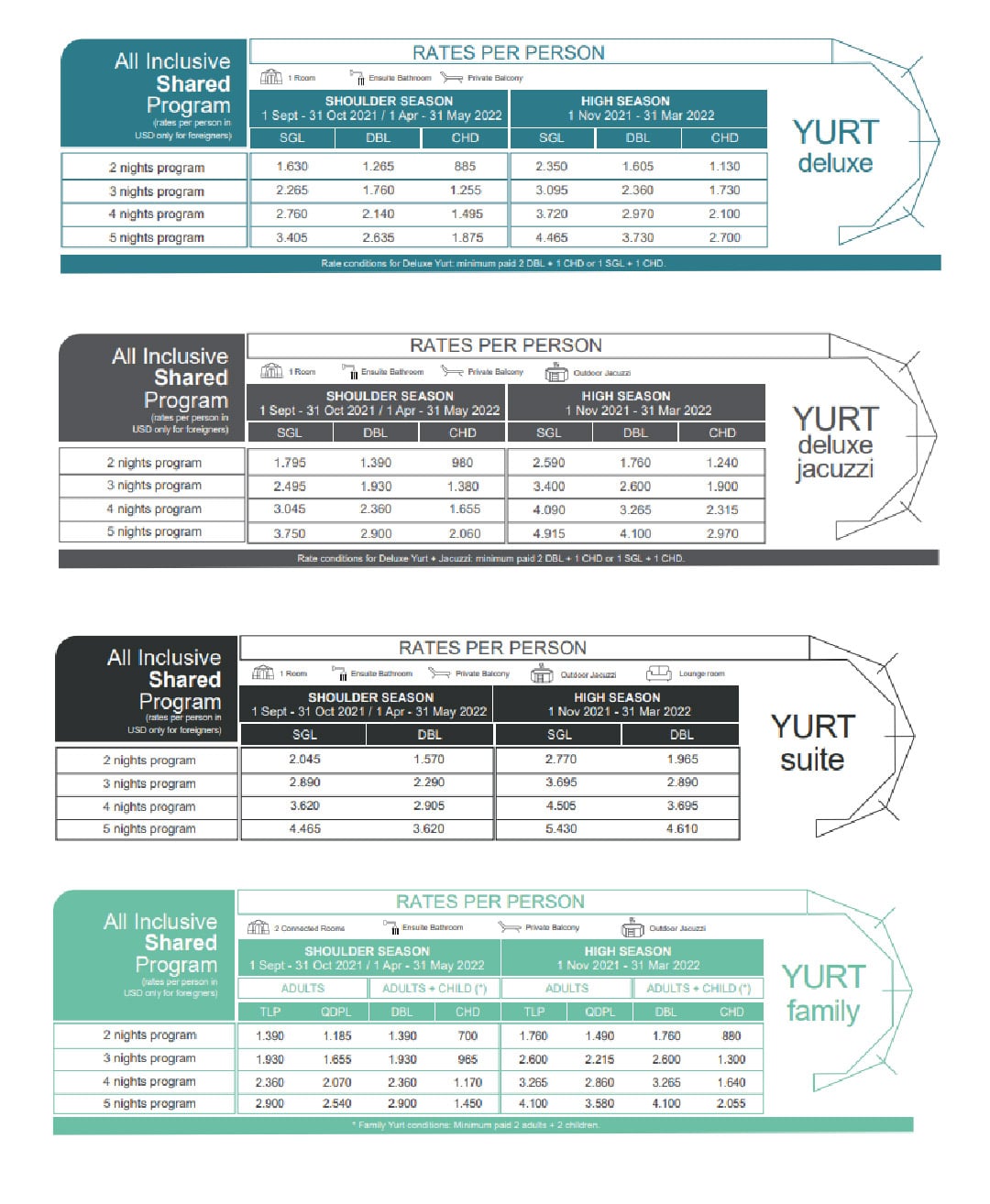 PATAGONIA CAMP ALL-INCLUSIVE PRIVATE PROGRAMS
Enjoy your yurt with activities in private with our tour leader. You can choose the explorations from our menu of activities available.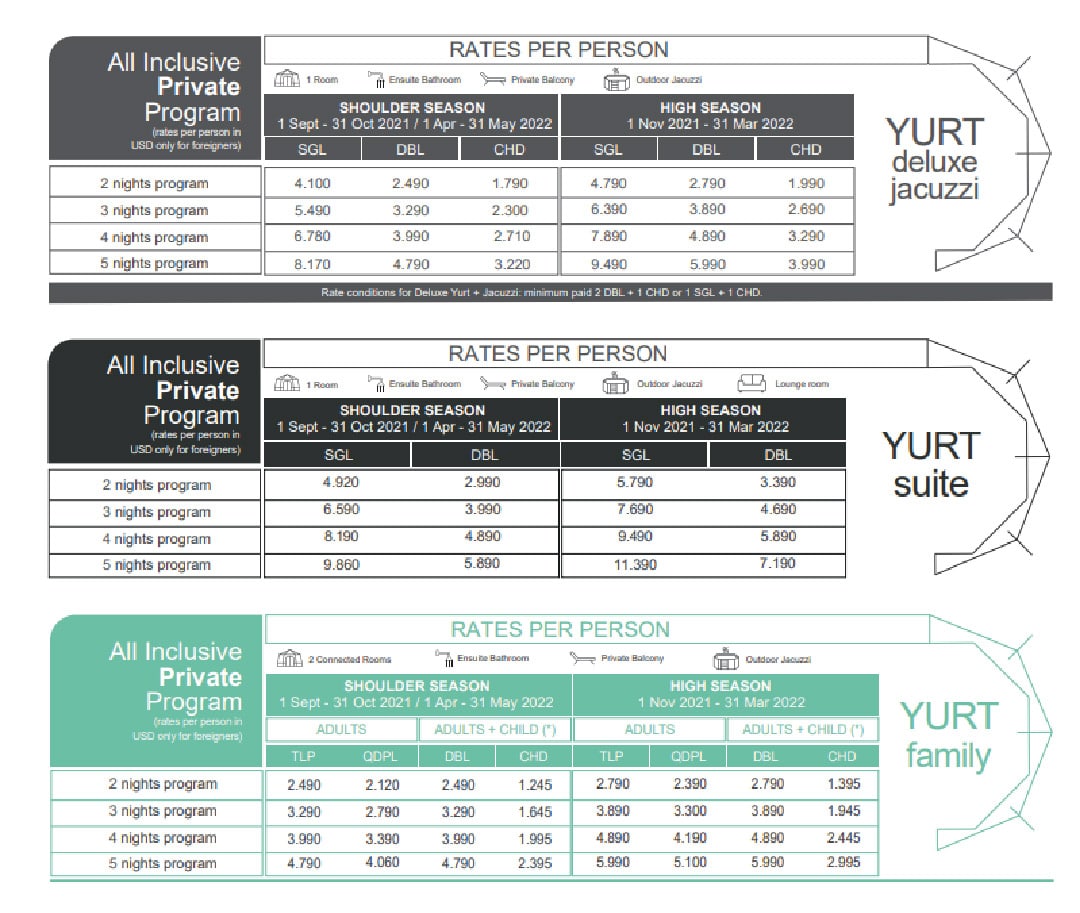 For more information, just contact us at info@ripioturismo.com 
Thank you! We´re waiting for you in southern Patagonia!