If you visit Rio de Janeiro, you will be interested in the culture of the Carnival, because it´s part of Rio de Janeiro. And of course, a great program could be to arrive during the Carnival festivities in February or March, but it can be expensive and maybe not possible for you. There is a great option if you want to know more about the culture of the Carnival, and see more behind the scenes...
Yes, the Carnival Experience is a program that comes with the idea of presenting the universe of the Rio de Janeiro samba schools, showing the backstage of the creation of the show and the history of the birth of samba and of the Rio de Janeiro carnival. Amazing isn´t it?
This narrative is told by Pimpolhos of Grande Rio, which, in partnership with their "mother school", the Grande Rio Samba School, opens the doors to the ludic universe of carnival to enchant the great audience with the characters of this beautiful popular manifestation.
The Rio de Janeiro Carnival is one of the major events of the city and attracts people from all the corners of Brazil and the world to experience this passion. In Rio, there are more than 90 samba schools, in which participate on average 100.000 components. There are thousands of professionals involved that work throughout the year to hold this party: musicians, choreographers, dancers, artisans, samba masters, and producers.
The Pimpolhos of Grande Rio is a youth samba school and a non-governmental organization whose mission is to promote social interaction and educate through the culture of carnival. The Carnival Experience tour program is part of the pillar of socioeconomic sustainability institutions and arises from the need to diversify its source of funds to ensure the continuity of its sociocultural projects. Carnival Experience is a social business and contributes to the maintenance of future carnivals.
The Experience
Tour takes 90 to 120 mins, depending on the option you choose. It´s provided in the City of Samba in Downtown Rio de Janeiro.
Guided tour of the Grande Rio samba school factory– one of the main samba schools of the city of Rio de Janeiro.
Showroom: a little about the history of samba and the carnival parades.
Getting in the mood: disposition of costumes to wear and photograph.
Samba flavor: welcome caipirinha.
Samba class with one of our dancer
But which are the options available? Well, we have:
TOUR 1
Guided tour of the Grande Rio samba school factory – one of the main samba schools of Rio de Janeiro (30 min)
Showroom: a little about the history of samba and the carnival parades (20 min)
Getting in the mood: disposition of costumes to wear and photograph (20 min)
Samba flavor: welcome caipirinha (10 min)
Samba class with one of our dancers! (10 min)
TOUR 2
Guided tour of the Grande Rio samba school factory – one of the main samba schools of Rio de Janeiro (30 min)
Showroom: a little about the history of samba and the carnival parades (20 min)
Getting in the mood: disposition of costumes to wear and photograph (20 min)
Samba flavor: welcome caipirinha (10 min)
Samba class with one of our dancers! (10 min)
Return to the roots: a tour of the samba crib – Little Africa (1h30 min)
Falling in revelry: Participate in an authentic festival in Pedra do Sal (1 h)
TOUR 3
Guided tour of the Grande Rio samba school factory – one of the main samba schools of Rio de Janeiro (30 min)
Showroom: a little about the history of samba and the carnival parades (20 min)
Getting in the mood: disposition of costumes to wear and photograph (20 min)
Samba flavor: welcome caipirinha (10 min)
Samba class with one of our dancers! (10 min)
Putting Samba to the test: participation in a technical rehearsal of
the Grande Rio samba school at the headquarters in Duque de Caxias (2h30)
Book the Carnival Experience and enjoy the best of the Carnival in Rio de Janeiro, Brazil. Click on the image below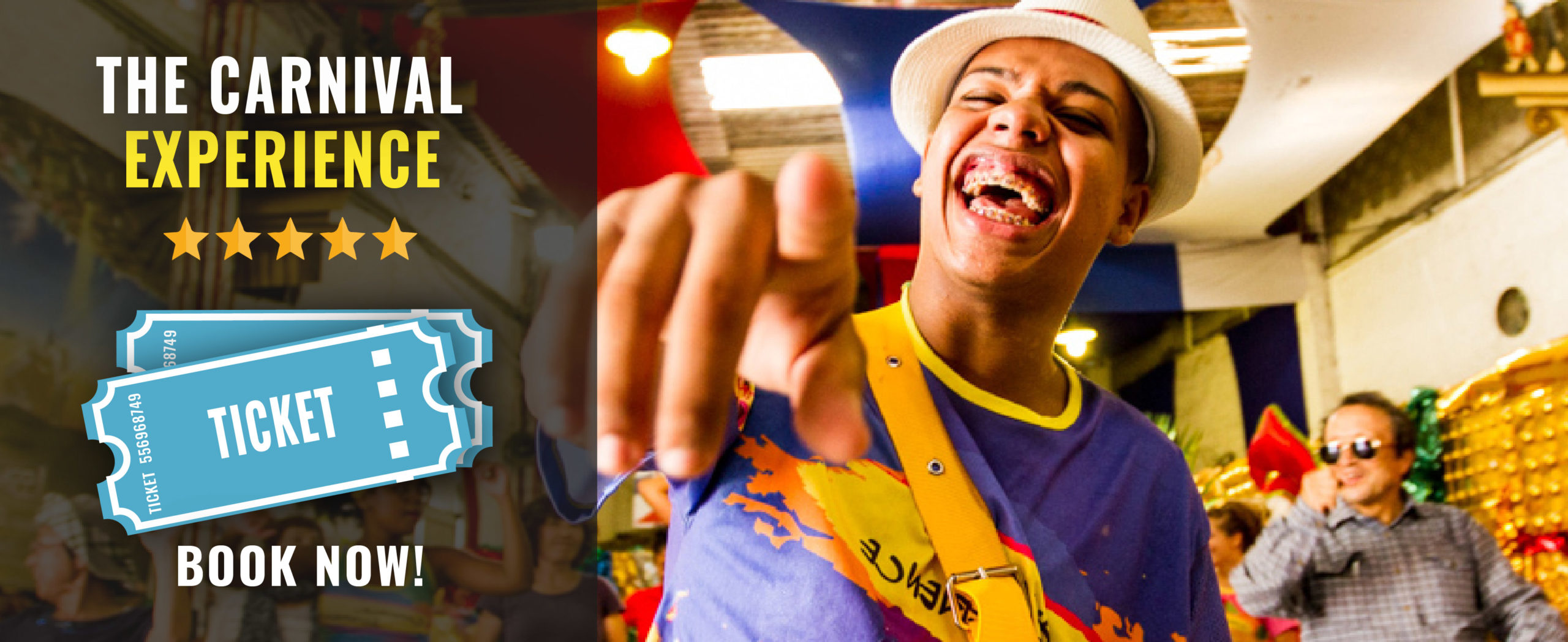 For more information and prices, just email us at info@ripioturismo.com 
Thank you