One of the questions you may ask yourself when planning your trip to Patagonia is what to wear. Of course, it is important to understand that if you visit the Perito Moreno glacier, you will be in front of a huge mass of ice with a surface area of ​​6,000 km2, encompassing part of the Continental Ice and all the glaciers that descend from them to the eastern side. Fascinating right?
If we add to this, that this site is located at a southern latitude of 50º 29 'South, we will understand that it is important to wear warm clothes, to be comfortable during the visit. The climate in Patagonia is variable, and there may be some rains.
Check some interesting information about the weather in the area:


So, what to pack and what to wear during my visit to Perito Moreno Glacier?  For outdoor activities, it is essential to bring warm clothing (preferably fleece), jogging, a waterproof jacket and a cap. In the vicinity of the glaciers or in the heights, be sure to also bring a windbreaker and a pair of gloves. It is also important to bring sunscreen during the summer months, and glasses to protect from the sun's reflection on the glacier. Wear comfortable shoes. The trekking shoes are great for this visit. It is essential to use a type of shoe that is very firm. Remember that you are going to walk several kilometers on them and they will go up and down steps at all times.
What to wear in Perito Moreno Glacier?
We recommend you go with a type of pants that allows you enough flexibility to lift your legs on the steps. If possible, use medium to thick material pants because the wind will make you feel very cold. At this time I do not think it is necessary to wear leggings under jeans to maintain your temperature. I saw many people wearing thermal cargo pants, if you like this style of waterproof outdoor clothing you will fit the style of most visitors.
If you visit this glacier during the Spring or Summer months, we recommend wearing a waterproof jacket that is lightweight. As the temperatures are not extremely low you will be fine.
If you get too hot you can take it off and keep what you have underneath.
Under the jacket, you can wear a thin sweater or a pullover.  Even if it is a very hot and sunny day, you may be able to stay alone in a T-shirt. It all depends on the weather conditions and the resistance you have at different temperatures. Wearing a scarf or pashmina is ideal to protect your neck from the cold. It is also perfect to take out or put on depending on the temperature. A wool hat will be essential to protect you from the cold and wind as well as your ears. If you are very cold then I advise you to use wool gloves to cover your hands, otherwise you can wear them and decide whether to use them according to your ability to adapt to the temperature.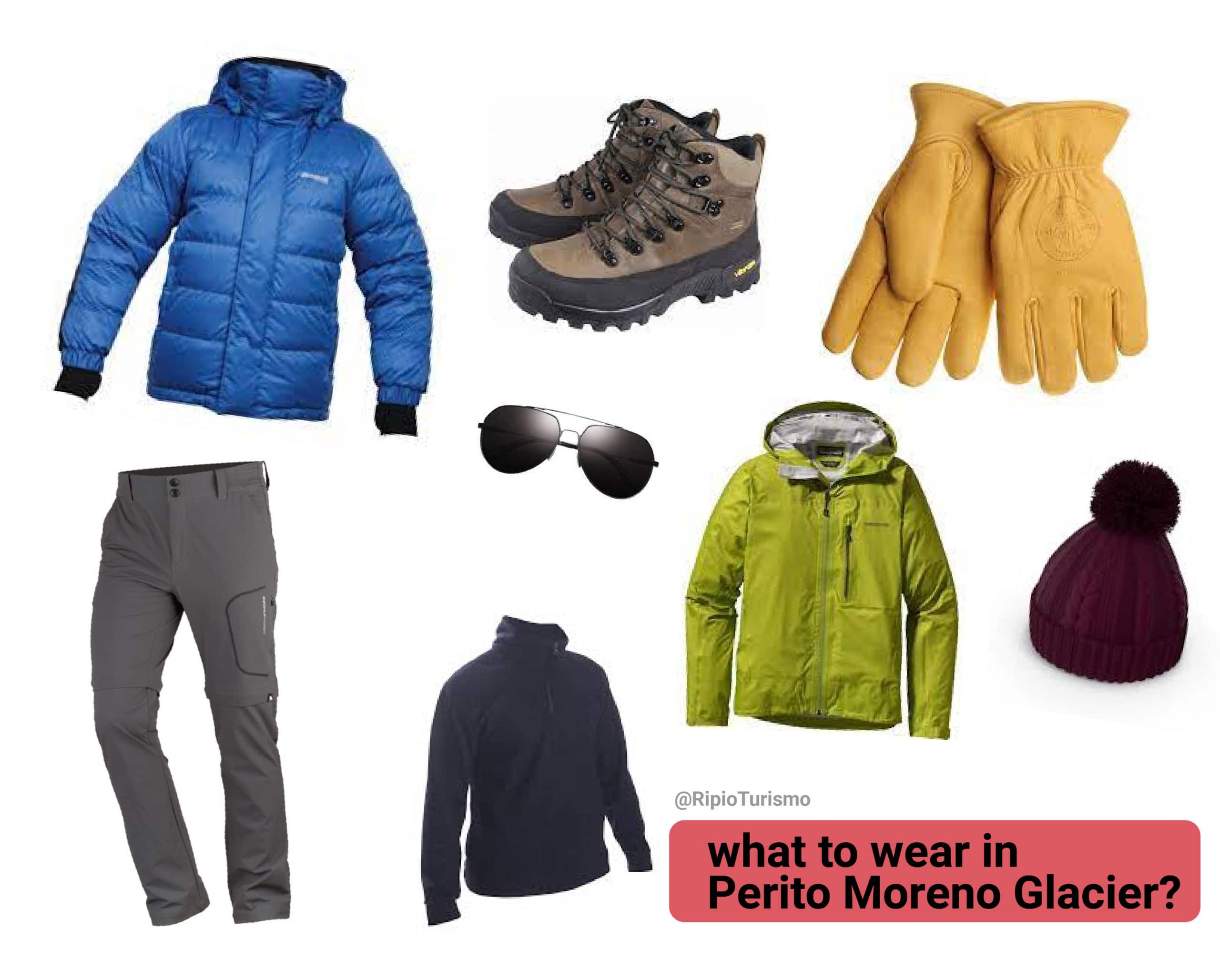 For more information, please email us at info@ripioturismo.com
Thank you!